---

Home


---




---

10 July 2011 from rickygervais.com


Ricky to see a Doctor




Details are under wraps, but Ricky has filmed a little something for sci-fi nerds everywhere.

This won't be the first time he has found himself in intergalactic trouble. The last time was in Extras when he flexed his molluscian-glang valves.



This time, Who meets Ricky in Life's Too Short.
I don't know. Who?
No, Who meets Ricky in Life's Too Short.
I give up.
etc.

All will be revealed.
Watch this space. And time.





---



News Vlog
Hear about Ricky's latest goings on - straight from the man himself.
Watch here on YouTube.





Ricky talks fame, philosophers and following a career in TV.
Details magazine has a Q and A with Ricky
Read here.





9 Questions with Ricky
Backstage chats with Ricky as 'Derek' is nominated for a Golden Globe.
Read here.





Vote For Derek
Wherever you are in the world you can vote for Derek in the National TV Awards
Vote here.





The Improbable Success of Ricky Gervais
A marketeer's perspective on Ricky in the limelight.
Read here.





Ricky on his 21st Emmy Nomination
The Hollywood Reporter quizzes Ricky on his career to date.
Read here.





Letterman No.26
See a bit of Ricky's 26th appearance on the Late Show .
Watch here.





TV Choice Awards
Derek has been nominated for a TV Choice Award.
Vote here.







Life Lessons
Buzzfeed collates a selection of adages drawn from Derek
Read here.





On The Daily Show...
Ricky tells Jon Stewart that he's still a fat guy at heart.
Watch here.





On The Tonight Show...
Ricky Plays "Word Sneak" with Jimmy Fallon.
Watch here.





Ricky Talks To Q Magazine
He submits to a probing via Q's regular 'cash for questions' feature which relies on its readers to come up with the questions. And great questions they are too.
Read here.





Ricky's Nine Commandments
ShortList magazine asks Ricky for his tenets of kindness.
Read here.





The Office remembered
The Guardian TV blog reassesses The Office and its impact...
Read here.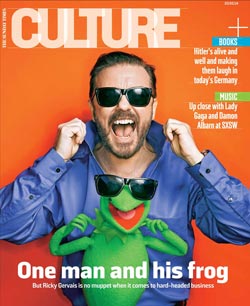 Read the Sunday Times interview.



Vanity Fair Interview
Ricky gets quizzed about Muppets Most Wanted and more.
Read here.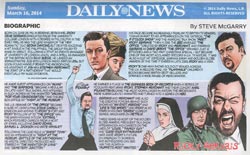 Read the Daily News's one page biography.



Brand New Clip
Here's a new clip from Ricky's new movie, Muppets Most Wanted.
Watch here.





Ricky on Jimmy Kimmel Ricky chats about his new Muppets movie on ABC's Jimmy Kimmel Live.
Watch part 1, part 2 and part 3.





WSJ talks Muppets, Celebs and more Ricky meets the Wall Street Journal for a chat heralding his new movie, Muppets Most Wanted. Read here



Ricky starts filming Night At The Museum 3 Read more here at Mail Online




Ricky on the Radio
Watch Ricky guest on the Opie and Anthony Show.
Here on YouTube.





On-Set Interiew
Den of Geek chat with Ricky on the set of Muppets Most Wanted...
Read here.





New Trailer
Ricky's latest trailer for the new Muppets Movie takes the piss out of Twitter gorps.
Watch here.





Ricky chats about Derek with Charlie Rose
With Derek coming to Netflix UK on Jan 30th, Ricky talks to Bloomburg TV about his latest creation.
Watch here.





Ricky meets David Blaine
The well-known illusionist shows Ricky another use for a skewer.
Watch here.





Person of the Year
PETA, the animal charity, has named Ricky as its person of the year 2013.
Read here.





£1,000 Cub Cake
Ricky buys bear-shaped treat at a charity auction.
Read here.





Ricky In Time
Ricky writes about success and styles himself a "cocky little nobody".
Read here.





Derek reviewed
Ricky hailed as the 'Tarantino of nice'
Read here.




David Blaine 'Real or Magic' Stumps Ricky Gervais with Amazing Knife



39 Feline Gervaisalikes
A number of cats that look like Ricky
See here.



New International Trailer for 'Muppets Most Wanted'


Top 50 News Pics
Ricky & Barney the dog makes the list of the 50 most powerful news images of 2013.
Read here at ITV.com.





Ricky Talks Charity
The donations website Just Giving talks to Ricky about charity.
Read here.





Ricky on Derek in Sydney
Ricky chats to the Sydney Morning Herald.
Read here.





Vote For Derek
The National Television Awards have opened voting for the January 2014 awards.
You can give your support to Derek in the poll here.





Ricky Chats With Charlie
Ricky sits down with the great Charlie Rose...
Watch here.





Writing Credit
Ricky tells Fast Company about the biggest single influence on his writing...
Watch here.





Letterman No. 25
Ricky's made his 25th appearance on The Late Show with David Letterman
Watch here.





Ricky's Times Talk
An audience with Ricky in New York hosted by the New York Times.
Watch in full here.





Derek In Review
Entertainment Weekly calls #Derek "marked by grace."
Read the full article here .





Ricky On The Red Carpet
Ricky talks to Brad Blanks on the red carpet of The New York Premiere of Derek.
Watch here on YouTube.





Ricky's Reddit "Ask Me Anything"
Ricky answers readers' questions.
Read the results here at reddit.





Derek Hits The Airwaves
Listen to Ricky's interview on Black Sky Radio.
Here on YouTube.





Hollywood Reporter's Video Report
Watch the footage from the Hollywood Reporter's interview with Ricky.
Here on YouTube.





Hollywood Reports on Derek
God-hating, Dinners with Seinfeld and Derek on Netflix...
Read here.





Slough Makes International Impression
David Brent's ode to his favourite town has been covered by Toro Y Moi...
Listen here.
And refresh your memory of the seminal original here





Derek Is Big Down Under
The Sydney Morning Herald looks at Derek, which has just started showing in Australia...
Read here.





Brent on Jimmy Fallon
David Brent pops up on Late Night with Jimmy Fallon.
Watch here.





International Acclaim For The Office
The Office takes 14th position in US magazine Entertainment Weekly's All-Time Top 100 TV Shows - by far the highest raked UK show on the list.
See the full list here.





Opie & Anthony
Ricky's favourite appearance on The Opie & Anthony Show in New York. It's a shame Opie & Anthony couldn't be there.
Listen here.





Ricky in GQ
Ricky gets probed on the return of Brent amongst other things...
Read here and Watch here.





Robot monkey butlers
Ricky looks into the future and has some surprising predictions...
Read here.





Ricky's Muppets role
The producer of the new Muppet movie, The Muppets...Again!, says Ricky's role was tailor-made for him.
Read here.





Ricky explains the return of Brent
Shortlist has a piece by Ricky explaining why the time was right to revisit The Office.
Read here.





New and Exclusive
Ricky has made a deal with YouTube to bring new, exclusive content to his own YouTube Channel.
Read about the deal here and subscribe to Ricky's channel here.