---
RICKY'S BLOG - Read Ricky's thoughts on his upcoming movies, visits to restaurants and round-headed friends.


---

Week eighty-eight - October 2009

This fella didn't like The Invention of Lying much. I actually enjoyed the review. I think he was as fair as he could possibly be, considering he was offended and hated the fact that the film portrayed a world where religion was a lie.

Some believe that there is a God and that his existence should never be challenged. I believe there is no God and I don't care whether that is challenged or not. That's all there is to it I suppose.

But he is totally entitled to his opinion and I celebrate that at least. I say bless him anyway and here's a lovely song for him.

Hope he never sees this.


---

I feel I have one less job from today. Did my last bit of plugging for The Invention of Lying (well, for The US and UK at least) and we've nearly finished the test screener for Cemetery Junction.

Still a long way to go, but mainly tweaking, music and marketing.

So all I have to do now is the audiobooks, Science, the HBO Show, The Flanimals Movie, and the next project with Steve, whatever that is.

Oh, we're also developing a couple of TV shows as exec producers. One with Warwick Davis and one with Karl. Can't tell you much about them at this point I'm afraid.

Let's play a song. This is a beautiful track from the first album I ever bought.


---

Back in London for a long weekend. (To be honest the weekend is standard length but I've tacked on a day that is more traditionally associated with the week.)

Edited the HBO animation intro today. I'm even more excited about the series now. If I can make Karl Pilkington a household name I will die happy. (Not like some people "die happy" - off their head on E and poppers with a dildo up their arse - though.)

We're going to top up Law and Order this weekend and start on The Ricky Gervais Guide to the Future. I never want to run out of material for the animation.

Here's my favourite Fab Four tune.


---

Did a photo session in the first Oxfam shop in the world today. It's in Oxford surprisingly enough, and it was to launch the exclusive Flanimal gift cards I created. [Find out more here at Oxfam Unwrapped]

You know the score. You buy it for someone and save a life. Easy. Of course the annoying thing is, I make absolutely no money from these things. All the cash goes to people who need it a lot more than me. if you prefer to give me more money (and I know you do) then buy the Flanimals pop up book instead. [Here at Amazon, for example]

I miss being a DJ so I will play you a song.

This is one of the inspirations for Cemetery Junction by the way.


---

Second night in Oxford even better than the first. Great crowd, lovely theatre, historic city. Visited Woodstock, where we filmed the last two days of Cemetery Junction, too. Think I might buy a house there. It's actually like a film set all the time. An untouched old England. Beautiful.

The Ricky Gervais Guide to Society will be available from the 3rd of November by the way. I'll try to post a little taster next week. I think it's my second favourite behind Philosophy. Just my opinion. Calm down.


---

In the beautiful city of Oxford this week. I should remind any students that my Science show should NOT be used as part of any degree course.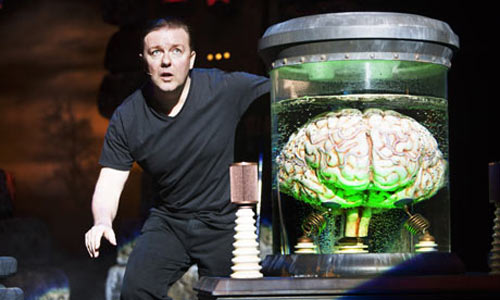 I hope I haven't offended anyone with blasphemous terms like "science". It's just an opinion.

The Invention of lying has offended enough people already. Particularly the ones that haven't seen it.

Here's an in depth analysis of the movie's philosophy. It's sensible and rational I'm afraid, as the author of the piece actually watched the film.


---

Week eighty-seven - October 2009

Recorded The Ricky Gervais Guide to Law and Order. However busy I am I will always find time for the audiobooks. So much fun. Karl never ceases to amaze me.

Also, I never want to run out of material for the HBO series.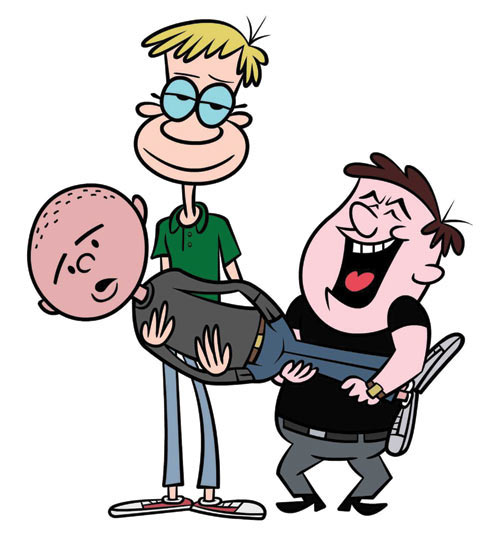 Recorded the live action intro for the animation. It went really well and should help people understand that it's not a scripted cartoon.

Steve wore glasses similar to those he wears as an animated character. Karl tried them on.

Are you ready?...............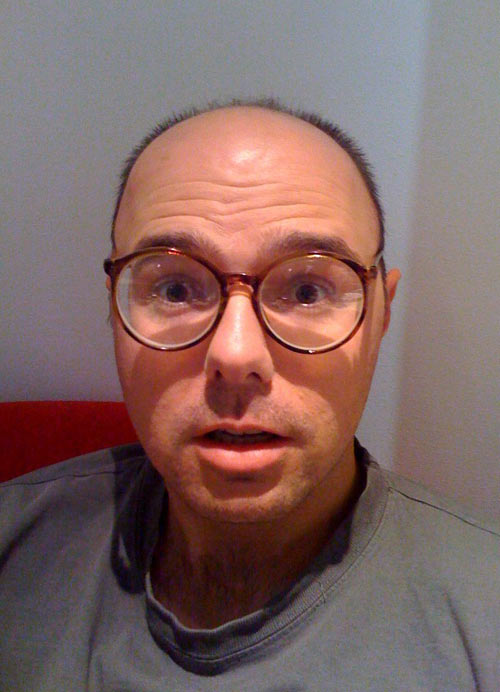 Fuck me, a frightened worm.


---

My favourite 'Christian annoyed at a film they haven't seen yet' so far is this one...

I particularly liked the bit when she said, "It's a good thing I'm not gullible enough to go see a movie without reading a review first."

I'm sure she's not gullible enough to read a review and totally believe it wholeheartedly and then pass her own judgement based solely on hearsay without seeing the film first. That would be ridiculous.

That would be like me believing that the Earth was made in six days just because it was written in one book with no evidence to back it up. That would be fucking mental wouldn't it?


---

Portsmouth loves me. Christians hate me. I don't know who to believe.

I dared to do a family Hollywood fantasy comedy that presumes a world without God.

Of course, in real life I wouldn't just suggest there is no God, but bet my life on it.

I've decided to settle it in the ring. I'm going to fight Rob Lowe to the death. If I win, then there is no God.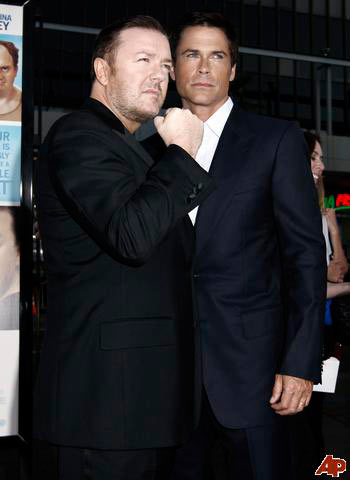 If Rob wins, there is a God. So for me, it's win win. If I lose I become an angel.






Brilliant.


---

I think it suits me.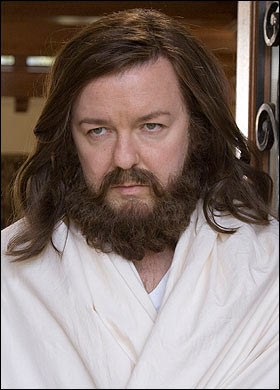 I just don't like the idea of losing food in it.

Throughout the entire filming I was dreading that one day in the final week where I had to wear a beard.

1. It took an extra 45 minutes in makeup, so 50 minutes in all.
and
2. It's made from human hair.

Another lovely crowd in Portsmouth last night. Final one here tonight.

Back to London tomorrow to record the credit sequence for the HBO animation. We're doing it live action so the audience knows it was once a real podcast as opposed to a scripted comedy show. They'd soon realize any way I'm sure, with the drivel we come out with.

Just spoke to Karl. He said he thinks he'd like to work in B & Q when he's "about 55". As long as he's got an ambition...


---

Did the first show of the Science tour last night in Portsmouth. It went really well and the crowd were fucking great. A huge 'thank you' to them.

Just heard today that they are increasing the number of cinemas for The Invention of Lying across the US. Word of mouth beats any poster. (Especially a poster with me on it.)

We start thinking about the score this week for Cemetery Junction. It feels like we're on the home straight now, even though it will still take months before we're absolutely finished.

We're recording the second audiobook in the new series at the weekend. The Ricky Gervais Guide to Law and Order. We'll try to stick the first one out in November.

Thought Karl would like this...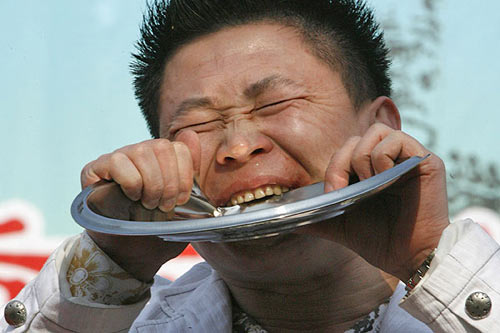 ---

Off on my mini tour today.

I don't have Robin to torture so I may play some golf instead. Robin is in my bad books at the moment. He called me over the weekend to tell me he'd told someone at a gig that I have size 4 feet. (I don't, obviously, but he made up this story that my dad used to bind them because he wanted me to be a geisha girl or something. It was to get me back for telling people Robin once sat on some ham to lure out his worms.) Then he called me again to tell me it had been picked up on someone's blog. Bad boy Robin.

Any way, Please welcome to the stage...


---

It rained all day.

Here's a ray of sunshine though - the global village idiot that is Karl Pilkington.

Correction...

Ghost Town's official TV premiere is on Sky Movies on Saturday 17th October, not the the 16th.

Well according to this anyway.


---

We went into the UK box office chart at number 2, just a few quid behind FAME. (Not my stand-up DVD unfortunately.) I'd have gotten away with it, if it wasn't for them meddlin' kids. The same thing happened with Ghost Town. High School bloody Musical.

Number 4 in US. The big boys predictably took the lion's share.

So, not bad at all. The money people are happy which means I'll get to do it at least one more time.

I've stared writing it already. It's called "Let's do the show right here in this inner-city school."

Ghost Town is being shown on Sky One, by the way, from Oct 16th. DVD still available on Amazon.

The Science tour starts tomorrow. Did the last warm-up yesterday and it went really well. I hope they like it as much when they're paying full price.

Flanimals Pop Up is out now (here it is at Amazon). An ideal gift for people who hate flat books about imaginary creatures.


---

Week eighty-six - September/October 2009

Spent the day in the edit. It was great to concentrate on Cemetery Junction after all the PR madness. Now I'm just trying to forget about The Invention of Lying as there is no more I can do. I might watch it again when it's on telly in 10 years' time.

This is fun though.

So is this.

I do my last warm-up on Sunday for the tour. I'm sure it will piss off as many people as the film. Actually that's probably not true as my stand-up is classified 18 and the film is 12A. I suppose that's what makes the central theme so subversive. The film is a sweet Hollywood family rom-com; it just happens to be the first ever completely atheistic movie with no concessions. Enjoy it while you can. They won't show it in Heaven.


---

Did the last bit of PR for The Invention of Lying - recorded The Graham Norton Show, then sped to the BAFTA screening of the movie. (A huge 'thank you' to all at GN for recording the show a bit earlier than usual too.) And good luck to the editor of the show trying to find the bits that can be broadcast (I was on the show with the Osbornes).

John Hurt was at the screening and Karl was kicking himself for not talking to him about The Elephant Man. I didn't even think of that. We missed an opportunity there for a real meeting of minds.


---

Another day of junkets. Welcome to my world...



Here's that little sketch I did for Jimmy Kimmel.


---

This is good.

Hmmm... Stay tuned.

More junkets today including T4, 5 live, Smooth Radio and GMTV - coming soon.

And this.

Still a bit jet lagged. Hopefully I'll be over that tomorrow.

Remind me to tell you about my armed bodyguard. (Oh, you can't can you? This is a one way communication. I'll remind me.)


---

A day of radio junkets today. It was actually really good fun, and I think I may have even got a word in edgeways with Johnny Vaughan. We talked about the film but I mentioned Karl's head whenever possible. It's a hobby.

More junkets tomorrow.

I feel my blog entries are a bit short and rubbish recently. I don't get a lot of spare time at the moment, but when I do I use it wisely - I am addicted to an iPhone app called Boxed In. You have to try it. I was even playing it during the Emmys.

I will have more time next week and will tell you about one of the most interesting people I've ever met. He is my armed bodyguard in America and he is fucking amazing. Stay tuned.


---

Week eighty-five - September 2009

Trying to get over jet lag in time for another week of interviews. At the Toronto film festival I did a few days of junkets and it is easily the most exhausting part of the job. The difficult bit is trying to give everyone different stuff. They all get a few minutes and it must be hard for them too as they desperately want to be original.

This guy certainly managed that


---

Back in Hampstead. The cat quacked for 12 minutes when we walked through the door and covered us with hair. I fucking love that noise. I will film it next time.

Here's my appearance on Ellen.

I was worried that it wouldn't quite be my audience but they seemed really up for it. And Ellen is very welcoming and laid back. Just goes to show. The Kimmel interview goes out next week. We shot a little sketch before the show. It's a sort of homage to Extras. Hope you like it.

Must... sleep... now. More... junkets... soon.


---

Did Jimmy Kimmel last night. It was a pre-record for next week so I hope they leave in all the stuff about Karl.

Saw this piece of art in Beverly Hills...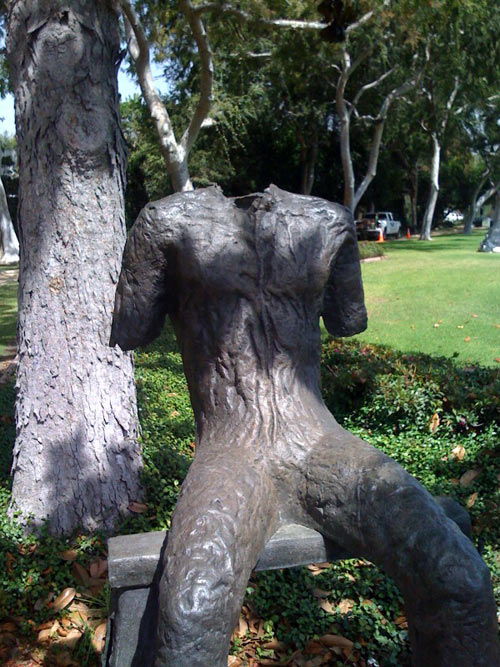 I made it interactive...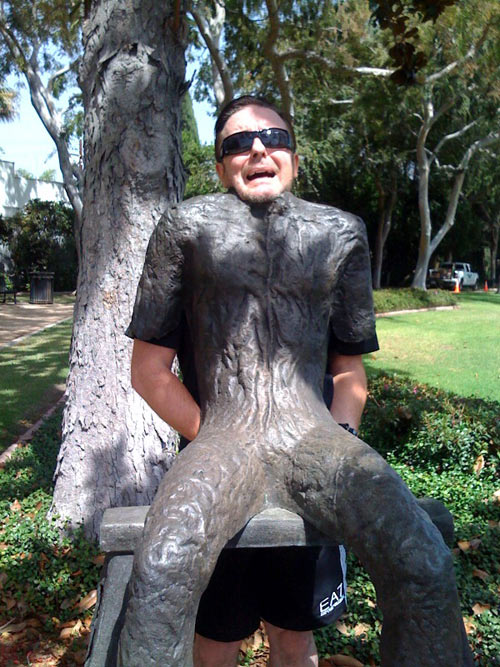 ---

I'm back to being tubby again.

As The Star accurately reports, I admit being airbrushed on the poster for The Invention of Lying. Not only that, but I can exclusively reveal the untouched version...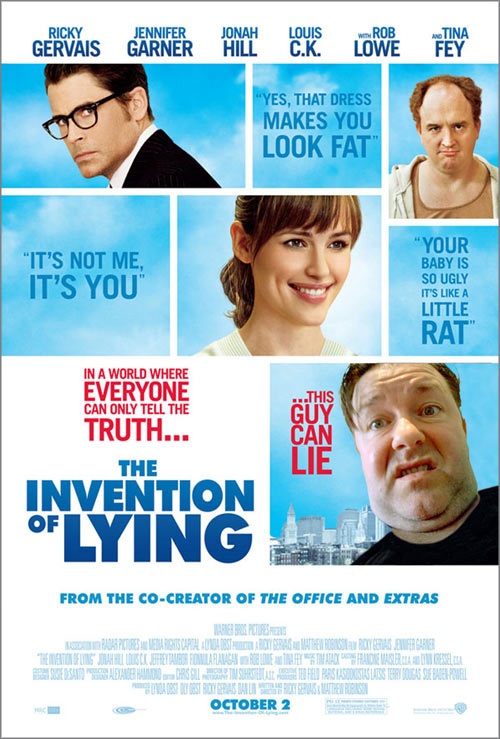 ---

Explained offal jim jam to America and turned Conan O'Brien into a div.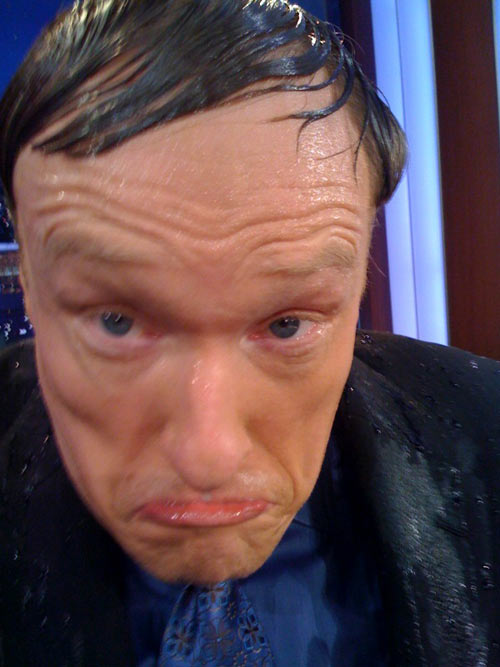 Saw this today. Remember him?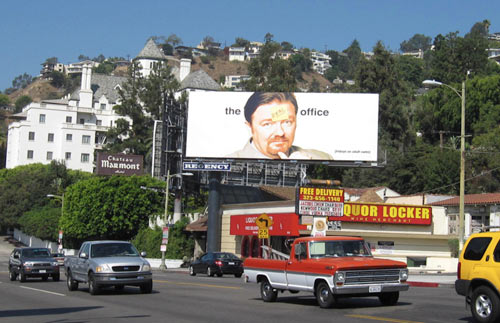 ---

Lost another Emmy. Handed one out to John Stewart though, which is good. And I've always wanted my name in lights...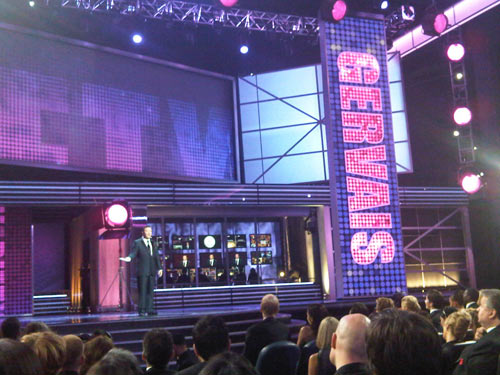 Oh, by the way, that review Karl did of The Invention of Lying is up as a free podcast on

. He couldn't be less enthusiastic. Unbelievable.


---

Found this in my hotel suite.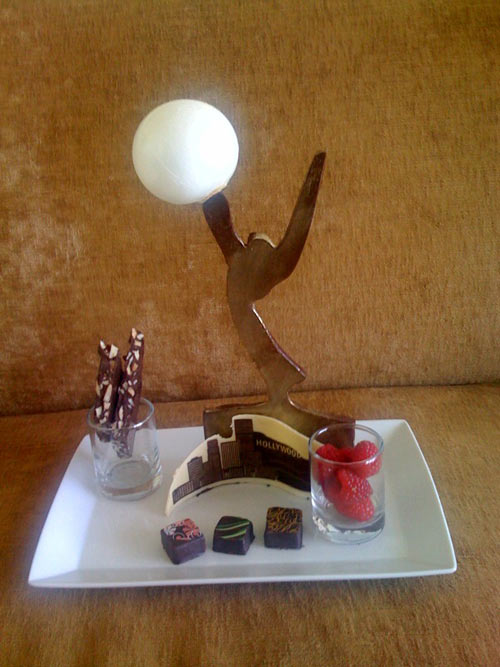 It's a chocolate Emmy. Earlier in the year they made me a Golden Globe.

I wont eat it yet as it will probably be the only award I get tonight. I already lost out to Chris Rock last week at the Creative Emmys for my stand-up show and tonight I'm up for best comedy for The Office.

It is about 80 degrees in L.A. and I'm about to put on a tux and sweat my way around the red carpet apologizing for being a hot pasty limey.

Still mustn't grumble.


---

Week eighty-four - September 2009

Did The Daily Show last night.

Then introduced a VIP screening of the film before rushing off to dinner at my favourite restaurant in the world. (Park Avenue - Autumn at the moment.)

Got home and hung up my suit ready for the next day's press lunch.

Put my suit on today after washing off the chocolate pudding from the left trouser leg with a wet flannel. Just like James Bond.


---

A couple of English papers kindly said they thought I looked a bit thinner at the Toronto Film Festival. They then instantly assumed I had been on a "Hollywood diet" and had lost 3 stone.

I haven't been on any diet, but I have been working out more. With a gym in your house there's no excuse. The paper that said I'd lost 3 stone also said I was now "a svelte 13 stone." That phrase, when applied to a 5' 8" man is hilarious enough, but that means that they think I used to be 16 fucking stone. Still, musn't grumble.

Just had a huge pizza by the way. My Hollywood diet is slightly different to Posh Spice's.


---

Isn't it annoying when you take a private jet from Toronto to new York and the champagne isn't chilled enough?





As you can imagine I was livid.


---

The Invention of Lying opens at The Toronto Film Festival tonight. It's going down rather well so far...

"Ricky Gervais does comedy like no one else!"
"'The Invention of Lying' is one of the most original comedies this year."
Gerrad Hall / Reelz Channel

"Ricky Gervais proves his genius once again!"
"Laugh out loud funny!"
Rashan-Rashan Lindsay / Made In Hollywood

"'The Invention of Lying' is very funny!"
"Jennifer Garner is charming."
Josh Horowitz / MTV News

"Ricky Gervais at his best."
Mitch English / "The Daily Buzz"

"Ricky Gervais creates another brilliant comedy."
"An outstanding cast of comedians make this film one of the most unique comedies of the year."
Jim Ferguson / ABC-TV

"Wickedly funny!"
"A comedy with lots of heart!"
Mose Persico / CTV, Montreal

"'The Invention of Lying' is original and very funny!"
"Ricky Gervais is hilarious!"
"Ricky Gervais leads a top-notch cast in this clever film."
Suzanne Ellis / CityNews.ca

"Very, very funny!"
"Ricky Gervais is hysterical!"
"Pure enjoyment from start to finish!"
Steve Gow / The Movie Network

"Hilarious!"
"Ricky Gervais is brilliant!"
Taylor Kaye / Astral Radio

"Ricky Gervais is a comedy genius."
Brian McKechnie / CityNews.ca

"Ricky Gervais is at the top of his form - again!"
"A classic tale of 'no good deed goes unpunished'!"
"A romantic comedy with a twist."
"'The Invention of Lying' is the most imaginative comedy of the season!"
Richard Crouse / Canada AM

"You'll love 'The Invention of Lying!'"
Planet Maurie / 999 Virgin Radio

"You'll love Ricky Gervais!"
Danielle McGimsie / eTalk Daily

"Thought provoking and funny."
James Rocchi / MSN.com




---

Week eighty-three - September 2009

Signed 100 Flanimals pop up books - here it is on Amazon.

Listened back to The Ricky Gervais Guide to Society. Karl says the worst thing he's ever said. Can't wait for the backlash.

Had a conference call about the HBO animation. It's weird. I'm really excited about The Invention of Lying and Cemetery Junction and the tour and the Flanimals movie and everything else I'm doing, but when I watch a new animatic or talk about the press campaign for the HBO thing I actually get an adrenalin rush. I want it to be a success like I've never wanted anything else to be successful. It's partly because I love working with HBO. It's partly because it started out as a laugh - a labour of love. It's partly because the animators have done an amazing job. And it's partly because there's nothing quite like it.

But it's mainly because I know that if Karl is famous he will hate it it.


---

Got followed by a couple of random paparazzi today as I strolled through Hampstead. One was in a car who would snap then drive round to meet me the other side of the alley or whatever. One would keep running ahead snap, snap, more running, snap and so on for about 20 minutes. Now, it's fine. No big deal. They're getting a picture of me in the place where I live. Scoop.

Apart from it being a bit embarrassing (luckily I was on the phone so I had something to concentrate on) it's not a problem. But who wants these pictures? I was dressed in a black T-shirt and tracksuit bottoms... Use the picture you took yesterday. The continuity is perfect. What made me laugh was that after he'd taken about a hundred pictures, out of breath, he sort of rolled his eyes and said, "sorry about that Ricky." Like there was nothing he could've done about it. Amazing. Still mustn't grumble.

This is funny...


Gervais' The Office most successful comedy format in the world.

The British version of The Office starring Ricky Gervais, it's creator, is shown in 89 countries. Gervais has also licensed the format to seven remakes - France, Germany, French-Canada, Chile, Russia,Israel and of course America.

Greg Daniels co-Producer on the American remake said "Dunder Mifflin is now the world's most famous fictional brand name. We've surpassed Duff Beer"

The US version is well into its first phase of syndication now it has reached the magic 100 episodes.

"I can see it running and running" said Gervais. "The new series starts 17th September on NBC and we see Pam and Jim getting married - something we never did with Tim and Dawn."

The original version of The Office starts a new run on the US channel Adult Swim the same month. Gervais helped the launch. "I did a series of spoof trailers saying things like "The Office - now in English with American subtitles."
---

A nice feature in Cinema Blend and the US TV trailers for The Invention of Lying.

It's quite hard to sell a film in 20 seconds but they've done a good job I think. The high concept and 'on the nose' title helps too. As Karl would say, "it says what it does on the tin." - one of the reasons why The Elephant Man is his favourite film. That and the weird-shaped head. (Not Karl's; the old fella with the trunk.)


---

Steve and I have got to the stage in the edit where we're saying things like "take off 6 frames"..."try 8"..."split the difference".."perfect". Luckily we love it. Also we've discovered a place in Soho that does takeaway Chinese and Thai food in those little cardboard boxes. Perfect.

But for the next few weeks it's The Invention of Lying all the way. Toronto at the weekend, then New York and LA. I will of course take pictures of my weird-shaped overseas chums.


---

Did a 'friends and family' screening of Cemetery Junction last night in a small cinema in Leciester Square. It's an early cut of the film that you invite people you know to and see how it plays. It's basically a safe but sensible focus group. It played really well and although it doesn't count as such, it's better that they all loved it than hated it I suppose. We do a 'real' one with random strangers next month. They'd better like it too as I'm not changing anything. Bit pointless really. I just like eating pick 'n' mix and drinking diet pepsi from a bucket-sized cup. Is that pointless too; eating a pound of sweets while insisting on diet drinks? Never mind.

Oh, this is hilarious... Please vote for me to be greatest thing ever or something like that.


Ricky Gervais nominated for Performer of The Decade

That is just one of the nominations he has in the US TV Awards of the decade. (He and Tina Fey have the most awards with 5 noms each)

He is nominated in Best Lead Actor for David Brent, Performer of The Decade for Extras, Creative person of The Decade with Steve Merchant for Creating The Office and Extras, Variety Special of the decade for his HBO stand up special, and The Office (US) is up for best Comedy Series on which he is Exec producer. Ian McKellen and Kate Winslet are up for guest actor and actress of the decade for their appearances in Extras.

COMEDY LEAD ACTOR:
Alec Baldwin as Jack Donaghy on 30 Rock Jason Bateman as Michael Bluth on Arrested Development Zach Braff as Dr. John Dorian on Scrubs Steve Carell as Michael Scott on The Office (NBC) Ricky Gervais as David Brent on The Office (BBC America) Kelsey Grammer as Dr. Frasier Crane on Frasier Eric McCormack as Will Truman on Will & Grace Lee Pace as Ned on Pushing Daisies Matthew Perry as Chandler Bing on Friends Tony Shalhoub as Adrian Monk on Monk PERFORMER OF THE DECADE: Steve Carell (Daily Show, Office) Glenn Close (Damages, Shield, many TV movies) Edie Falco (Sopranos, Nurse Jackie) Tina Fey (Saturday Night Live, 30 Rock) James Gandolfini (Sopranos) Ricky Gervais (Extras, Office) Michael C. Hall (Dexter, Six Feet Under) Hugh Laurie (House) Conan O'Brien (Late Night, Tonight Show, Emmy hosting) Jon Stewart (Daily Show, many variety shows, Oscar hosting) CREATIVE PERSON OF THE DECADE: J.J. Abrams (Alias, Felicity, Fringe, Lost, What About Brian?) Alan Ball (Six Feet Under, True Blood) Jerry Bruckheimer (Amazing Race, Cold Case, C.S.I. franchise, Without a Trace) David Chase (Sopranos) Tina Fey (Saturday Night Live, 30 Rock) Ricky Gervais/Stephen Merchant (Extras, Office) Brian Grazer (Arrested Development, Felicity, Friday Night Lights, Sports Night, 24) David E. Kelley (Ally McBeal, Boston Legal, Boston Public, Practice) Aaron Sorkin (Sports Night, Studio 60, West Wing) Joss Whedon (Angel, Buffy, Dollhouse, Dr. Horrible, Firefly) more details and vote here
---

Recorded the Guide to Society. I have no idea what people will think. I laughed a lot but I can't tell any more. It's definitely the maddest yet but whether that's good or bad only you will judge.

I've been asked to hand out an Emmy again. That's good, as I'm up for a few myself but you don't get a goody bag for a nomination. I'm also in LA anyway that week as it's the US premiere of The Invention of Lying and I'm doing Conan, Ellen and Kimmel. Perfect.

This is a nice effort.


---

Week eighty-two - September 2009

The chap from The Independent put the record straight today;


Gervais hits back over rape joke rebuke
I queried last week whether it was a good idea for Ricky Gervais to tell a rape joke. Among those who agreed or disagreed with me on this was Ricky Gervais. He says his joke was misreported in the press: "I do the following joke when talking about the perils of drink-driving... I've done it once and I'm really ashamed of it. It was Christmas - I'd had a couple of drinks and I took the car out. But I learned my lesson. I nearly killed an old lady. In the end I didn't kill her. In the end, I just raped her."

He goes on to explain: "The joke clearly revolves around the misdirection in the term 'nearly killed' suggesting 'narrowly avoided'. But, as it turns out, 'nearly killed' means something much, much worse. A big taboo I'll admit, but justified comedically I feel."

It's good of Ricky Gervais to give the exact version of the joke and to explain its comedic technique. But however expert the misdirection, it is still a joke about raping an old lady. And it still makes me uncomfortable.


So thanks to him for that. (I'd rather a joke wasn't published at all, but if it is then it should be accurate.) It still makes him feel uncomfortable and that's his right.

Also, for the record, I don't have a problem with anyone not liking my work. Particularly not critics. To whine about the existence of critics when you are an artist is to whine about the very fabric of the world you have chosen to exist in.

Sure there are shit critics. But you can bet your life there are shit artists too. Critics have every right to not like an artist and to say so. They're not hecklers. They're not anonymous idiots on a forum who scrawl graffiti and run away to hide behind an avatar. These are people who, under their own name, add to the debate. It's just something to think about. An intellectual exercise to entertain I suppose.

Now critics can't affect me either way. (Not now anyway. At the beginning of a career rave reviews can help.) So I think it was a bit over the top to suggest that one joke could be the turning point in my career but we'll see. Only time will tell.

Some bloke in another paper in July 2007 said that my career was over. I forget his name.


---

They made me do it.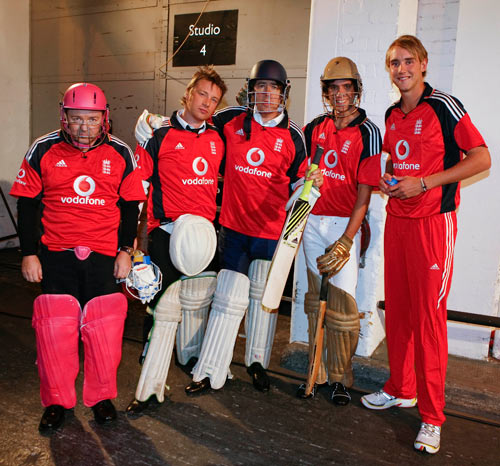 Had a meeting with Karl and Steve today about a new "Guide to..." audiobook we're recording Sunday. The Ricky Gervais Guide to Society.

Spent the rest of the day in the edit. Cemetery Junction down to 1 hour 50.

Have a nice weekend.


---

I got sent another batch of media alerts from the film company today. (That's just a list of mentions the film got from the marketing department to show how awareness is doing.)

A couple more web sites have picked up on a few Christians (not all - most Christians have a sense of humour) saying that The Invention of Lying is blasphemous.

Here are my seven deadly sins of jumping to conclusions:

1. No one has seen the film.

2. Even if the film suggests there is no God, it is a fictional world. One of my favourite films is 'It's a wonderful life' and at no time am I offended by the suggestion in this wonderful work of fiction that there is a God.

3. If the film was not set in a fictional world and suggested there is no God then that's fine too, as it is anyone's right not to believe in God.

4. By suggesting there is no God you are not singling out Christianity.

5. Not believing in God cannot be blasphemous. Blasphemy is acknowledging a God to insult or offend etc.

6. Even if it was blasphemous, which it isn't, then that's OK too due to a little god I like called "freedom of speech." That said, I am not trying to offend anyone. That would be a waste of such a privilege.

7. I am an atheist, but this is not atheist propaganda. When creating an imaginary world you have to make certain decisions. We decided also that there would be no surrealist art, no racism, no flattery, no fiction, no metaphor, and no supernatural. However, we decided that apart from that one "lying gene", humans evolved with everything else as we have it today. Joy, hope, ambition, ruthlessness, greed, lust, anger, jealousy, sadness, and grief. It's just a film. If any of the themes in it offend you or bore you, or just don't make sense to you, you should put everything right when you make a film.

I really hope everyone enjoys the film and keeps an open mind. I believe in peace on Earth, and good will to all men. I do as I would be done by, and believe that forgiveness is one of the greatest virtues. I just don't believe I will be rewarded for it in heaven. That's all.

Cheers.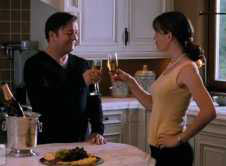 ---
And so it starts...
---

More promotion today for The Invention of Lying. It seems like such a long time ago now and it's not even out yet. That's the good thing about the audiobooks and stand-up; you think of something and it's out there. But I suppose that's what makes a good movie timeless too. (You'll be the judge of that. And so will your grandchildren hopefully.)

Here's the US poster. Yes of course they've airbrushed it. That's why I look like some sort of facelifted old queen. And fucking Louis... Jesus. Imagine what he looked like before. Fat ginger div kid. It's a good job we're comedians. We're meant to look shit I suppose.

We've signed off on the audio for the final episode of season 1 of The Ricky Gervais Show. 13 x 22 minutes of condensed drivel. The first episode will be delivered in December (then another every week or so). It's such an amazing process. The labour that goes into every second is quite stunning. Obviously not for me. As I've said before, I just poke my head in every now and again and say, "make him look dimmer."

Oh, that 'Office Night' thing is on the BBC iPlayer in case you missed it by the way. Let's hope it doesn't cut into DVD sales. (Only joking.) But let's hope it doesn't. (Joking.) Doesn't. (Joke) N't. (J.)


---

Week eighty-one - August 2009

Watched an episode of The Office last night for the first time since 2001. I tuned in in time for episode 5 - the trip to Chasers. I couldn't believe how poor little Robin Ince has aged. I did that to him.

Did a day of promos for US TV today. The Comedy Channel are running an Invention of Lying night.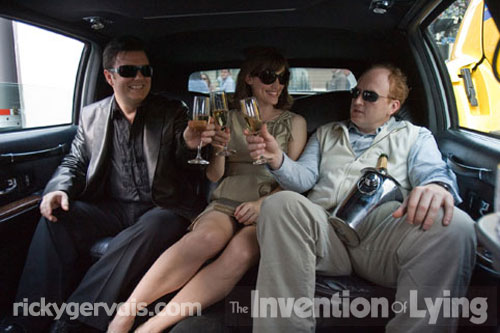 And Adult Swim have just bought The UK version of The Office. Or, as we call it in the UK, The Office. It's still on BBC America, which is great, but this is a dedicated comedy channel which should be really good for the show. The US version is well into its first wave of syndication, playing on about three networks now. My dream is to have at least one version of The Office playing on every channel in the world. Ha Ha Ha Ha Ha Ha! (there should really be an echo on that laugh.)

Did a thing for Time Magazine where I had to list the top 5 things I'm into at the moment from the world of arts. I won't spoil it for you, but something very round and stupid crept in at number 5.

The rest of the week I'm editing and doing UK junkets before going back to America. I'm tired. Karl was sitting on the beach in Kent when I spoke to him a minute ago. Lazy Manc twat.

Peace


---
Peace
---

I do the following joke live when talking about the perils of drink-driving...


"I've done it once and I'm really ashamed of it. It was Christmas - I'd had a couple of drinks and I took the car out.

But I learned my lesson. I nearly killed an old lady.

In the end I didn't kill her. In the end, I just raped her."

The joke clearly revolves around the misdirection in the term "nearly killed", suggesting "narrowly avoided". But, as it turns out, "nearly killed" means something much, much worse. A big taboo I'll admit, but justified comedically I feel.

This is how a journalist in The Independent recounted the joke...


| | |
| --- | --- |
| | "I nearly knocked this old woman over," he said, in a patter about drink-driving, "but I didn't. I raped her." |

He then went on to say how disgusting and unfunny that joke is. He's right. It is both disgusting and unfunny. But that's his joke, not mine. It's nothing like mine. It contains no joke at all.

He has shown how qualified he is to talk about humour. Here are some other jokes he is probably telling now at various social gatherings...

"My dog's got no nose. What does he smell like? Awful. Really awful."

"My wife's gone to The West Indies. Did you force her to go? No, she went of her own accord."

I bet he's knocking 'em dead.


---

Did Radio 1 Newsbeat, Steve Wright and The One Show plugging The Night At The Office this Sunday.






Spent the rest of the day in the edit. Cemetery Junction is looking great. Under 2 hours and still tightening.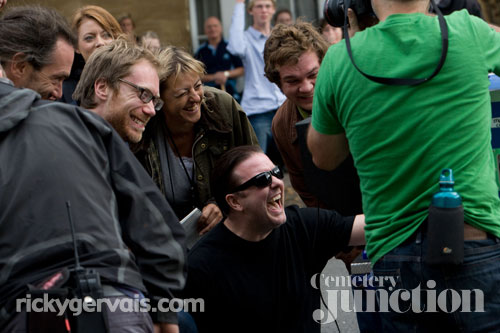 Have a good weekend.


---

I feel sick. I just had two bean burgers each with an egg on top with chips and beans. I was hungry.

Correct. I didn't do much today.

It was a day of admin and pottering and saying no to about 50 things on email. Today was a good day.

Did a pre-interview for The One Show tomorrow. (Plugging The Office program. They've also got a clip of The Invention of Lying)

Wrote a piece for the BBC website about The Office ten years on. (since we made the pilot)

Signed some Flanimals Pop Up books. (You can order it at Amazon here
)

Did a pre-recorded interview for New York radio show 'WPLJ with Brad Blanks' to plug the Carnegie Hall gig. (This will be on tomorrow morning.)

Played an app on the iPhone where you have to safely land planes.

Now I've got to do a Q and A with Time Magazine. I think I'm on their long list again for the most influential people in the world this year. Maybe I'll beat Mandella this time. Bet he's not as busy as me.

Best business idea ever.


---

Back from Scotland. The Edinburgh gig was better than Glasgow, which I think is due to the fact that it was the second one. And the theatre was nicer too which makes a surprising difference believe it or not. They both went pretty well for the beginning of a tour though. No more now till October.

Check out a few exclusive clips from The Night at The Office on the BBC web site.


---

Tickets to The New York Comedy Festival are on sale now. Check out my lovely picture on the website. I think it sums up England for them. Bowler hat. Umbrella. A fat bloke having a ruck. Like Churchill, for example.

Up in Glasgow tonight for the first real gig of the Science tour. If you are coming to see the show I should just warn you not to use any of the extensive well researched scientific facts in any PhD you might be doing.

Here's a sneak peek at a bit of the set by the way.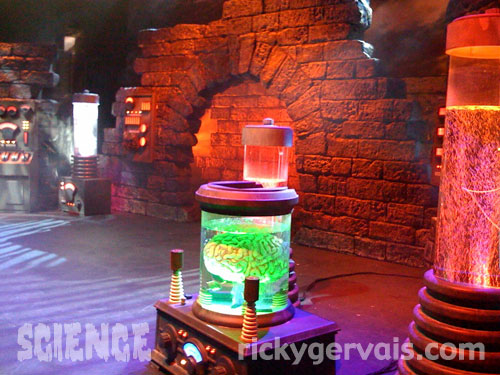 ---

Week eighty - August 2009

Recorded a video podcast with Karl for the Esquire magazine website. I'm guest editor for the November edition and Karl has done some stuff for it. He moaned about it all on camera by the way.

Then back to the edit of Cemetery Junction. It's looking great. Can't wait to start work on the soundtrack album. That's weird isn't it? I may as well just go back to Xfm. I'll be ad libbing with Steve and annoying Karl and playing my favourite records. And it's only two hours a week. Perfect. Life was so simple. And Karl still is.

Here's a very nice little article about various things. Look at Ross' fucking hair.


---

Last warm-up before Scotland. Went really well but I think yesterday was a bit better. What if now it just got worse and worse the more I did? I should have filmed last night's. Damn.

Still it could be worse. I could be doing four shows a day in Edinburgh like Robin. Mental. When he supports me on tour he gets £750 for 25 minutes. He stays in the finest hotels and castles and drinks vintage Champagne. Then I squeal in his ear, dress him up and video him wriggling. He's missing out big time.


---

Did the final interview for the 60 Minutes piece. It goes out in September on CBS.

Best warm-up so far at The Bloomsbury Theatre. I think I've finally got a show. (You'll be the judge of that.)

Remember this photo?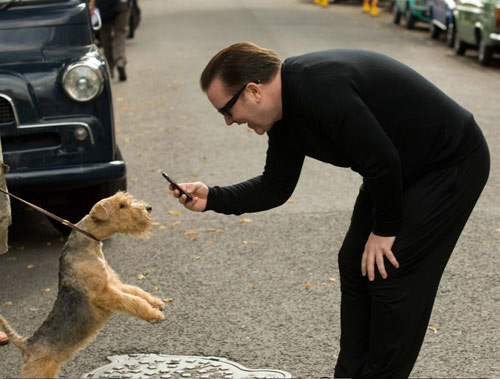 Well, here's the picture that I took.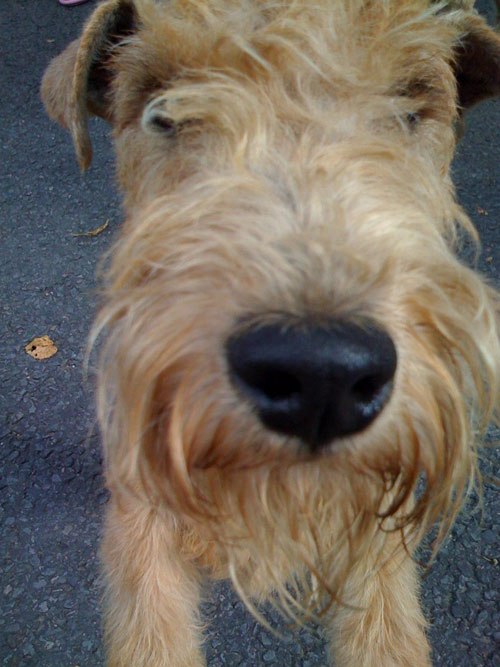 ---

Did a little podcast with Karl and Steve as part of the 60 Minutes piece. Karl was of course amazing. It doesn't matter who he is talking to, he always keeps up his high standard of idiocy. I'll try and get the audio from them so I can stick a little freebie out. Oh and remember we will be removing the first series soon as part of the HBO animation campaign. Buy it now (iTunes link) if you haven't already.

Did another warm-up for the Science tour. Went well for a try out. (You'll be the judge of that.)

Here's a little thing I did for The New York Comedy Festival.


---

By day, mild mannered director of Cemetery Junction, stuck in an editing suite with Steve Merchant. By night, mouthy stand-up, doing warm-ups for my Edinburgh show.

Karl, on the other hand, isn't doing two full-time jobs so I roped him into being filmed for the 60 Minutes show I'm doing. We're going to give them access to the recording of a podcast.

Here's that sketch me and Steve did by the way.


---

Week seventy-nine - August 2009

Well Edinburgh Fringe is well under way. If you are up there I have a recommendation for you.

This is my special little friend Robin Ince.

He is a good boy.

Even if he annoys you, you should kiss him.

Karl thinks he talks too much but that is because he is nervous around Karl I think.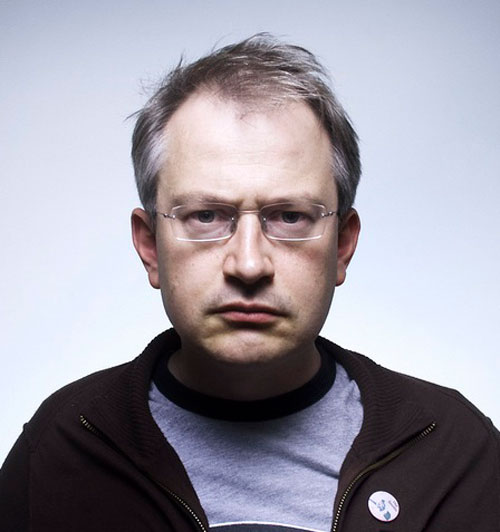 Here he is a few years ago when he was just my little tadpole before he turned into a moth.

Another installment tomorrow

Robin Ince: Bleeding Heart Liberal, Medina & Negociants, 225 6313, 19-30 Aug (not 25), 10.15pm, £5; Robin Ince Versus the Moral Majority, The Canon's Gait, 226 0000, 19-30 Aug, 8.25pm, free.


---

Oxfam have commissioned a series of fund-raising Flanimal cards. We've done some bespoke designs and they're fun I think. Feel free to buy them as none of the profit goes to me. (Feel free to buy the new Flanimals pop-up book for the opposite reason.) Thank you.

Karl helped me record the intro to my Science tour. So I wrestled him to the floor. It was captured on cam-corder obviously.

The CBS flagship show 60 Minutes are flying to London today to finish the piece they are doing on me. I have ironed a black T-shirt. It's worth making an effort for such a prestigious show.

I may do this little worried face for them...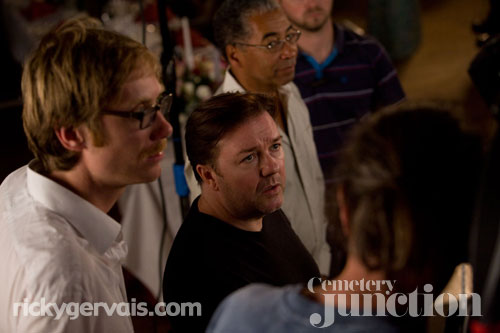 I should explain that Steve's upper lip atrocity was for his big moment in the movie.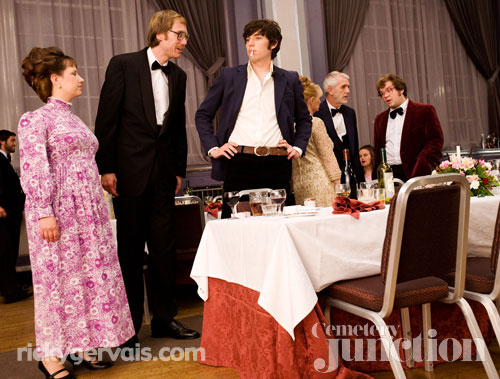 ---

Got up at 6.30 for my appointment at The US Embassy to renew my visa. They were very helpful but let's do an afternoon appointment next time yeh?

I of course called Karl at 7.30 to make sure he was getting on with stuff. He said he was.

Then after the appointment me, Karl and Matt went for breakfast at the Langham Hotel. They had coffee and juice and some pastries. I had a grown-up breakfast of scrumbled eggs. I know what you're thinking; "Ricky you've made a foolish typing error."

Noooooo...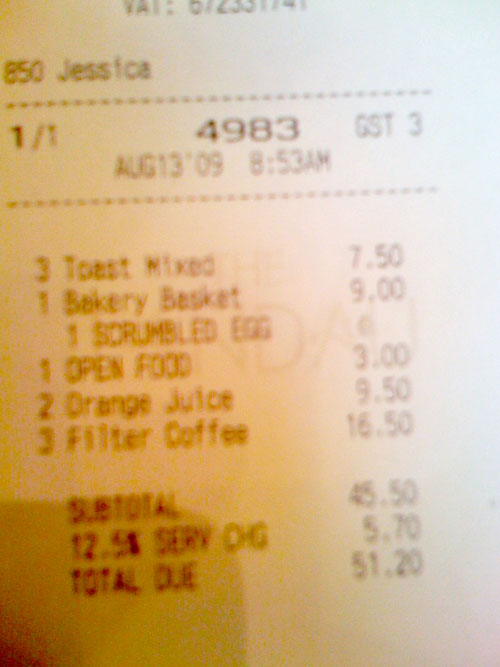 Here's a little egg - pre scrumbled...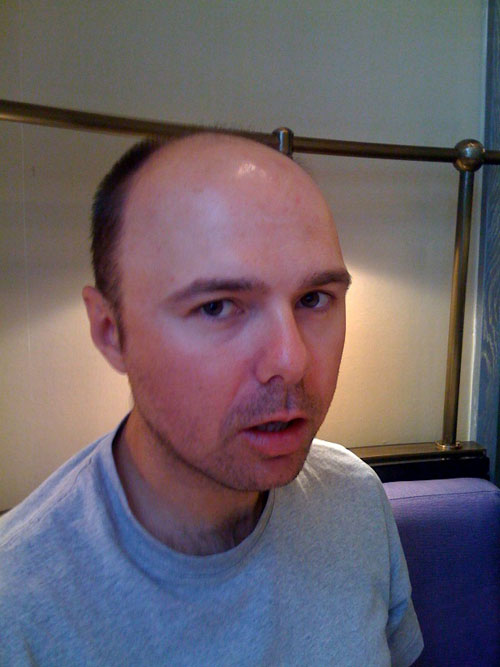 ---

Recorded a sketch with Louis C.K. today to promote The Invention of Lying. It certainly will never be shown on TV that's for sure.

I also recorded a review of the film with Karl. It was paid for by Universal and is exclusively for iTunes (video).

They gave Karl a special screening and limo'd him around, and the ungrateful twat moaned. He said he was rushed while watching the film (he said all this on air during the review!), and went on about how "you shouldn't give too much away about a film." It's one of the funniest and most pointless film reviews I've ever seen. And I think all film reviews are pretty pointless.

This is good

My favourite bit is when they put up the quotes and read them like they were from a high court transcript.

Great news report though.


---

Did a photo shoot with Rankin for the front cover of the November issue of Esquire. (Out early October. Yeah weird init?)

Probably my favourite photo shoot ever. (I don't want to give too much away but it involves stealing an iconic image of a hero.)

I'm recording an exclusive thing tomorrow for iTunes to promote The Invention of Lying. Basically, Karl is doing his very own version of Film 2009. He'd better give it a good review, the bald Manc twat, even though he was cut from the movie. By the way, the scene that was cut may be the most expensive DVD extra in film history. I will check that fact and get back to you.

Hope you like the little teaser for The Night at The Office on the front page of the website. (The sketch Steve and I shot will be out in a week or so.)

I have no explanation for this photo...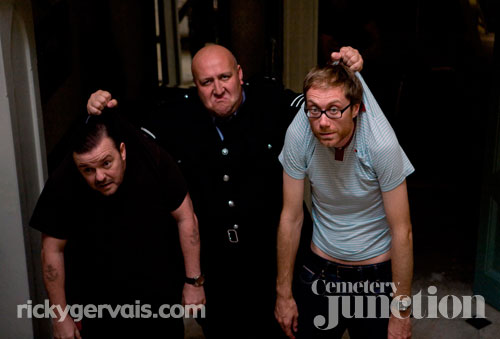 ---

Busy day. Lots of admin, planning and press. All the least fun bits basically. All part of the job. (A job, incidentally, which I did to avoid work. Hasn't turned out like I planned.)

Recorded an episode of Sky One's Guest List with Alex Zane. It's a sort of chat show about your favourite films. Well, in this case some of the films that have influenced my work over the years and in particular The Invention of Lying. It was fun actually as Alex is a good sport. And by that I mean he let me insult him for half an hour. He's grown a beard and so looks less like a girl, which disarmed me a bit. He said he grew it for that exact purpose.

While I was there I did a photo shoot for the front cover of the Sky Movies Mag. They are showing Ghost Town later in the autumn.

Steve and I recorded a sketch to promote The Office repeats-with-extra-bits show. It's called A Night At The Office by the way. They've done a great job and there're some really funny interviews with people like Hugh Jackman, Matthew Perry and Ben Stiller, plus the cast back together for the first time. And of course me and Steve talking about it all - ten years after the event in some cases. I love doing interviews for this sort of thing with Steve. It's the closest we ever get to being a proper double act and it's never forced. We fall into our roles so naturally. He's the adult with responsibility, I'm the idiot with power. One day we will exploit it I'm sure. When we've lost our looks maybe. (Stares straight at camera...)

Here's a little thing we did for T4.


---

Week seventy-eight - August 2009

Imagine if this were true...


---

Don't think I've shown you this.

This was Karl's original look for Cemetery Junction.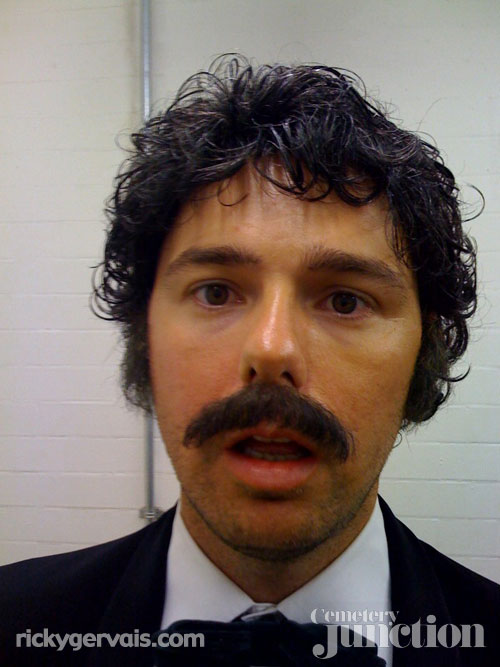 He was way too happy with it though. He felt disguised and in character. That wasn't the point. I wanted to annoy him and make him look a right gimp. So we made him take it off.

As you've seen, it was the right decision.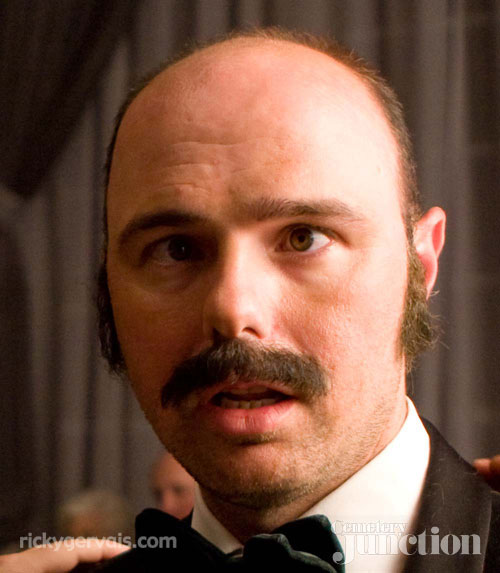 ---

Went into the edit for the first time today. Everything looks great. It's a real love letter to England. Or at least my memory of it.

This is the bus I used to get into town by the way. (I lived in Northumberland Avenue from when I was born till when I went to university.) The weird thing is I would have definitely sat on this actual one many times in the early 70s. I wouldn't have taken up two seats back then though.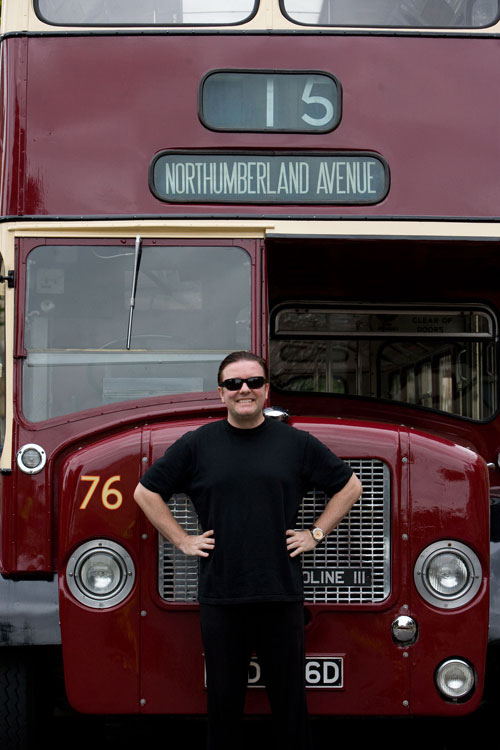 Here's the latest instalment of me getting pap shots of paps.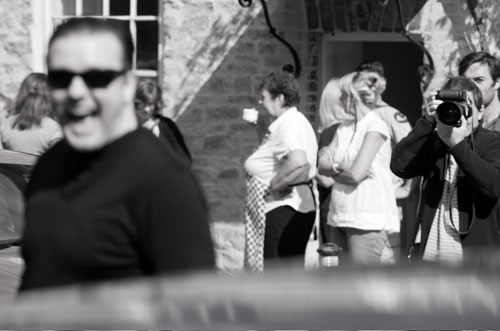 Here's me getting pup shots of pups.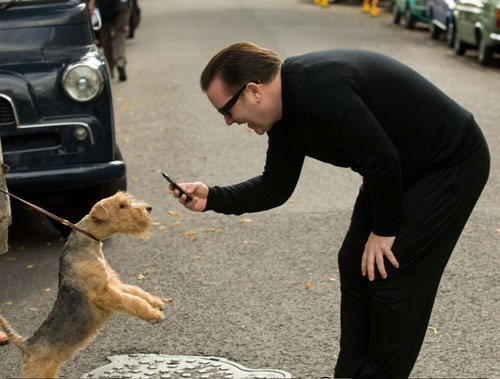 ---

So, finished filming Cemetery Junction, and started on a low budget remake of 'Alien'.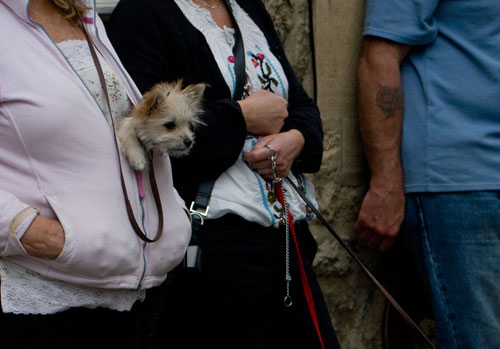 I love that dog!

As you can see.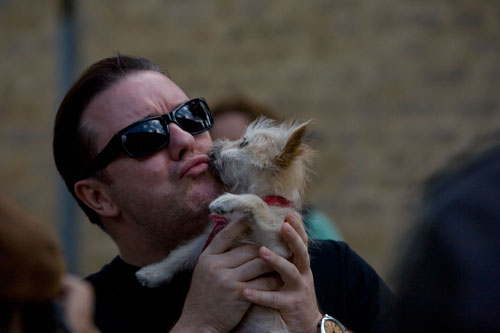 ---

We finished a day early on Cemetery Junction. The weather in the beautiful town of Woodstock was kind to us again and I honestly think we have a special movie in there somewhere.

Just the edit now. And the tour. And the promo for The Invention of Lying, plus the DVD to get ready. And the HBO animations. I'm fucking working everyday till midnight cos they don't get up in America till the after-fucking-noon. And the Flanimals movie and the new series of audiobooks, and this stupid blog that I wish I'd never started. Back to moaning again then. Good

This cheered me up though...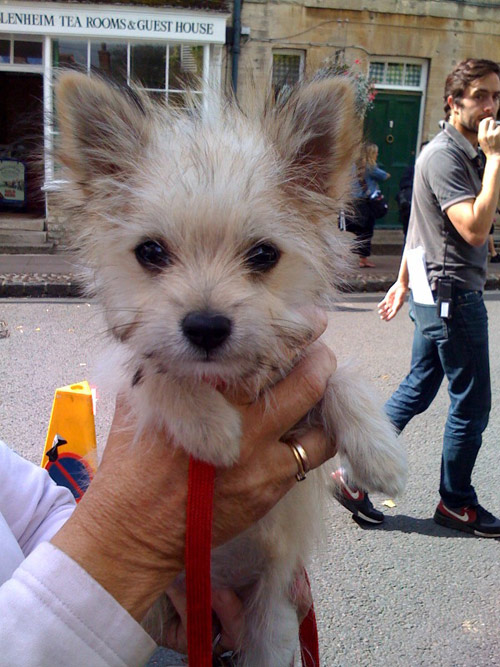 ---

So only a couple of days left of principal photography on Cemetery Junction.

I think this blog could suffer though. It may return to me torturing my freaky friends and moaning about stuff. (Yes I know I did that throughout the filming process too, but at least there were lots of other things to water that part down a bit.)

Steve wondered if his new rugged image made him look a bit more like Clint Eastwood.

I said he definitely looked like he could have been in 'Any Which Way But Loose'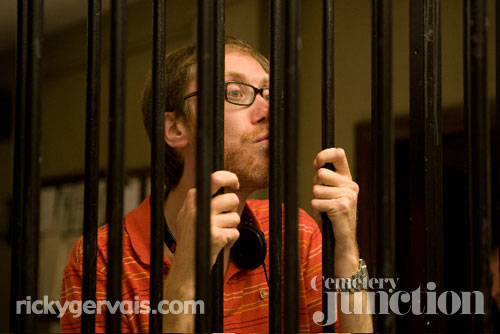 ---

Week seventy-seven - July 2009

This pic looks like I just landed in the past.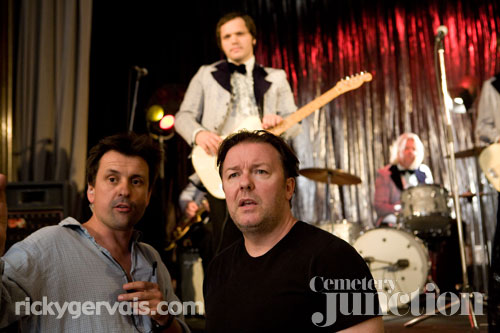 I look a bit scared too. I suppose it would worry you a bit.

That's why I have started to direct with a sword. Just in case I suddenly find myself in a violent place and time. 70's Reading for example. (Only joking.)

Now I really feel powerful.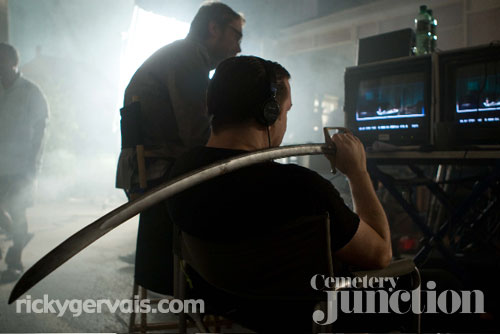 ---

I think we all know what the question was...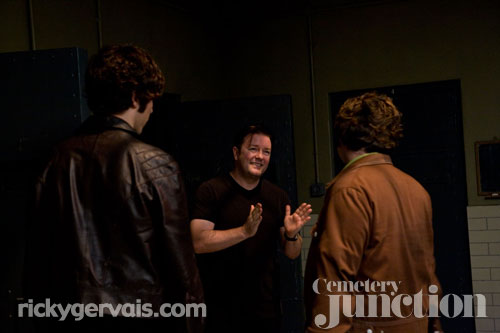 As you've probably noticed, I'm having a great time on Cemetery Junction. I'm sure you've also noticed that I love to give something back. We had a set visit today from a brave litle guy called Derek. He has gone through a lot, and when he was asked if he would like a trip to Disneyland he said, "No. I want to meet my hero Steve Merchant."

I captured that realised dream.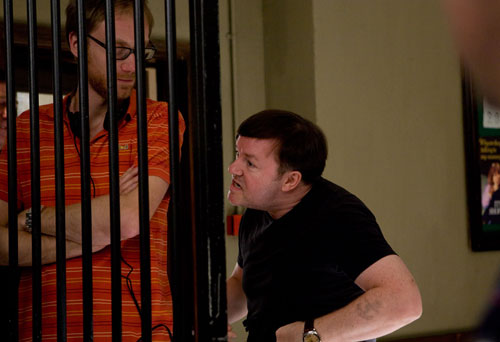 He is very strong.


---

Day 32 on Cemetery Junction.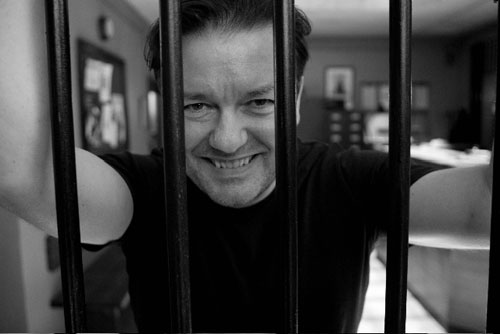 I get out in one week.

Nothing to report really. It's going brilliantly. Thanks for asking.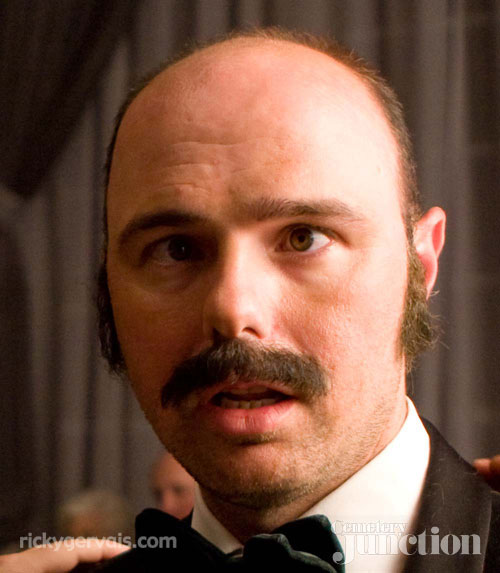 I've found the perfect cat for Karl.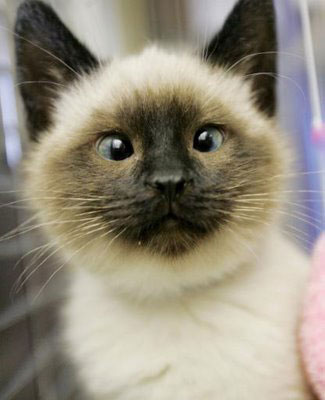 Someone sent me a link to a website that had made some of my blog pictures into a downloadable screensaver...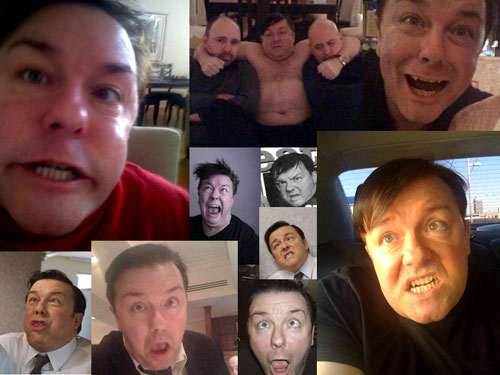 It made me think that I'm not making the most of my talents. The rules are; No wigs. No makeup. No props. Enjoy.

Here's a new one.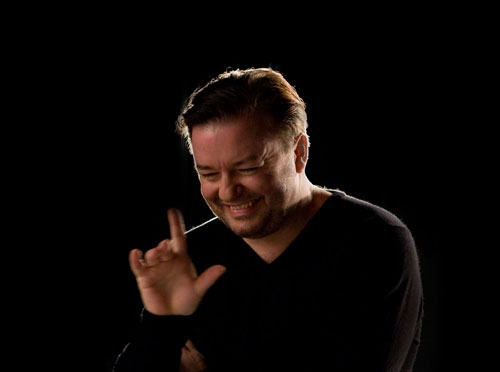 Not that one. That's just me preparing...

This one.





That's a solid 8.5 I think.

Thank you.


---

As promised...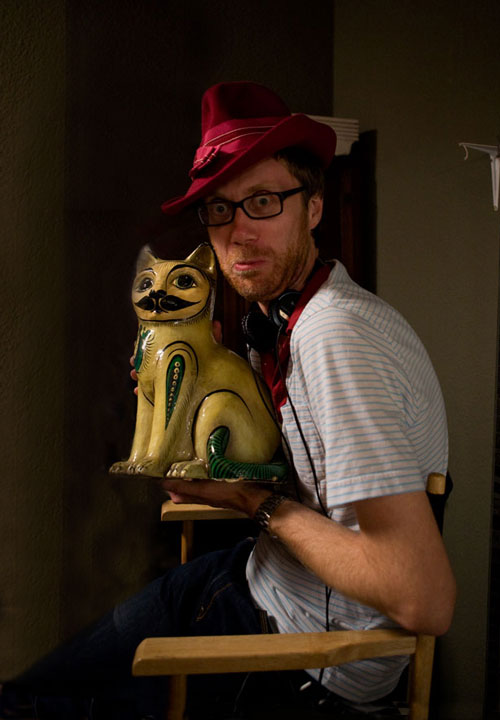 ---

Day 30 on Cemetery Junction.

Lots to do, but we work fast. Well I work fast. Steve would be there till gone six if i didn't put my foot down.

I sometimes wonder if Steve is a true friend as he rarely lets me publicly humiliate him. Today though I feel we bonded.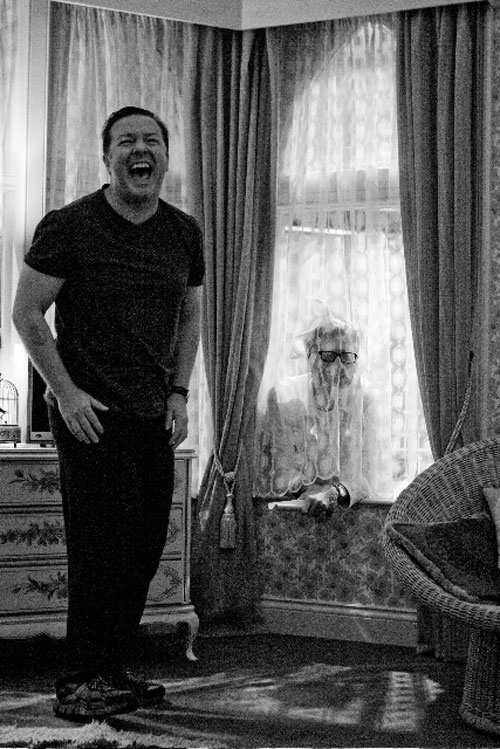 Tomorrow I will try to dress him us a Quentin Crisp without him knowing.


---

Week seventy-six - July 2009

Had a set visit today from some new chums...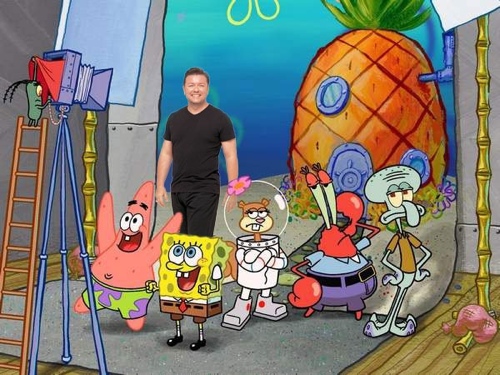 None of them are any weirder than Karl though. That's the weird thing.

Seven days left of principal photography on Cemetery Junction. Then I have to do a few gigs.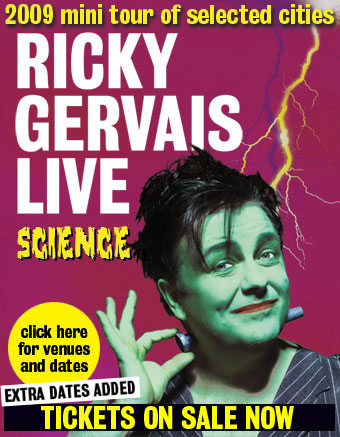 And promote The Invention of Lying.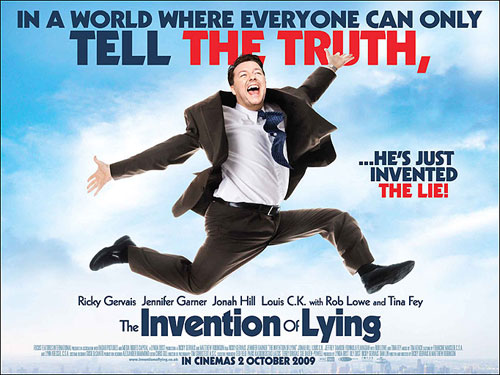 It's a busy time, but things like this;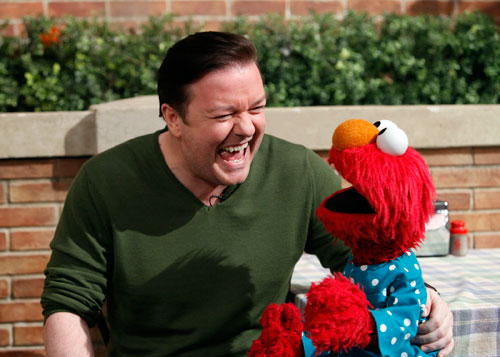 and this;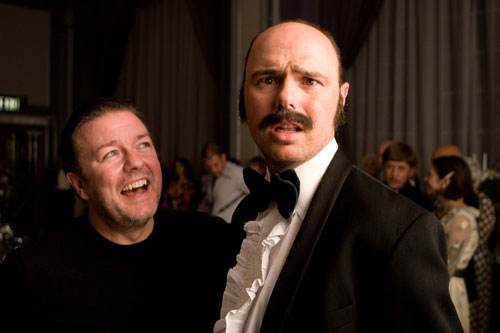 make it all worth it.

I see a pattern.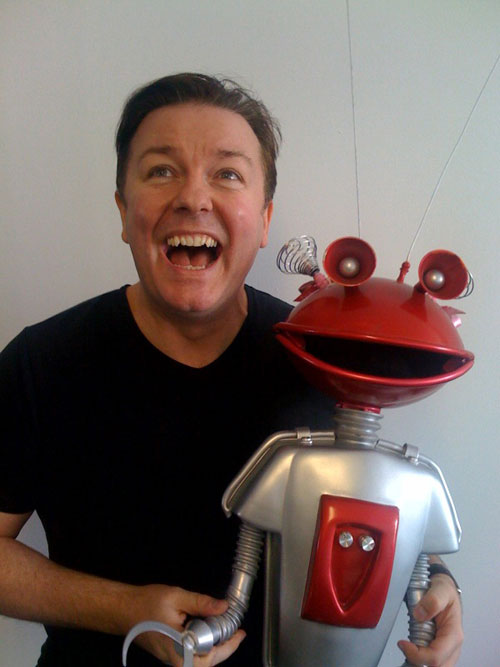 ---

Saw the animatic for the second episode of The Ricky Gervais Show today. We're playing with the order a bit but it's the one with the Monkey News where a woman in a sanctuary is fired because she won't let a chimp play with her tits. The animation is amazing.

It looks like the series will start after Xmas (In the US, that is. Don't know when the UK will get it yet I'm afraid.)

Also, the BBC have confirmed the transmission date of The Office series one (with interviews and unseen footage etc.) It's Sunday 30th August at 9pm on BBC2. Perfect.

Ralph's last day on Cemetery Junction today. He was fantastic and I can't wait to tell you what he's agreed to do for Comic Relief. But I have to.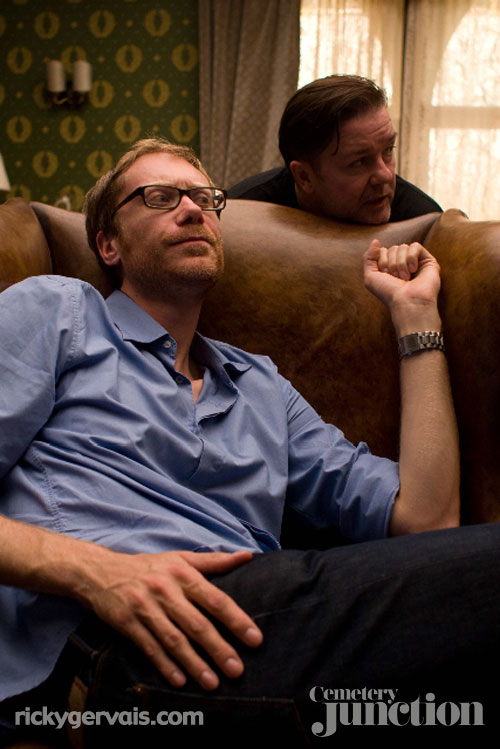 This looks like some weird puppet show has gone wrong.

Steve should be out of sight with his hand up my arse. Like he is now as I'm typing this.


---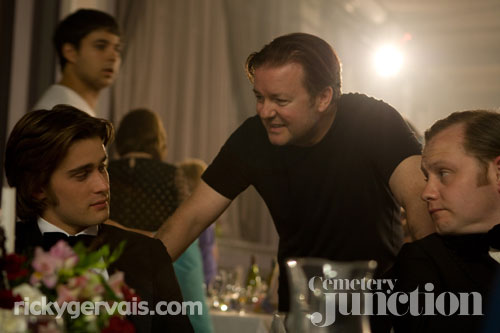 This is the moment when Christian Cooke, playing my son, wondered if one day he would look like me.

In this photo we are laughing for opposite reasons. He is thinking no one as young and thin as him could end up looking like me.

Ha ha ha.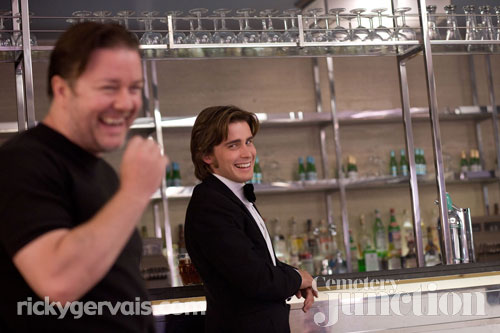 ---

Had another dream. This time I was an invisible ninja who could sneak into functions undetected.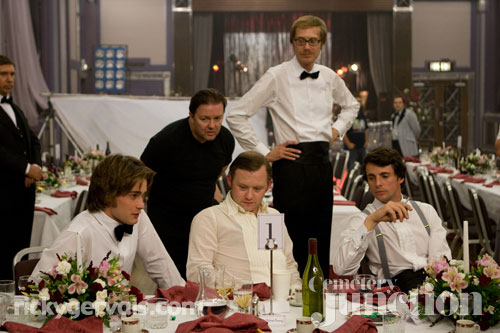 ---

Day 26 on the movie they are calling Cemetery Junction.

Shot some pivotal scenes today, including the one where we first meet Mr Kendrick (Ralph Fiennes) and Mike (Matthew Goode).

Without giving too much away, Freddie (Christian Cooke) goes for a job at The Vigilant Life Assurance Company to avoid turning out like his dad (Ricky Gervais) (me).

Caption Competition...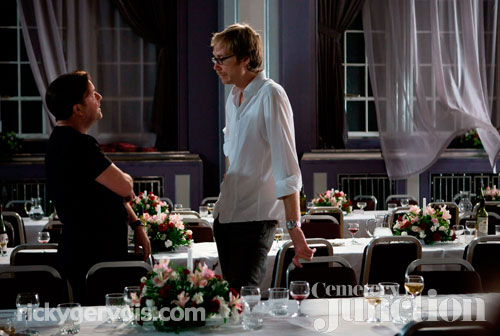 Steve - Rick, what if no one turns up to this party?

Ricky - We'll eat all the food ourselves.

Steve - You did send out the invites didn't you?

Ricky - Let's eat.


---

Week seventy-five - July 2009

Had a dream that I was given millions of pounds to make a Hollywood movie.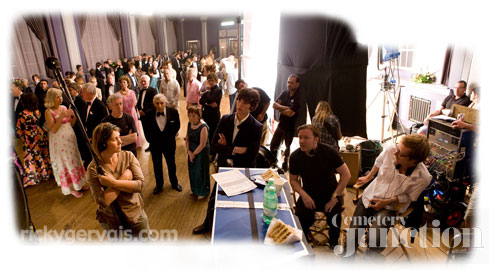 But I just dressed up my gimp mate like a complete div and laughed till I burst.





Then I dressed up Boyd Hilton from Heat magazine and Steve Merchant had a moustache.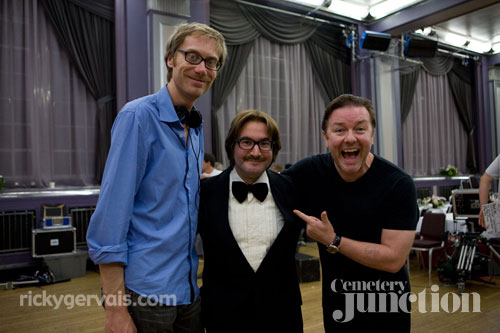 Then Ralph Fiennes from Schindler's List turned up and was really brilliant and took me seriously as a director and everything.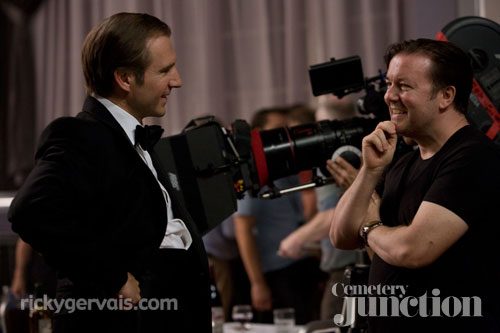 Imagine that.


---

My best day ever.

The news that I had been Emmy nominated for my stand-up show was overshadowed by Karl Pilkington's cameo in Cemetery Junction.

It is a non-speaking role, but his is my favourite character in the whole movie of course. Are you fucking ready...?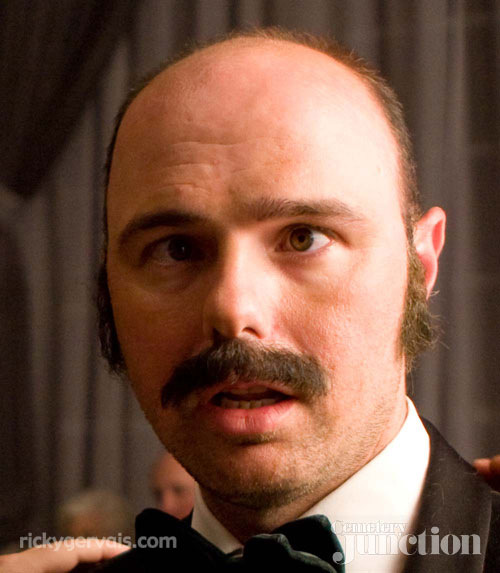 ---

Possibly my favourite day so far. I can't tell you why exactly as it gives away a big plot surprise, but it involved all the main players in the only real social faux pas in the whole film. Yes, strangely for us there is only one, but it's fucking huge.

Even though we didn't finish till after 6pm, I still enjoyed it.

So did this well dressed chap...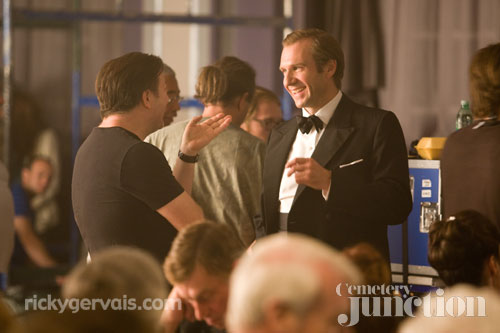 This must be after I asked him if he thought I was as good as Spielberg.

This pic was taken after Steve asked me if I thought he looked more handsom with a moustache...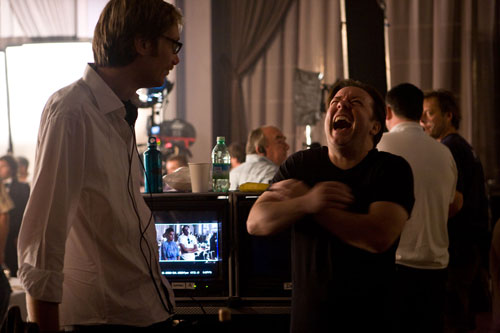 ---

So the first look at The Invention of Lying's poster was released today in The Sun.

Hope you like it. (You know that's a lie for a start don't you?)

Actually, what I mean is I like it, and I hope it makes you want to go and see the film - which I hope you like... if you're smart with a good sense of humour, that is. (Yes I know everyone thinks they're smart with a good sense of humour, but they're not. This is what is both good and bad about being a comedian.)

Also it was announced today that the movie gets a gala premiere at this year's Toronto Film Festival. Excellent.

But meanwhile, back on the film I'm making at the moment...

Another good day with Mr Fiennes. At one point after a take I realised that to let Ralph know I was happy with a take, I put two thumbs up to him. I caught myself and said, "Does Spielberg do that?" He said, "He does now." Nice.

Then he stormed out and said, "I'm never working with this useless fat Berkshire buffoon again."

Well he didn't actually say it, but I bet that's what he was thinking.


---

Did our first day filming with Ralph Fiennes and Emily Watson. Oh... so that's why they get Oscar-nominated. They were fantastic. But I suppose that's to be expected.

Another nice review of the teaser trailer we did.

And here's a little in-joke for the good people of Reading. Or anyone who knows I'm from Whitley. So not an in-joke at all actually. Which is a good thing.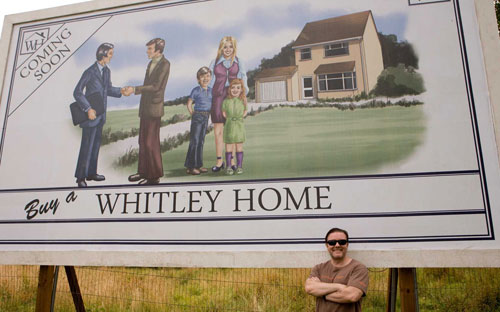 Oh, and calling all journalists. I didn't "condone" bullfighting, I "condemned" it. Quite a difference. Sort of the opposite in fact. Thanks.


---

Went to Hampton Court Flower Show. It rained. It's good for the roses I suppose.

On the way back we popped into The Mayhew Animal Home and played with about 20 kittens. (It's my day off OK?) Get involved if you live in London

Talking of Rock and Roll, check out the website of our special guest documentary photographer Jill Furmanovsky.

She's done all the mega icon superstars... Jagger, Bowie, Dylan, Hendrix, Mercury, Jackson and, of course...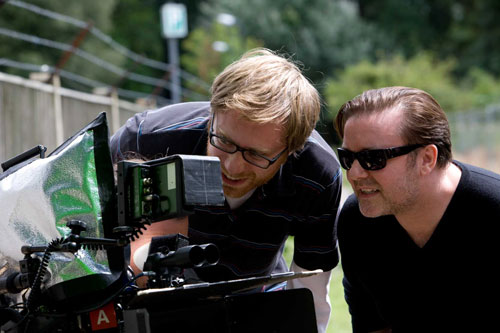 Our unit photographer Giles Keyte is no slouch either.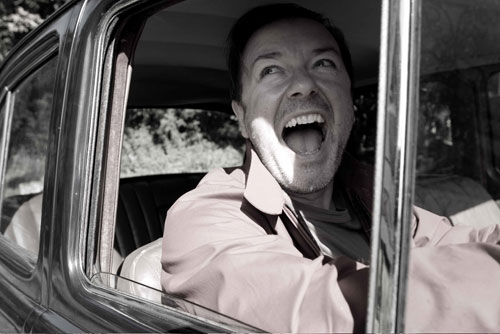 I must be doing an impression of Elmo in this shot.


---

Week seventy-four - July 2009

End of week four. What a fantastic month of filming. I know I joke on this blog about the hours, and moan about everything, but it really couldn't be a better experience. Unless we started at 10. But then we wouldn't finish till 6.

Swings and roundabouts.

We were filming outside today and of course the weather was lovely. Someone suggested I put sunblock on. I did. Over the next few minutes, it worked its way through my eyelids and into my eyes. I rubbed them and wept for an hour or so then got the medic to give me an eye wash. Soon after, my eyes started stinging again and continued to do so all day. I wiped them with saline solution and have even had a bath since, and they are still sore. Next time I will choose sunburn, as that is less painful and debilitating.

Let that be a warning.

Here's another warning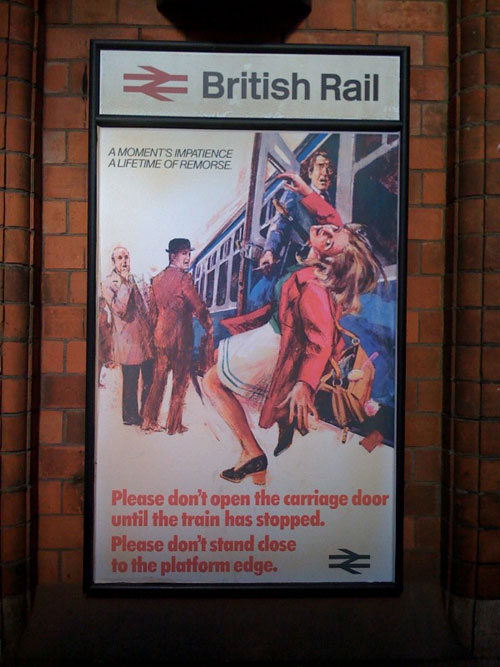 In other news this week...

The posters go up in theatres next week for The Invention of Lying.

Don't know if you saw this... Hilarious.

Oscar Buzz for 'The Invention Of Lying'

Based on a leaked early version of the script and a two minute trailer, movers and shakers are predicting awards for Ricky Gervais' directorial debut.

Cinematically Correct reported
Can it get any better? I've even read that there are Oscar rumors for this one.

Ryan Adams of Awards Daily said,
I like the sound of "Oscar-nominated screenwriter, Ricky Gervais."

And J.J. Abrams (Director of Star Trek) wrote,
"Ricky Gervais proves, once again, that he is the master. Not only of comedy, but social commentary. The Invention of Lying is as funny as it is biting, wholly original, and surprisingly moving. Is there such a thing as an important comedy? Turns out there is, and this is it. If you're still reading this, you should stop immediately and go see The Invention of Lying!"

Things about me and the world's most famous sponge... here and here

Another nice review about Ghost Town. Don't know why it's still getting column inches. Maybe it's on telly or something.

And finally thanks to all the websites and news channels that ran our little teaser with the mighty Ralph Fiennes. Glad you liked it.


---

Over half way through filming Cemetery Junction. Not that I'm counting the days. I'm really enjoying it. (17 working days to go.)

Why do I pull a funny face when I do this?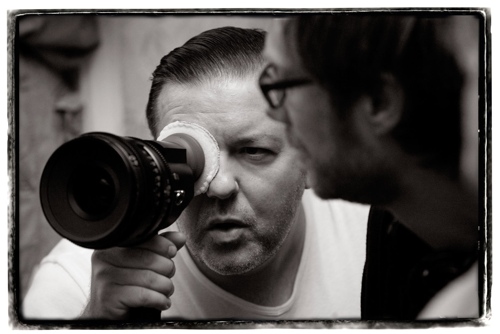 Hope you liked the little teaser trailer by the way. (It's on the front page and over on the right hand column)

Also you may have missed this on BBC News.


---

Finally, the world comes to its senses.

Did my last day acting today (not ever I hope, just in this film).

I told you a lot of it was me lying down.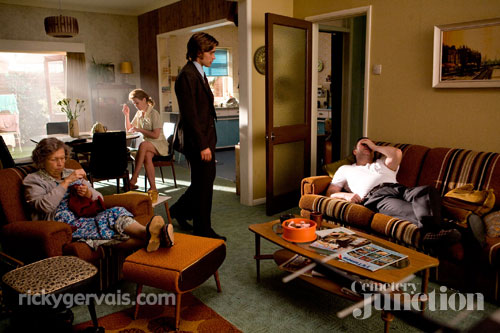 That's my mum (Anne Reid), my wife (Julia Davis) and my son Freddie (Christian Cooke).


---

We're releasing a little teaser trailer for Cemetery Junction on MSN Wednesday lunchtime. It's actually for cinema but take a look on a much smaller screen first.

Did some acting today. Luckily my character seems to be sitting or lying down in nearly all his scenes. Stroke of luck.

I had to stand up occasionally to do this...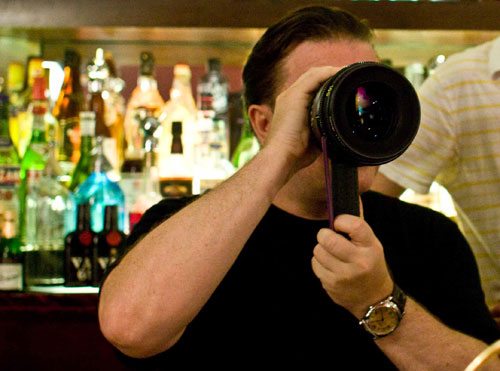 ---

Steve and I just had a romantic candlelit meal in the restaurant of a beautiful hotel we are staying in. (Separate rooms.)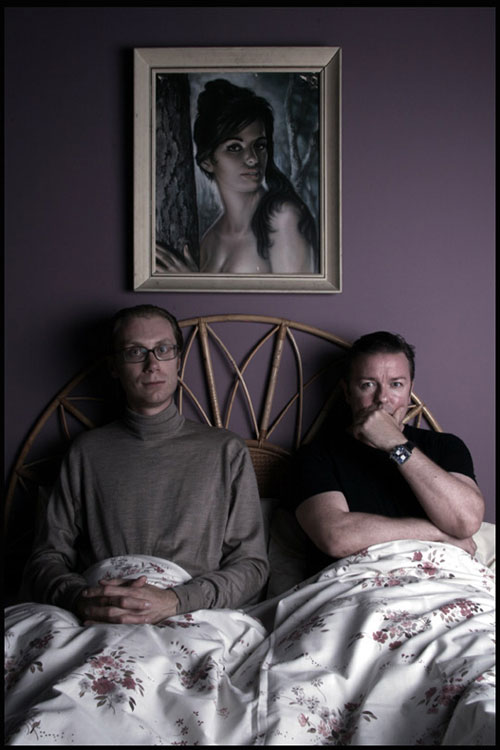 Steve had to move rooms today actually, as he was in an attic room and couldn't stand up straight without hitting his head. Lanky freak.

Saw the proofs for the US and international poster for The Invention of Lying. Very different, but I like them both in their own ways. You will hopefully hate them in different ways. Just joking. Someone at one of the studios was worried about me be being self-deprecating about the film. I explained that I think the film is great but that I also know that some people have already written their bad reviews before they've seen it.

I (honestly) wouldn't have it any other way. I love the world. Must be the senility kicking in.


---

Some food critic said I was a hypocrite for not understanding why people like to see a bull speared to death, when I'm clearly not a vegan and eat hamburgers at midnight.

I think there is a difference between animals being humanely killed for meat and animals being tortured to death for fun.

It's the "enjoying it" part I don't understand.

Wouldn't it be weird if non-vegans went down to abattoirs in their hundreds and cheered as the animals were slaughtered? Would that be a sport?

I've heard some equally silly arguments about our very own fox hunting. (Although at one point in his article he tried to make my hatred of bullfighting look like xenophobia.)

"It's a tradition." "Foxes need to be culled." So loads of inbreds on horses might as well enjoy it right?

I have had several pets put down over the years when they were in pain with no quality of life. It was the right thing to do and yet on every occasion I cried. What a wuss. Next time, I will invite the food critic round and he can have a good old wank as the needle goes in. It's only an animal, it was going to die anyway, may as well have a laugh. It may even become a tradition, and you can never end those.

I wonder what other wonderful traditions he loves. His favourite is probably the one where they cut the tendons on the back of the bull's neck so they can't lift their head and so it looks like they're constantly in "charge pose". More fun for the crowd. I'm getting hard just thinking about it.

He also made loads of other assumptions about me and got quite personal but by then he was basically showing that he just doesn't like me. At one point he went off on one, assuming that because I don't like that particular "foreign" tradition that I probably hated all foreign traditions. So does he agree with all foreign traditions? Does he like that lovely foreign tradition of holding down teenage girls and cutting off their clitorises? That's a cracker isn't it.

Anyway... Went to The Ivy tonight with Ben Stiller. I had a Caesar salad followed by fish and chips (I haven't eaten red meat for ages by the way), and chocolate pudding for afters. It was lovely.

(Could I get £150 pounds for this review do you think?)

So week four on Cemetery Junction starts tomorrow. We're in the studio most of the time now so the weather can do what it wants. Although if it's really sunny I resent being indoors and missing it. Still mustn't grumble.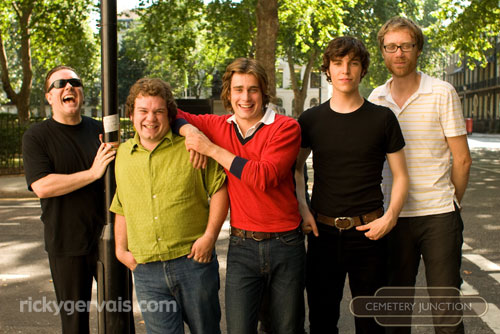 ---

Week seventy-three - June/July 2009

The end of week three on good ship Cemetery Junction.

Shot a few scenes in Hornsey Town Hall today. At lunch time we played in a 70's Black Mariah.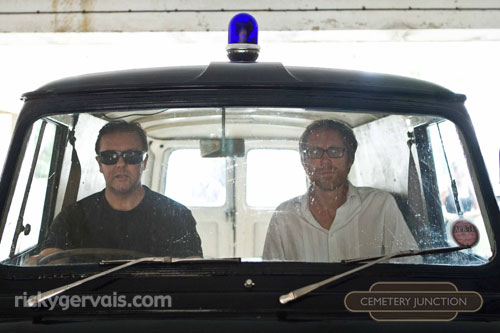 I've been so busy that I haven't been able to annoy Karl all the time.

He made me a very funny birthday card.

It's me taking pictures of myself on my iPhone.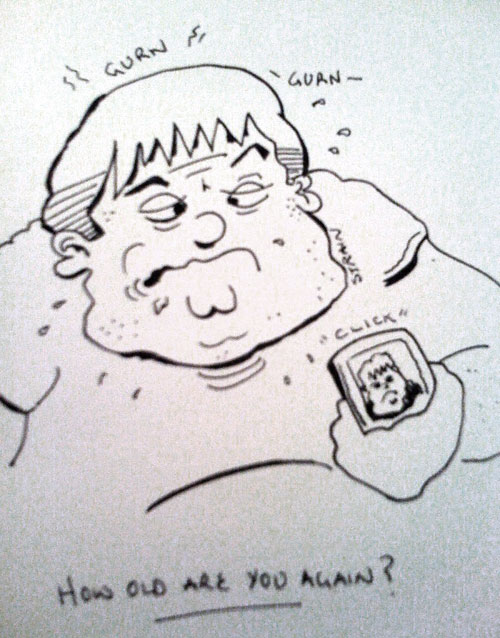 It's just a silly cartoon though. No one could really look that bad.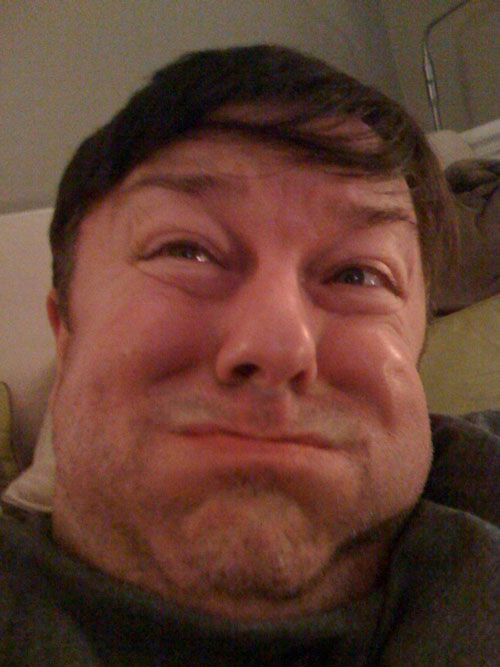 ---

Some directors lean on the backs of chairs or tables when they're working out the next shot.

Noooo!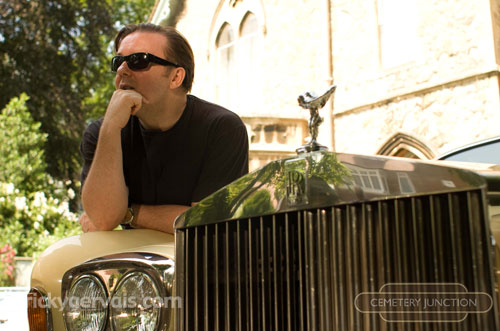 Great day today in sunny Highgate. We were doing scenes at Mr Kendrck's house. (Played by Ralph Fiennes. Mr Kendrick that is. Not Mr Kendrick's house. That would be mental and I don't think Ralph would have taken the role if he'd have been playing a building instead of a person)

That's Mr Kendrick's car I'm leaning on. (Played by Daniel Day Lewis. Amazing. Two years in makeup every day)


---

It was a hot day to be filming dancing and fighting scenes. No trouble for me of course. I sat by a monitor with a fan on me, saying, "do it again."

It's nice being in the background...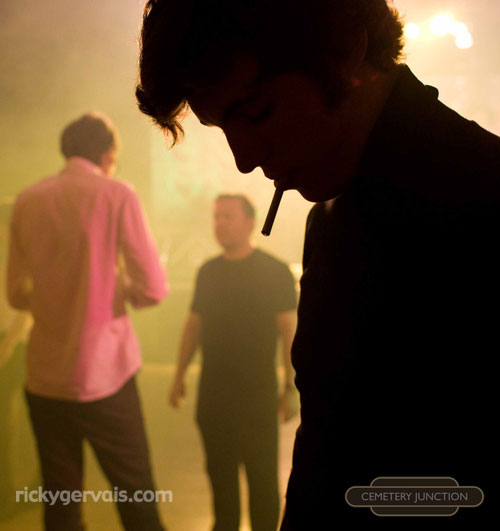 boxofficeprofits.com gave The Invention of Lying trailer the thumbs up.

It's had such positive feedback so far, but I don't know whether this is a good sign or not.

Everyone hated the Ghost Town trailer but loved the film.

Having said that, everything I've ever done has had negative responses initially. Especially The Office and Extras.

I still remember, the very first review of The Office I read was a terrible slagging by Victor Lewis Smith. My favourite bit was when he said something like "Gervais often fluffs his lines." Brilliant.

Anyway...

Another nice response here, although the picture they use will make people think it's a remake of Rain Man.


---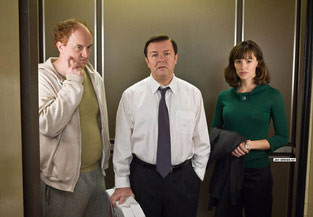 This was my face when I read that I'd "slammed all British comedy".

Well, I said that, at the moment, my favourite comedy is coming out of America, if that counts as "slamming".

Here are some things I like that are British at the moment...

TV Burp
Peep Show


Here are some things I have liked in the past...

Monty Python
Cook and Moore
Fawlty Towers
Ripping Yarns
Reginald Perrin
Rising Damp
Porridge
Blackadder
Fry and Laurie
Harry Enfield
The Day Today
Brass Eye
Father Ted
Big Train

Here are some things I like that are American at the moment...

The Office
30 Rock
Entourage
Curb Your Enthusiasm
The Simpsons
South Park
Family Guy
Dexter (it's funny in parts)

Here are some American things I have liked in the past...

Laurel and Hardy (half English)
Marx Brothers
Woody Allen
Bilko
Mash
Rhoda
Taxi
Wait Till Your Father Gets Home
Cheers
Seinfeld
Rosanne
Larry Sanders
Police Squad
It's Garry Shandling
Arrested Development
Saturday Night Live

I'm sure I've forgotten some, but that's a quick list that comes to mind. Please don't be offended by my personal taste.

I also prefer Cheddar to Brie. Have I gone too far? Me and my big mouth.


---

The Invention of Lying trailer has gone down a storm but now I can't wait for people to see the whole movie.

There are so many great things we couldn't put in the trailer as it would either 1. give plot points away, 2. cause early controversy, or 3. ruin some great cameo surprises.

I am trying to curb my excitement but I can't. Just three months to wait.

I am, however, keeping quite busy in the meantime by directing another little movie.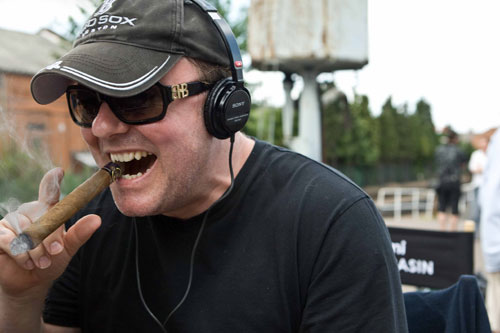 (Yes of course it's a joke... I look like Jimmy fucking Savile for Christ's sake.)


---

Week seventy-two - June 2009

So The Invention Of Lying trailer is out on the internet around the world.

Hope you like it.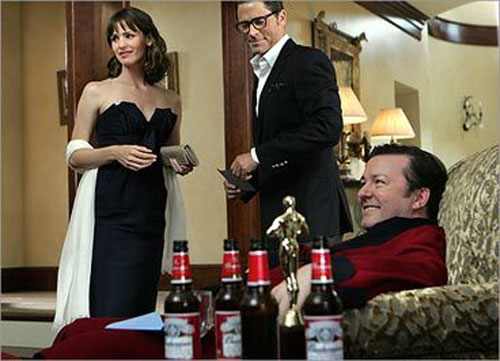 Well, I hope some of you like it anyway.

As I've said before, some will love the movie and some will hate it. Some will hate it so much that they will also hate the fact that some people love it. Most that love it won't care that some people hate it. Some that love it will also love the fact that some people hate it. I am one of those people, but I also love the fact that some people will love it. You get the point.

Dear critics (everyone), when judging the film, please remember that it is a high concept, PG 13 romantic comedy. It's not Shindler's List or The Godfather. If you compare it to serious works of genius it will not fair that well. If you compare it to many other lighthearted comedy movies it will do rather well. I know full well that some will hold it up to scrutiny like I think it is Citizen Kane. But I don't. One reviewer said that the Extras Christmas Special was sub-Dickens. Really? An episode of a sitcom wasn't as good as the greatest storyteller of the last 500 years maybe? Poor. Very poor.

I blame The Office.






So from now on let every comedy be judged against The Office.

That's fair. Or maybe we should just take things for what they are.

The Invention Of Lying is a fun adventure with some great comic actors saying some funny things. (In my opinion.) But who am I to judge? Well I'm the bloke that did The Office. And that's brilliant. Better than Dickens. And much better than that fucking awful Extras.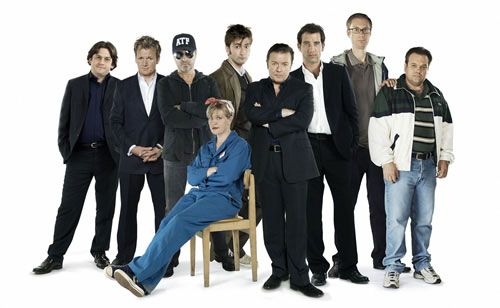 ---

I am over the fucking moon.

J.J. Abrams (Star Trek Director) watched The Invention of Lying and said it was one of his favourite films. I know I shouldn't care what people think - some people will like it, some will hate it, and some won't care either way. But the reason I'm so excited in this instance is that I think J.J. is one of the most exciting directors out there at the moment. He's like the new Spielberg, and well, I was honestly blown away.

He also said...

Ricky Gervais proves, once again, that he is the master. Not only of comedy, but social commentary. 'The Invention of Lying' is as funny as it is biting, wholly original, and surprisingly moving. Is there such thing as an important comedy? Turns out there is, and this is it. If you're still reading this, you should stop immediately and go see 'The Invention of Lying!'"

This is better than meeting Elmo. Well as good anyway.

Back to Cemetery Junction...

Me and Steve in our directors' uniforms; beards and sunglasses. Do we look a bit ginger?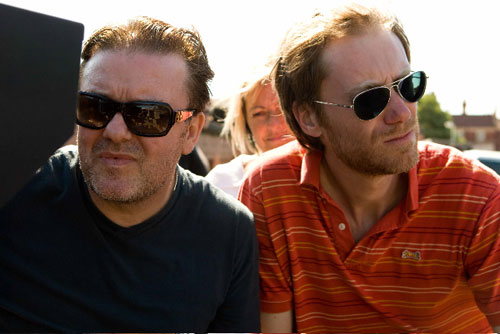 ---

Happy birthday to me... etc.

This is a nice present.. I've had a rescued bullock named after me. Thank you PETA.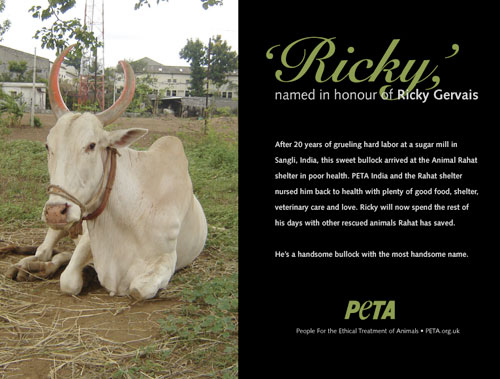 Another lovely present is the luck we've had with the glorious summer for our external shots. We wanted to get away from the drab, depressing flat lighting in a lot of British films and sell a memory of sunny days growing up.

Welcome to Cemetery Junction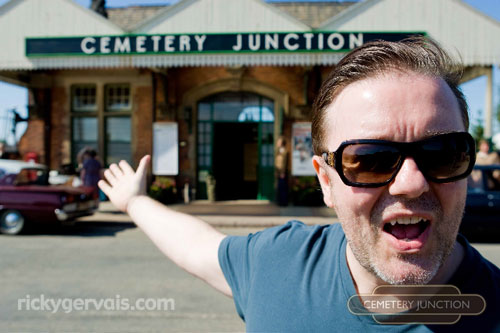 ---

Another beautiful day in 70's England.





Don't worry. I was wearing sunblock.

In other news... The first online trailer for The Invention of Lying will get its first showing exclusively on Yahoo this Friday.

Hope you like it.


---

Another good day on set. The weather has been very kind to us and the film is going to look amazing.

Well, the bits that I'm not in obviously.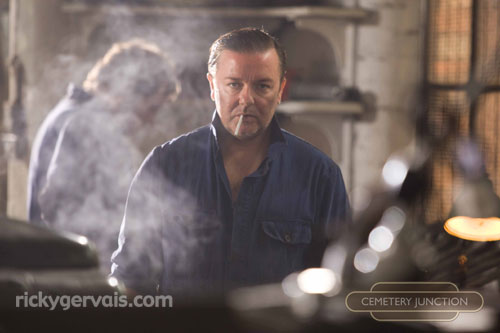 ---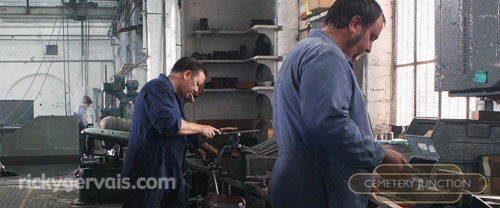 Don't worry. I still haven't done an honest days work in my life. It's a scene from the film. This is me in character (Len Taylor). I play a fat middle-aged bloke from Reading by the way. Chameleon.


---

Week seventy-one - June 2009

So, one week done of principal photography on the feature film Cemetery Junction. Six to go.

For that entire period we have hired a unit photographer who is on set all day. I discovered a new fun game to play. I make him take pictures of the paparazzi. We also have an EPK crew. (Electronic Press Kit) They record interviews with the cast and get B-roll on DV cameras.) I will start interviewing the paps too maybe. Possibly follow them home.

Here is the first in my series of pictures of people who hide behind walls for a living.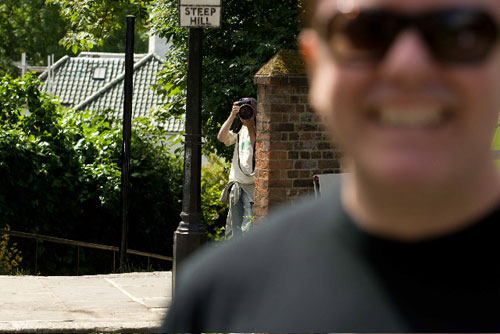 ---

Spent the morning in a pub in Crouch End (filming, not drinking obviously.) By lunchtime our eyes were watering from the cigarette smoke. It's the 70's remember.

The great Steve Spiers did his first day. Very funny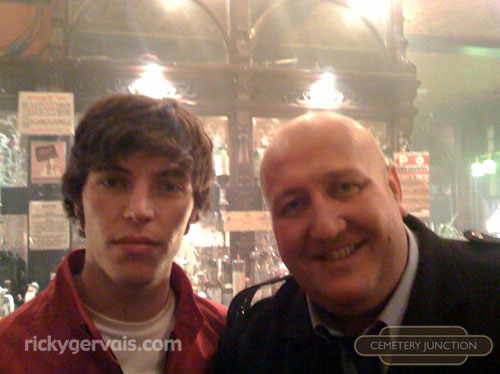 As you can see from his head, he has the right credentials to be a friend of mine.

Talking of weird headed chums. I thought this prop looked a bit like Karl, me and Steve Merchant.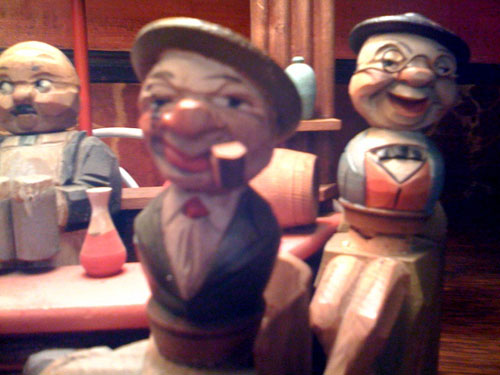 ---

So as you know, (if you live in London), it was an overcast day today with scattered showers.

I know this, as I was filming outdoors, and looking up at the sky for 8 hours wishing it was sunnier.

Guess what. I got sunburn. Brilliant.

Matthew Goode started today and did a bit of snazzy driving for us.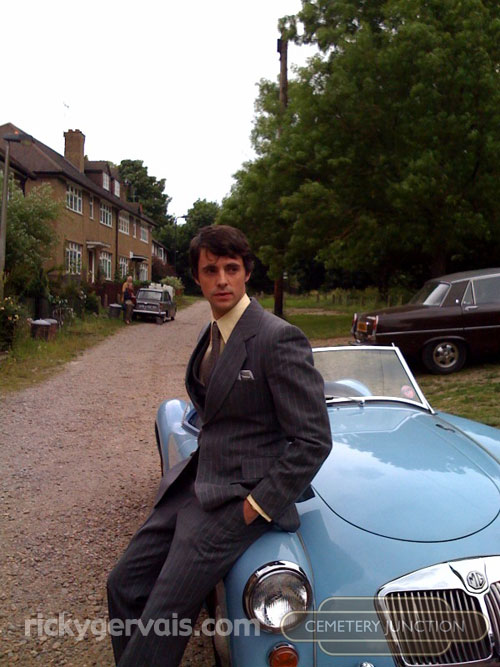 In other news... I'm headlining The New York Comedy Festival this year. Here's what the BBC say about it. Tickets go on sale in August.


---

Apparently it was a lovely day today. I wouldn't know. We were shooting a chase sequence in 70,000 square feet of underground tunnels.

Still, it's better than a night shoot.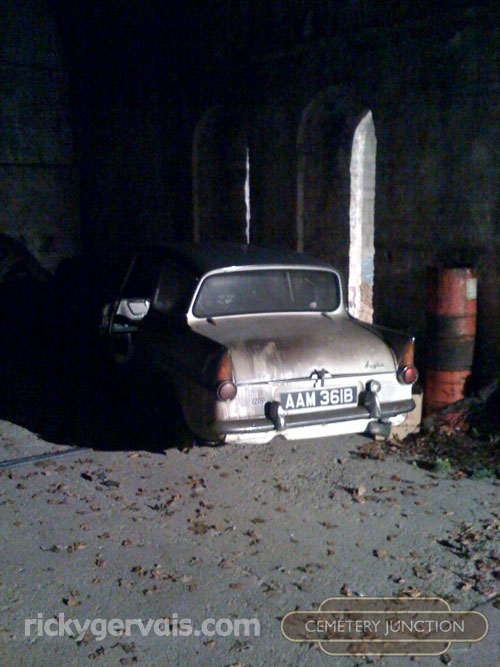 Discovered a new face too.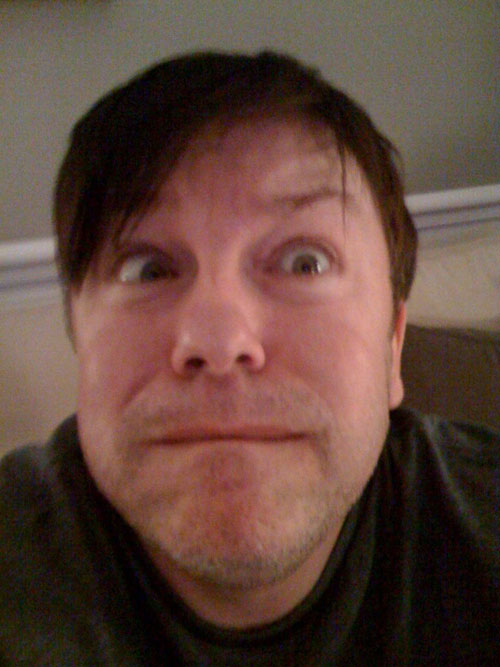 ---

So it's finally here. We start filming Cemetery Junction today. I will be keeping a record and posting pictures and stuff from the set.

Today in 1942, Anne Frank began her famous diary chronicling her family's hideout during the Nazi occupation.

We all love blogging.

On a lighter note.
Some perfectly positioned Mickey Mouse ears behind me...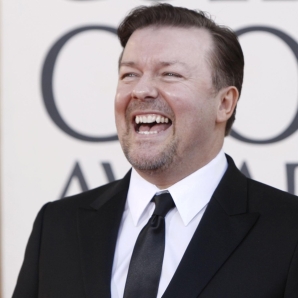 The Golden Globes. Once so kind...

Someone has done a little tribute to Extras on YouTube. It sums up the show quite well I think.


---

Week seventy - June 2009

Last day of rehearsals today. We also did all the stunt choreography which is fun. It's not The Bourne Identity but there's a good bit of action.

Thought you might want to see the gang.

The remit we gave ourselves was to find the English 23 year-old, John Travolta, James Dean and Lou Costello.

Here's a little snap shot of the costume and makeup tests.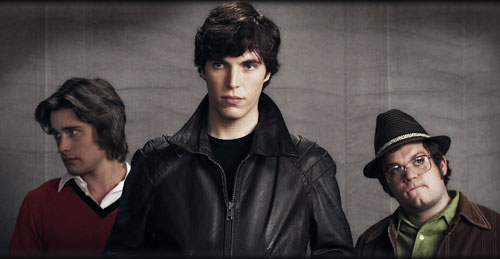 Freddie (Christian Cooke), Bruce (Tom hughes), and Snork (Jack Doolan).


---

Busiest day so far. Rehearsals for Cemetery Junction all day and a publicity meeting for The Invention of Lying in my lunch hour. (I'm like Cinderella.)

It was with the Universal team who are the distributor for the UK and the rest of the world (except in the US where it's Warners). They are really behind it and had some great ideas. I usually leave those meetings depressed, realizing that I now have to start again, and do everything myself, but I'm really excited about it. I can't wait for the trailer to see the light of day too. (End of June maybe.)

Matt Robinson and I did a little thing for a film website about our favourite summer movie. Matt stuck it on his blog here.


---

A great day on good ship Cemetery Junction.

It looks like we'll get our 15 certificate, which is great as we were worried it might be an 18. It's definitely an R in the US but that's fine.

Rehearsals went really well again but, the best bit was I met the actual little fella from the Smash commercial.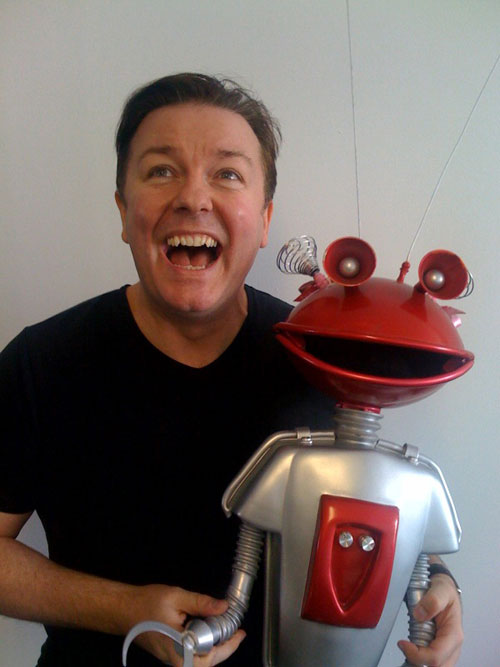 What is it with me and weird-headed little freaks?

Here he is in action.


---

"Previously on 24"

OK. Here's the idea. Are there any actors and film crew out there who would work half the hours per day for half the money? You'd eventually earn the same, but it would take twice as long. So it would be a lovely 14 week shoot, instead of 7, but we'd work 10 till 3 say. What a lovely summer that would be. Think about it and get back to me. Yes you guessed it. I got up early, worked all day and didn't get home till gone 6pm. Who am I? Jack Bauer for fuck's sake? Ridiculous.

I did my costume and makeup camera test today. Steve said, "You look a bit cool." (Officially the nicest thing he's ever said to me.) "Really?" I said. That's not good. My character mustn't look cool. I played back the film. It was a false alarm. What I saw was a fat scruffy middled-aged slob. Phew! Crisis over.

On a positive note, the rehearsals went really well today. The actors and crew were amazing. I've got the same feeling I had when we started The Office. Everyone gets it, and I think we have something a bit special (arrogant.)

But why do we have to do such long hours?

"I'm Ricky Gervais, and this is the longest day of my life."


---

Had our big all-cast read through this morning, followed by our first rehearsals. It's all looking good. There's a real buzz now. Everyone seems to be on top form. Hope we haven't peaked too early. (I don't know what that means.)

I picked my costume today. I basically dressed like my dad. I'm thinking my character would have a tattoo, but that could mean getting there 15 minutes early on filming days. It's a tough one.


---

Week sixty-nine - June 2009

You may have read about the retrospectives the BBC are making. If not...

"The BBC in collaboration with Ricky Gervais and Stephen Merchant, is producing epic retrospectives of the only two British sitcoms ever to win Golden Globes: The Office and Extras.

The episodes will be interspersed with interviews with the cast and celebrity fans, such as Richard Curtis, Ben Stiller, Matthew Perry, Kate Winslet, Billy Connolly, Patrick Stewart and of course Ricky Gervais and Stephen Merchant. There will also be previously unseen footage, deleted scenes and outtakes. The first part of these three and a half hour retrospectives will be series one of The Office which will be broadcast late summer. The second part will be the first series of Extras scheduled to broadcast in late 2009. The second series of The Office and Extras will follow this format in 2010, as will the two Specials."

But now more important news

He loved his trifle.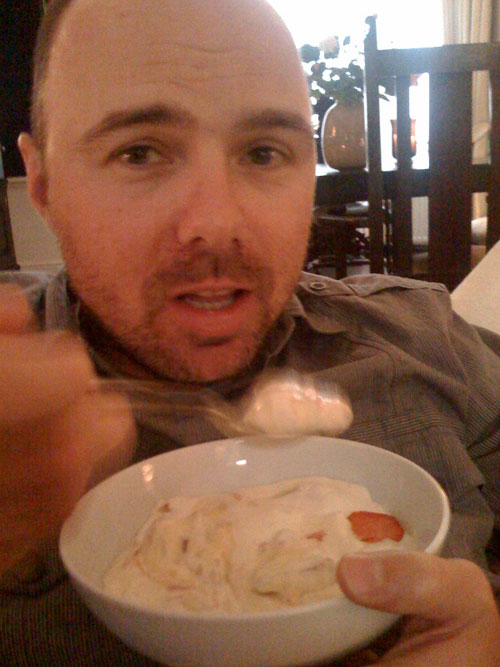 It can't be brain food though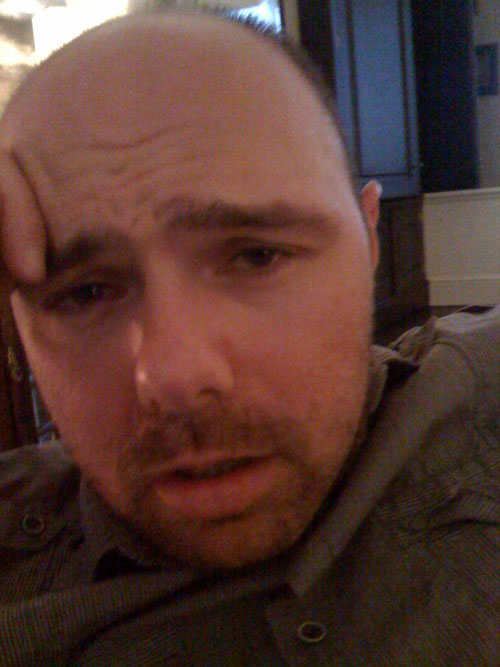 ---

Did our last big production meeting today. Now a full week of rehearsals then action!

I can't explain how amazing it is creating a world. I don't mean like God did (didn't)

I mean bringing to life a time and a place. Building up a town, and a mood and an attitude. Choosing costumes and cars and music.

Advertising has changed a bit.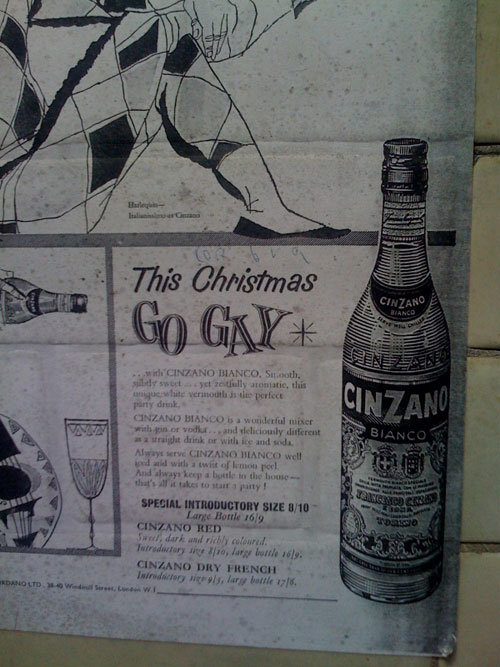 In one location I noticed that the 'Gents' sign looked exactly like Karl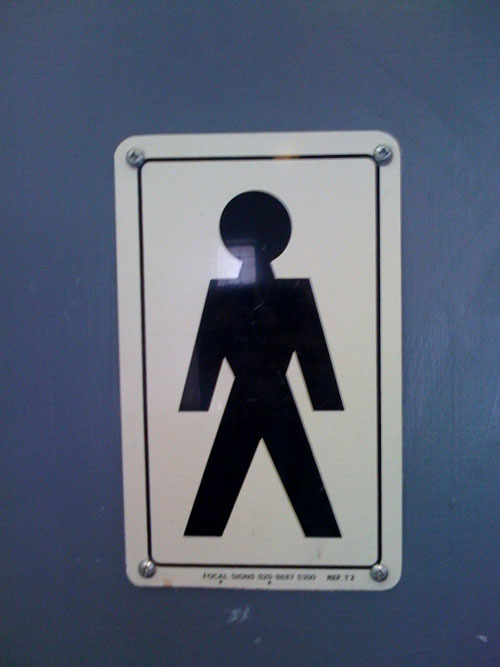 He's coming round to dinner tomorrow. We're having curry followed by trifle. He requested that when we invited him over. (True. What a cheeky Manc twat.)


---

Last day of tech recce today. We've found all the locations, finalized the shooting schedule and finished principle casting. Just the extras now, I mean supporting artists.

As you know, I love a freak as much as the next man, (unless the next man is Karl), and I gave our 1st assistant director very specific instructions today to find an extra that looks like this. (Absolutely true. I drew it on his script.)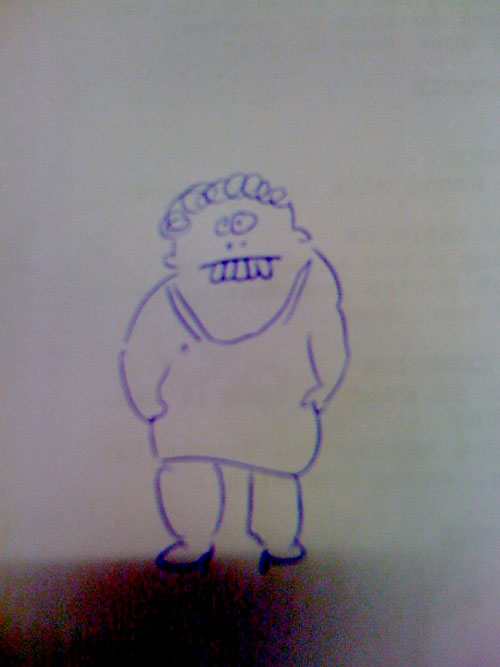 This will test his skills to the limit.


---

England in the glorious sunshine. Untouchable.

Another few days of tech recces then a week of rehearsals. We haven't started yet and I'm fucking exhausted. Maybe it's M.E. That's God getting revenge with a bit of poetic justice.

Did a little phone interview for Empire magazine. (think they misheard me with the 'Flintstones' bit. Should read 'Simpsons' obviously.


---

Hope you liked my poem. I'm sure you didn't if you a) twitter, b) think I was being unpatriotic or, c) are Susan Boyle. (If you are Susan Boyle, I have nothing against you obviously. I am just sick of the PR machine that surrounds your meteoric rise and fall)

Just for balance, I would like to be more positive about our great nation.

The best thing about being English is...

1. that you don't have to learn another language. Foreigners know that they should learn English and so when abroad you can simply communicate with the mother tongue. If they have been too lazy or stupid to learn The Queen's English then you should talk slowly, and a little louder. If they still haven't got a clue then smash the place up, secure in the knowledge that you tried your best.

2. that we are a warrior race. As our greatest son said, "We will fight them on the beaches..." So that's as soon as they've set foot on our nation. No messing about. The Germans are a warrior race too and we respect them for that. But, they picked on the wrong island and we had to give them a slap. Basically, we told them once. We even talked slowly and a little louder. Then we smashed the place up.

3. that we invented everything.

4. the Press.

5. irony.


---

A poem.

Susan Boyle,
Twitter.
Could Britain
be shitter?



---

Spent the weekend in Winchester. I did an out-of-town warm-up on Friday then Jane and I had a bit of a break.

The gig was fun and slightly different to the London crowds I've been playing to. They laughed louder at the playful silly bits and gasped louder at the more "challenging" subjects. I think that showed that they are nice people not used to laughing at such taboos. Hopefully I have corrupted them for the next time I play there.

That's gigging over now till after filming. I've got another week of warm-ups in August, then the mini UK tour starts.

Played tennis. It was hot. I looked like a Puddloflaj. Talking of which, I just had a conference call with the guys I'm making The Flanimals Movie with. We were chatting about casting ideas, and of course, the the round headed chimp that is Karl Pilkington came up. He'd make a great miserable creature.

Remember to make sure you download the audiobooks if you haven't already before we take them down in time for the animated series.

Thank you.


---

Week sixty-eight - May 2009

Did loads of amazing brilliant things today. I wished I'd filmed it all, it was so interesting and fantastic. I wish I was on twitter - I'd tell millions of dopey cunts what a stupendously superior undopey cunt of a day I've had.

Here's an old film of me having a great time and everyone liking it.


---

More tech recces, more casting, more meetings, another warm-up gig, Apprentice, stitched up Stiller


---

Did a whole day of production meetings. Surprisingly exhausting considering it was sitting down talking.

I suppose that's because as director you are constantly answering questions and thinking on your feet. Imagine how tiring it would be if you were on Mastermind and John Humphrys said, "Your specialised subject is the film you're about to make and your 6 hours and 45 minutes starts now."

See what I'm saying?

But at least when you're in charge you can't get an answer wrong. I win.

Did another warm-up for the 'Science' tour tonight. My favourite one so far. Probably the worst in terms of slickness but best in terms of atmosphere. Completely different vibe to all the others. The bits that "went wrong" were the best bits if that makes sense. (It doesn't, does it?)

You had to be there.


---

Best weather of the year so far. Went to the last day of the Chelsea Flower Show. They ring a bell at 4pm and sell off all the stock and displays cheap. Felt a bit sorry for all the bees there. They thought they'd found the best place in the world and now they're gonna go back to the hive and tell all the others. They're gonna look like right lying cunts when all the other bees turn up and it's just a load of pensioners pottering round a courtyard. Sad

Got a lovely special edition watch from NBC for making it to 100 episodes of The Office.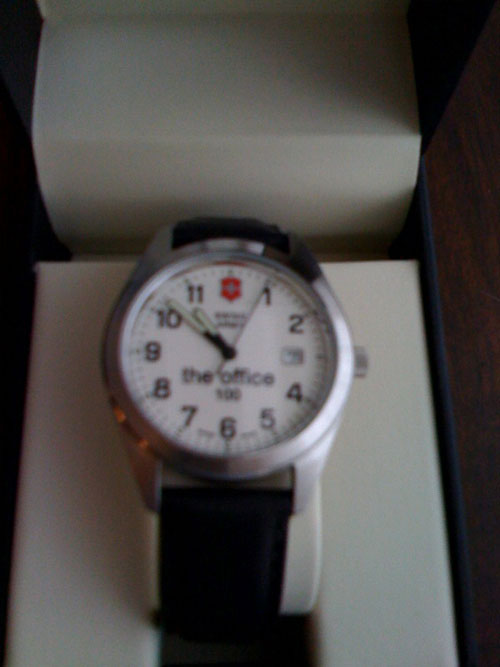 The message read "To the best team of producers in the world". I am obviously counting this as another award.

Our new garden chairs arrived too.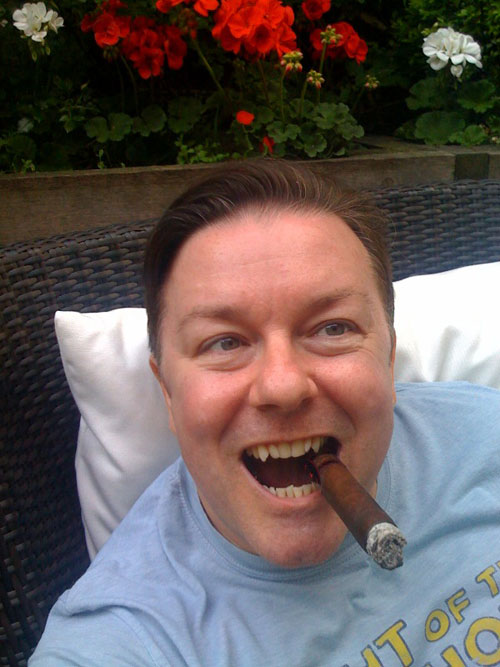 P.S. Some news for any animal lovers out there.

If you're near Burgh House in Hampstead on 16th June, Ex-Marine Sgt. Pen Farthing will be giving a talk about rescuing dogs in Afghanistan.

check out the website www.nowzaddogs.org.uk


---

Week sixty-seven - May 2009

Had a great day planning our shots at various locations. It really starts to come to life for everyone at this stage.

Nearly finished casting too. Doing the smaller parts and little cameos now. We've got Matt Holness on board for a very funny role by the way.

Here he is in action in The Office.


---

Watched the camera tests today. (To check how certain fabrics and lighting effects look on film.) They were conveniently held in The Everyman Theatre in Hampstead.

Continued scouting for locations. Found some of those in Hampstead too. Lucky. Reading will never look better. (Only joking.)

Talking of which...


---

Back home and sleepy.

Catching up with The Apprentice, UFC and 24.

Signed off on the audio for the first episode of the HBO animation. It only just sunk in today how exciting this project is. Millions of pounds are being spent on animating the ramblings of a village idiot. That's amazing to me. All the press says that it will be out next year but it may be the end of this year actually. We are now negotiating selling it to the rest of the world as the HBO deal only covers US and Canada. So wherever you are, you will be able to watch.

Karl is quite a phenomenon now and this could actually turn him into bald Manc world icon.

The first question at the press conference for Night At The Museum 2 in Washington was about him. Unbelievable.

Oh, just a warning; we will be taking down the audiobooks soon so please download them while you still can.


---

So our last day in New York was a gloriously sunny one. I'm going to miss it even more now. But, it's always nice to come home too. Can't wait for teleportation to get sorted out so I can just pop back and forth. I want to be like that fella in JUMPER. I think they're busy with swine flu at the moment though.

Letterman went well. It was a pre record for this Friday if you're interested.

Bought a new suit, which I will leave in New York in case I'm invited anywhere where you're not meant to wear pyjamas again.


---

As you may have read, HBO have ordered 13 half hour episodes of the animated audiobooks. We've started already with about 25 animators working on different bits to get the series ready for the end of the year.

I'm doing my 13th Letterman later, then back to Blighty.


---

Week sixty-six - May 2009

Had to provide an ID photo for security reasons at the movie premiere.

I provided this one.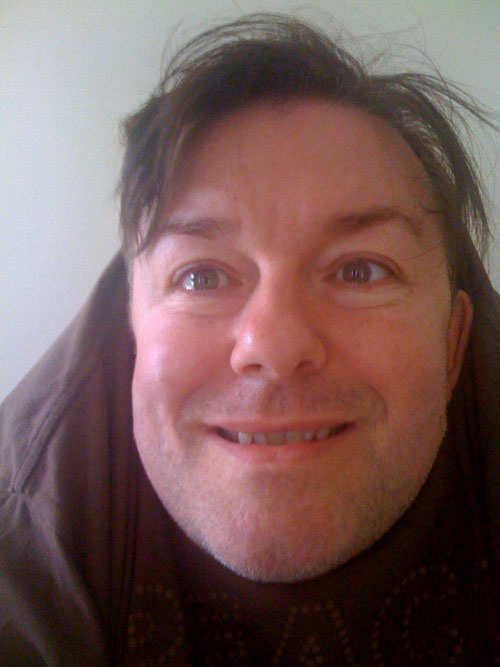 ---

BLOG EXTRA>>>
Me in Barack's back garden in my jammies.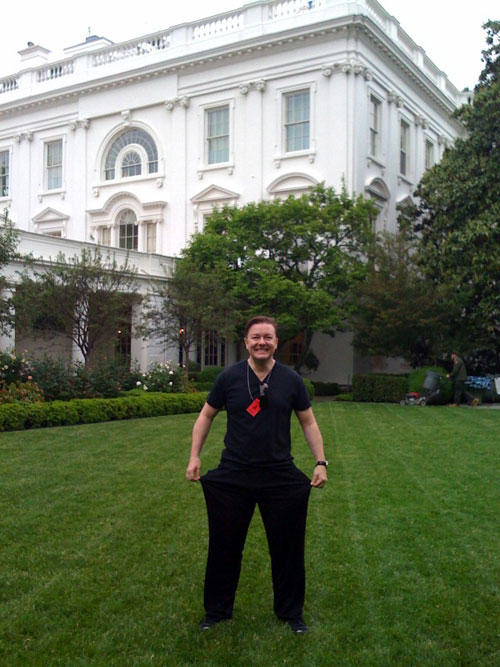 And me in front of an F.D.R. portrait that looks a bit like me.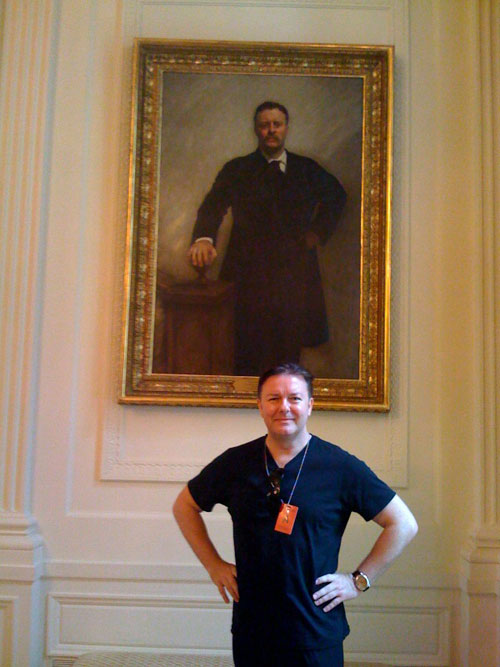 So Jane and I, Ben Stiller & famiy and Shawn Levy & family were invited to the Whitehouse. We had a convoy of black limos waiting. All my smart clothes were at the hotel dry cleaners. We couldn't be late and couldn't miss the opportunity.

There was only one solution. I went in my pajamas. (Absolutely true) Thank you.

It's the US premiere of Night At The Museum 2 tonight. I will be smartly dressed for that. Although I only seem to look smart for about eight seconds, then whatever I'm wearing looks scruffy. Weird.


---

Found the perfect house for Ralph Fiennes' character in Cemetery Junction. (Mr Kendrick by the way.)

It's so austere and imposing with a hint of irony. Like Hitler. (Although unlike a lot of comedians doing sexist, racist, crowd-pleasing "acts", Hitler never actually claimed irony.)

Attended the premiere of Night At The Museum 2. I dread those things but it was actually fun. Hope you like my three minutes on screen. They'd actually planned quite a big part, but it was a ten day shoot in two parts which was impossible as I was filming The Invention Of Lying. I had to do as much as I could in a weekend. It does the job though. (That sounds like I'm describing disinfectant.)

I apologise for only having work-related news, but Karl is on holiday with his parents (again) so I haven't spoken to the div in the last couple of days.


---

Spent the day scouting locations. Saw some amazing stately homes and mansions. (I immediately bought them and turned them into Nandos just for a laugh.)

Had a meeting with Ralph Fiennes. I'm always impressed with his questions and thoughtfulness about the part. That's why he's one of the greatest actors in the world I suppose.

Had dinner with Ben Stiller and Hank Azaria who are over here promoting Night at The Museum 2. I was an elegant and charming host. My favourite bit was when I dropped trifle down my shirt and trousers and then just sort of scooped it off. Jane said, "you've made it worse." I said, "I'm not bothered." The sad thing is, I wasn't. In the slightest. That's why we have dry cleaning.

You may have read that we've cast Matthew Goode.

Goode.


---
Week sixty-five - May 2009
---
---

Did the Karl quiz on the Dave TV website. I'm ashamed to say I only got 9 out of 10. I got his age wrong. But then again, so did he once.

A few details for live gigs were released today. I'll stick up more specific details here first in a day or so.


---

Two birds with one stone.

Follow this link to Matt Robinson's shiny new blog of our film and a nice little video.


---

I read that John Cleese had said nice things about The Office and Extras. I remember when Steve and I first started writing together that we talked about how long Cleese and Booth spent on each episode of the script and how dense each 29 minutes had become.

We thought that it was that time and effort that ensured the show's longevity. That, and getting out while you're on top and not doing the disappointing third series.

So thank you Mr Cleese.

Here's David Brent's homage to Basil Fawlty.


---

Did a day scouting locations and working out production details.

It's a tricky one. We want working class 70's realism, but we don't want it looking drab and gritty and depressing on screen. On the other hand we don't want factory workers living in Cotswold cottages.

So we're trying to inject a bit of pride and nobility into poverty. Growing up, we lived in a council house and had little money but my mum was always gardening, and cleaning, and making the house look really homely and nice.

Do you know what I mean? (You can't answer. This is a blog not a forum). I'll take that as a "yes". Good. Glad to know I'm on the right lines.

We also need to avoid that thing that most period films and TV shows do. If it's set in a particular year then everything you see is from that exact year and everyone of all ages in in the latest fashion. Nooo. Fashion and technology is usually years behind how you remember it and people didn't bin their out of date clothes every six months. Someone my age in the early seventies would look like he'd just walked out of 1955.

Anyway that's some of the aims and aspirations. Thank you.

Here's a deleted scene from Extras in which people remember the seventies.


---

Nothing to report.

Except this...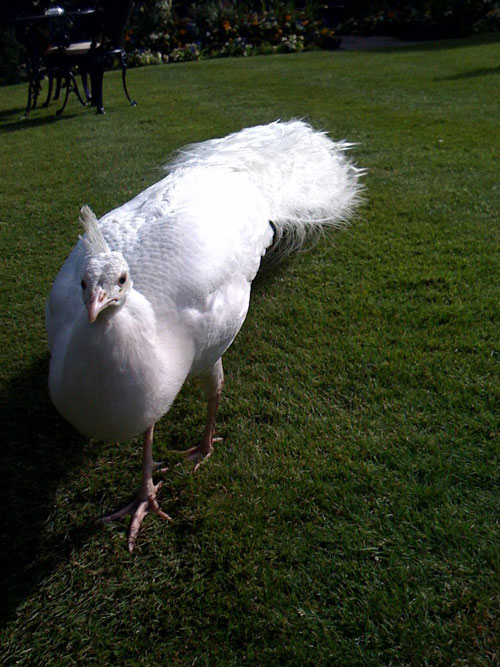 I think Karl designed the hair.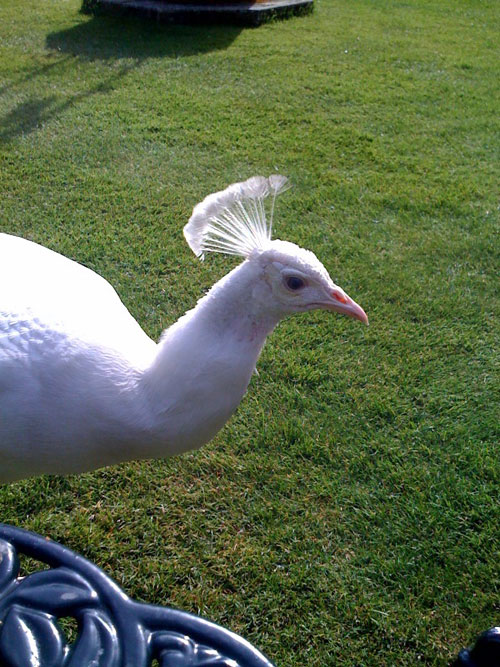 ---

So one film finished - about to start it all again.

Weekend in Amberley Castle. Some time to think.

I thought of Karl.

This will help you sleep. And give you strange dreams.


---

Week sixty-four - April/May 2009

Did my bit for SpongeBob SquarePants today. Great fun. Bob wasn't there in person. (Well, he's not a person. He's a sponge. In pants. NOT square pants either. They are normal pants that are forced into the shape of a square because essentially he is a square sponge. There, I've said it)

I was interviewed for a documentary about the show too. Although I don't think they will be able to use most of. But then again I didn't think that thing I did with Elmo would ever see the light of day. We'll see.

Had Karl & Suzanne and Matt & Lisa over for dinner (Matt my co-director on The Invention of Lying).

It was a lovely evening which once again ended in looking at YouTube for freaks. Matt is worse than Karl. At one point Karl said "Oh, let me find the fella with an 'ed like a cigar." It was a good description. Although I think Karl is on thin ice having a go at the shape of people's heads.

Ollie was bored.


---

Click here to see a great new picture of Karl.

It's by Rich Hardcastle. Check out the behind-the-scenes on Extras section too.

Did a few more interviews for some US magazines. They were for The Invention of Lying but I got in a few mentions of the bald headed chimp. Don't worry about that.

Recording SpongeBob tomorrow. (That's Mr SquarePants to you)


---

We finished the movie today. Hurrah!

"96 minutes of pure Hollywood Gold"

Do you know who's quote that is? Yes, mine. Pathetic isn't it? But no one else has seen it yet.

So now I can concentrate on Cemetery Junction. And the stand-up tour. And the Flanimals movie. And all the fucking press and publicity for The Invention of fucking Lying.

And the podcast animation, but the great thing about that is it's all written and is someone else's hard work now. I just have to swan in now and again and say "head's not round enough" and "make the eyes even bulgier". Proper fun.

The Guide to The English was the biggest selling yet, by the way. So thank you to all those who bought it. To those of you who illegally downloaded it, a curse on your Red Dwarf videos and may your nan kick you out.

"Boo! Cliche! We're not all 17 year old boys who like cult comedy and have internet friends and get over-sensitive about things we read or let our teachers touch us and like it a little bit..."

I know. My mistake. Only Joking. Only Joking.


---

Moved into our production offices today. It really starts to get going now. Had a few meetings then off to Pinewood to finish the other film. Didn't quite finish it today. Tomorrow though. Definitely. (Look at that. Now I've finally decided on the titles I didn't use them.)

The trailer for the Invention of Lying is coming along nicely. I wish I could show you it now but I mustn't. The first cinema showings will probably be in June/July but the internet version will be earlier.

So, Simpson's, Sesame Street, and now... yes... I've been asked to do SpongeBob SquarePants! I of course said yes. It's just a little cameo in a ten year anniversary special, I record it this week and do a few little bits and pieces for the documentary too.


---

Fuck me what a terrible year for British TV. "And the Bafta goes to the best of the bad bunch..."

Spent the day at Pinewood again.

We were doing the final mix on The Invention of Lying, but in an adjoining room I had meetings for Cemetery Junction. Every few minutes someone would tap on the glass and I ran into the next room. I felt l like Mrs Doubtfire. (I was wearing a dress and false breasts for some reason) But the really mad period is over now as we lock the first film tomorrow. Done.

Had a day off yesterday.

Helped judge a local dog show for The Mayhew Animal Home. Please adopt a dog or a cat or a rabbit.

Painted this T-shirt for a charity auction. It's for Action Aid so I'll let you know when you can bid for it. I know you want to.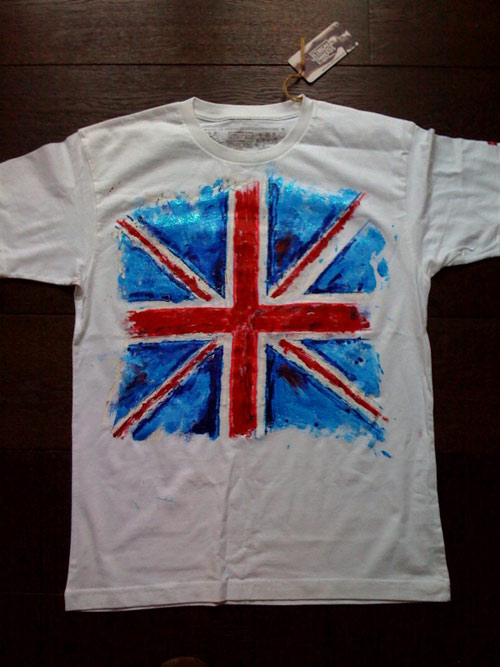 ---

Week sixty-three - April 2009

Mixing all day at Pinewood again.

I say all day. Got home in time for a nice spring walk on the heath.

Look a little rabbit.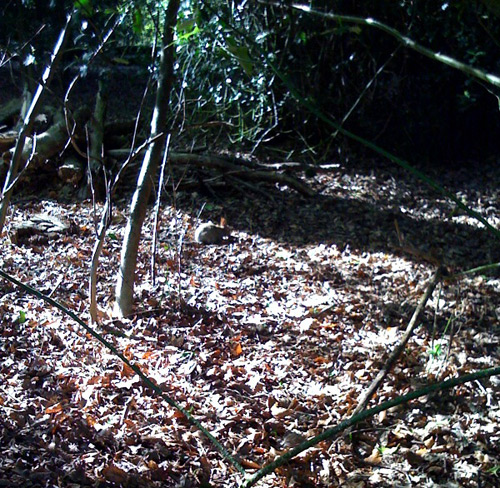 A tree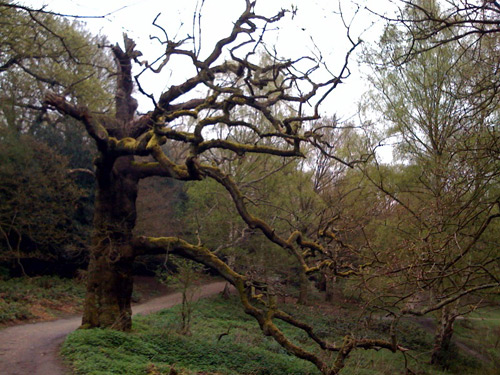 And when I got home there was a cat in a big wooden bowl again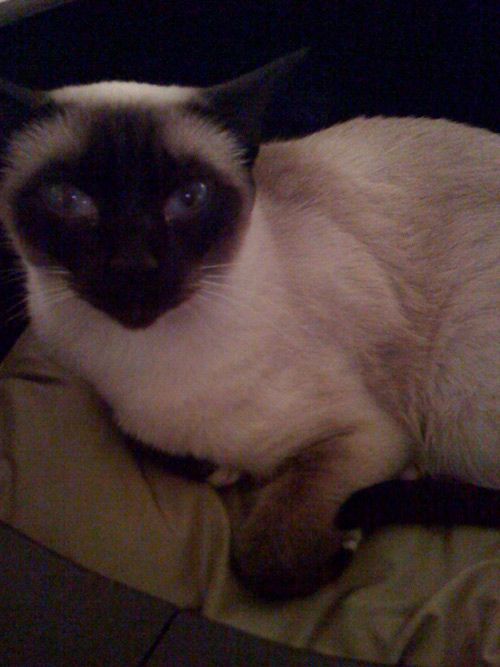 Isn't nature wonderful? And all accidental. Here's me telling America why I think three is no God. It went better than I thought it would.


---

We had our first read through today for Cemetery Junction. Now I'm excited. Such a great cast of comic and dramatic actors. I was easily the worst which is a great feeling. A lot of that is due to the fact that I can't read and act at the same time (actually true). I will of course be amazing on the day and as usual win all the awards.

After the read through a fast car to Pinewood for the final mix of The Invention of Lying. It makes a surprisingly huge difference when all the background sounds and effects are on. My favourite bit was belching into a microphone to emulate the sound of someone being sick. It repulsed everyone on the room. I took it as a compliment.

Hope you liked the picture of the little hog. I am having a costume made for Robin so he can be a baby hedgehog too. At my own expense! What an amazing friend I am. He is a very lucky boy.

You may have seen this.


---

Cat in a big wooden bowl.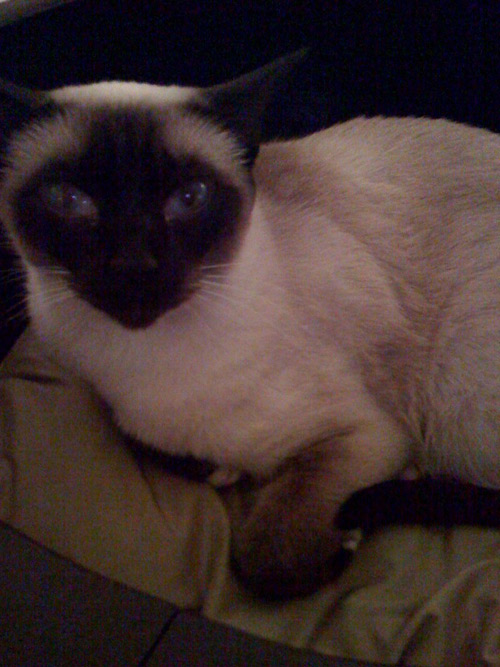 Even cuter, a baby hedgehog.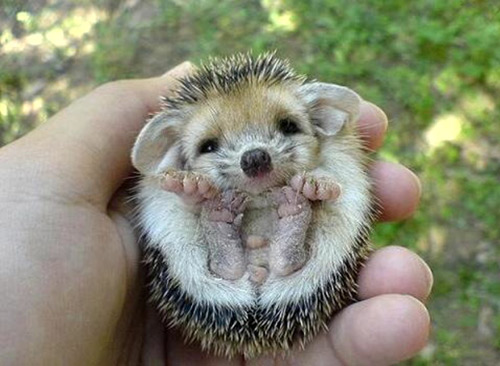 Yes I'm having a day off talking about work.


---

Did another warm-up. Much better. But then when you do two nights in a row, the second one is always better. Makes sense. Nothing profound about that. Unlike Marco Pierre White. He's profound. "Never fear the stove. If you fear the stove... you'll never get any cooking done." Brilliant. And he made Gordon Ramsay cry.

Miss Dynamite to win!

Guide to The English, number 1 everywhere. Thank you.

While I was checking all the different countries to see that the audiobook was up and running I saw a great comment. It was something like "I wish Ricky would just do podcasts and not worry about Hollywood films."
Why didn't he just say before? That's settled then.

---
---

So we changed the name of the movie at the last possible moment. The titles go on this week. If we'd have changed our minds next week it would have cost a lot of dollars. (Dollars we haven't got, as we've spent our whole budget now.)

I'm worried now that we'll have the same problem with Cemetery Junction being difficult to sum up in a poster. But we think we can do it in a subtitle. You know, "CEMETERY JUNCTION - Get out before you die!" (Obviously not that. Bit mental. But you get my point.)

Did another warm-up tonight. Shambles. But a good shambles. I actually like going out a bit unprepared now. A year ago I couldn't do that. I think it's because this show is a lot more fun. If you know what I mean. You don't, and why would you? Unless you've seen it. Then hopefully you agree.

So now this blog will probably be less about The Invention of Lying and gradually more about Cemetery Junction. (I just like saying the new names.)

Hope you like the new audiobook by the way.


---

I was really worried about changing the name of the film back to its original title of The Invention of Lying. So far everyone who's seen the film thinks it's a good move. I hope everybody who hasn't seen the film hates the title though. That would be a good omen as it would be the exact same pettern as with The Office. Everyone I told that title to thought it was bland, obvious, dumbed down, etc. until they saw it. Then it all became clear. So please be cynical and I'll know I'm onto something.

I think I'm going to go with The Ricky Gervais Show for the title of the audiobook animation by the way. Boring, obvious title - interesting show. That's the plan anyway. Hope you think that's a good idea. (If you've seen it, that it is. If you haven't seen the finished show I hope you hate it obviously.)

The Ricky Gervais Guide to The English in now available on itunes! (iTunes UK and iTunes elsewhere)

It's the effort I admire. Very sweet indeed.


---

We mixed the score over weekend. I say WE... someone else did all the work and I strolled in every now and again and said, "less flute. I'm off to lunch."

We did it at Air Studios in Hampstead (convenient). It's George Martin's studio and it's in a beautiful converted church. God loves this film by the way.

Oh yes, we've changed the title by the way. Just when Steve and I had decided on Cemetery Junction after not being allowed to mention anything to do with The Prudential, Matt and I decided to revert to the original title of our film - The Invention of Lying.

I loved This Side of the Truth but we worried that in all the marketing it would be difficult to try to get the concept across. If you go more "on the nose" with the title you can be more creative with trailers and posters. Anyway, here are the final verdicts;

The film prevIously known at The Man from The Pru is now called CEMETERY JUNCTION
The film previously known as This Side of the Truth is now called THE INVENTION OF LYING.

Only one more day till the new audiobook.

You can't get more English than this.


---

Week sixty-two - April 2009

NEWS FLASH

You may have read certain reports saying something like "actress to play Gervais' leading lady in Men from the Pru"

All true except for...

1. That info is unofficial and should never have been released. We haven't even signed a deal for that part yet.
2. There is no "lead" in this film as it's an ensemble piece.
3. She's not MY character's leading lady, I play one of the dads for Christ's sake.
4. It's called CEMETERY FUCKING JUNCTION FOR FUCK'S FUCKING SAKE.

Apart from that it's a superb press release by some cunt.

Thank you.


---

I'm too busy.

Luckily I'm using some of the same people on Cemetery Junction as I did on TSOTT which helps with juggling dates and times. But I'm never starting one project before another one's finished again. It would be OK if I was just acting or even writing but when you direct as well you are involved in every process from beginning to end.

Still mustn't grumble. "Oohhh I'm all busy and depressed and alienatated...please love me..."

On that subject, my agent got an email saying that someone was upset that I dismissed mental illness as trivial. No I didn't. Depression is terrible and very sad. My point was that the rich and famous use it as a publicity tool. Call a doctor or a friend not a journalist or a DJ. That's all. (Unless your friend is a journalist or your doctor is a DJ. Maybe on hospital radio.)

"I was doing it to highten awareness." Yeah, 'course you were.

All day with the orchestra again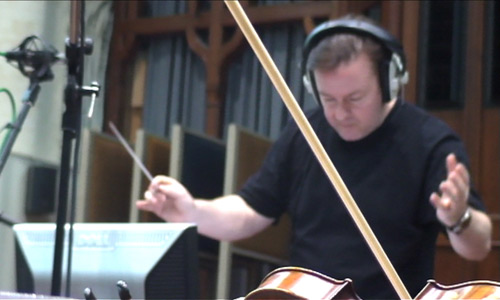 Great fun.

Here's my favourite modern English folk artist.


---

Spent all day orchestrating. Tingles down the spine. Such a beautiful score written by the great Tim Attack.

Here's a bit of the ITN interview we did.

A week till St. George's Day.


---

Did an interview today with Steve and Karl for ITN to plug the new audiobook. We covered all the main topics... the spherical head, testicles, Steve's looks. Real news.

A week long orchestration of the score for This Side of the Truth starts tomorrow. Really looking forward to it. I may leave a moustache when I shave to look more like Elgar.

Talking of which


---

Week sixty-one - April 2009

Tickets for my Edinburgh show are changing hands for £200. Please don't buy them. The people selling them are scum. I have tried to stop this happening but I can't. I've tried holding tickets back for sale on the night. I've tried putting gigs on sale at the last minute so people don't have time to put them on ebay, but nothing works. I'm flattered that anyone would want to see me that much but it breaks my heart that people spend their hard-earned money because of someone's greed. On my last tour one theatre manager excitedly told me that he'd just seen someone pay a thousand pound for two tickets right by the ticket office. I think he thought I'd be pleased. I was horrified. Also if you buy them in the street you've got no come back if they're counterfeit. I don't even like people having to pay a booking fee but at least that's understandable. Anyway please get a ticket but don't pay too much. That's all I'm saying.

Went to a fantastic exhibition of photography of London at Somerset House. Some of the best photos I've ever seen. They were all by a guy called Richard Bryant. If you know him tell him he's a genius.






more here at somerset house prints.

Talkng of London watch this.

How did anyone ever think they could beat us?

Don't forget to spread the word of Karl. Guide to The English out 21st April. Thank you.


---

Nice little piece on Louis C.K.

Spoke to Karl who was angry that no shops were open to buy some butter. I'd love to rig up a KarlCam on his little bald bonce. I'd never get anything done. I'd just watch him pottering around all day getting fed up and stressed about stuff.

The free sample of The Ricky Gervais Guide to The English is now on iTunes as a podcast. Here's a link.

We've also given The Sun an exclusive excerpt of the audiobook which they will stream on their website Tuesday I believe.

You can now rent Ghost Town from iTunes by the way.

So continuing our celebration of everything that's great about England, here's a short reminder of what our fathers, grandfathers and great great grandfathers went through for all of us. Bet you can't watch it all the way through without feeling sad and proud at the same time. Be careful though as there's also a chance that you'll feel lucky, spoilt and selfish. That's a good sign too though.

Remember this film next time you read about a millionaire entertainer talking about his "depression", "alienation" or "tragic addiction".


---

Got the proof version of the Flanimals pop-up book. Whoever worked out the mechanics is a genius.

It's the best pop-up book I've ever seen. These pop up like the most intricate origami transformers. I was blown away.

Can't show you inside yet but this is the cover.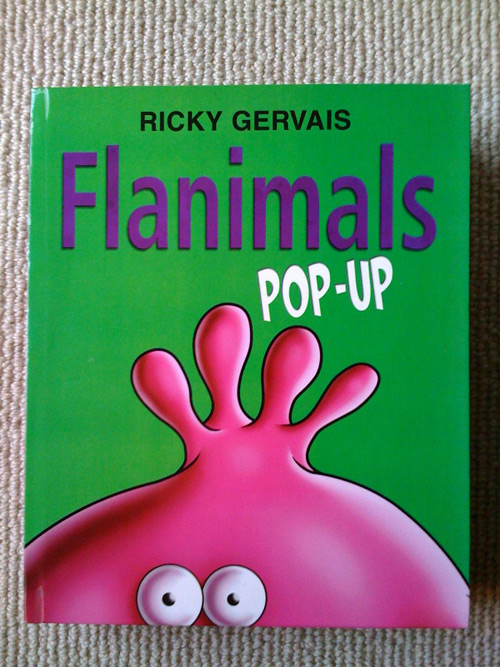 Watched the first episode of the new Ultimate Fighter series.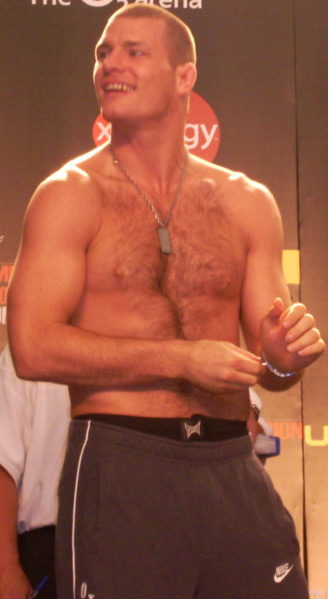 Topically it's UK verses US. Michael Bisping, (who brought the UFC crown back to England in 2006), is training the UK team.

So to continue our rg.com celebration of England.

Up to now we've been celebrating resolve, art and achievement. But for me the thing I miss most about my country when I'm away is its natural beauty.

Hope you love this little film as much as I do.

Remember to spread the word of our greatest living son, Karl Pilkington. The Ricky Gervais Guide to The English. Out for St. George's Day.


---

Started scouting locations today for CEMETERY JUNCTION.

You may have read that we've cast Ralph Fiennes, which is fantastic. I bumped into him at the Toronto Film Festival and told him I had written a part with him in mind. I sent him the script and what do you know. He is such an amazing actor and will bring a real weight to the movie. Can't wait.

Talking of great Englishmen you don't get much more patriotic than Billy Bragg.

Now you probably all know his anthem New England but you may not have heard the beautiful tribute to his late father - Tank Park Salute.

It should make you cry.


---

So we finally decided on the title of our film set in the 1970's about class and love in a small town - CEMETERY JUNCTION.

There's something retro and weighty about it without feeling gritty or pretentious. It sounds like a 60's novel. Yes? Good.

I'm really enjoying my 'Celebrate The English' campaign. It's like "art and history" DJing.

Here's a nice little slide show of my favourite painter.


---

Thought there had been a horrible incident the other night. The security lights kicked in and on one of the cameras I saw the cat that waits for the mouse leap on something. We thought it had had its chips. But then in the morning we saw the mouse as large as life (it's tiny) eating grain under the bird table. It's taken to only coming out in daylight now using the birds as an early warning system. Clever mouse. Robin is a bit like tiny mouse. He scrabbles around and hides from danger and loves stealing nuts. He steals his from the mini bar though.

So now to a bit of Holst. John Williams used The Planet Suite as inspiration for The Star Wars theme apparently.

This is Jupiter.

The bit from 3.07 is one of the most beautiful pieces of music ever. It's used as the music to "I vow to thee my country". Sing along.


---

Did some final tweaks on TSOTT today. We do the orchestration in a couple of weeks and then it's the final dub and grade and that's it. So for the next few weeks I'm working full time on two films. I'm working full time twice. That shouldn't be possible but it is. I feel like Tootsie. Still, mustn't grumble.

Did an interview with Shortlist Magazine to plug the audiobook. (and St. George's Day)

Hope you liked the free excerpt by the way. Hope you're enjoying the daily celebration of everything English too.

Please enjoy the greatest piece of music ever written. (The chord at 25 seconds in is sublime)

It sums up England for me. I think it's his love of folk music that makes it so beautifully English. And that he himself was one of the greatest Englishmen of all time. (Great Uncle was Darwin, which helps.)

And get this. He was In his 40's at the beginning of WW1 and so didn't have to fight at all. But, he chose to enlist as a private in the Medical Corps. He was a stretcher bearer for a while then went into the artillery. On one occasion, though too ill to stand, he continued to direct his battery while lying on the ground. I wonder what he'd think of the celebrity nonces today. "Addiction", "depression", "exhaustion". But then they do something for charity, as long as it's filmed, and they're troopers. They don't know they're fucking born. My dad volunteered for the war when he was old enough then worked as a labourer all his life. He got up at 5.30 every day, worked on a building site, had his dinner and went to bed. I never heard him once say he was exhausted. Don't get me wrong. I know I've chosen celebrity noncedom, but the day I call a paper and say, "I'm all tired and feel slightly alienated", that's when its all over.


---

Had our first production meeting today for the film with no name (pru, dudes, cemetery thing).

Went to The Ivy. Rob had a trifle.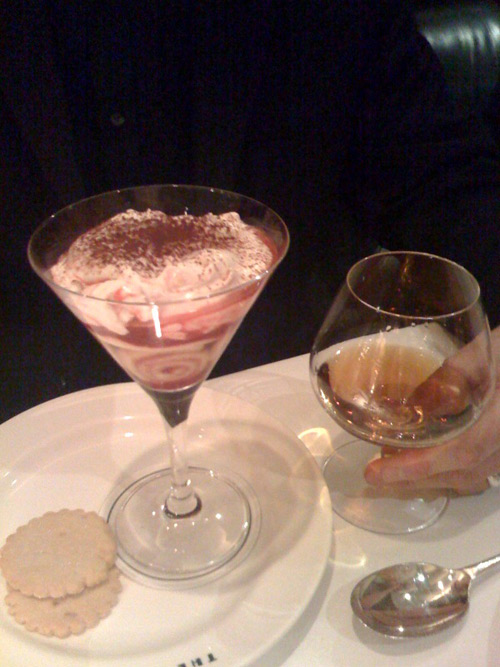 It was his best day ever I think.

Here's some Kate Bush


---

Glorious spring has sprung in England. My bald headed Brum even returned from America for a few days.

He and Jill, Karl and Suzanne and Glyn, came round for sausage and mash.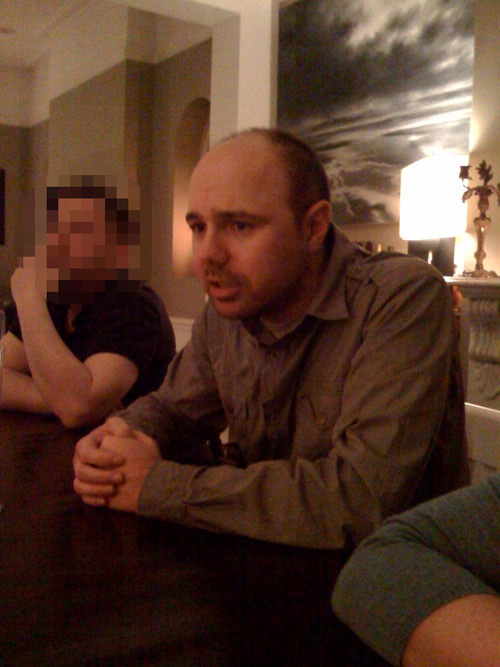 (As you can see, Glyn is shy)

Rob is just annoyed.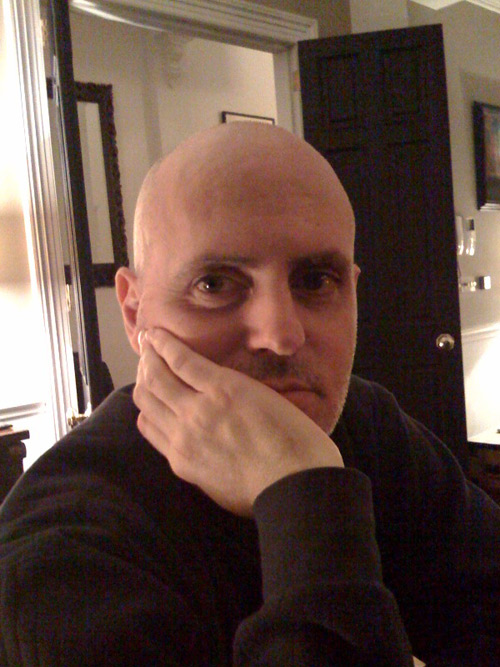 We had banoffe pie for pudding.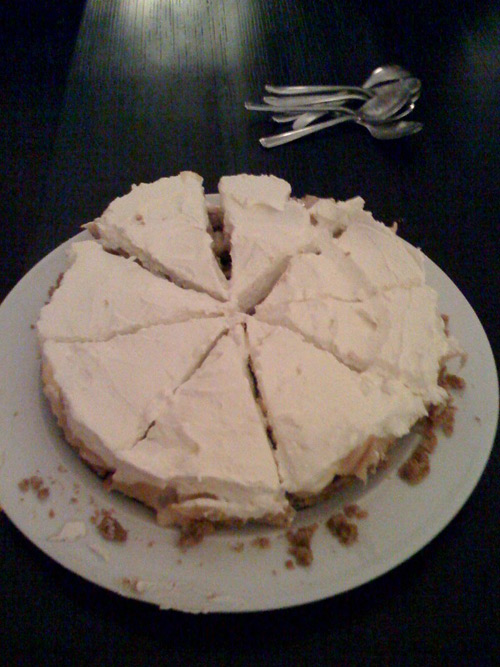 Then Karl insulted Ollie saying that her collar separated her fur, making it look like Tony Blackburn's wig at the back.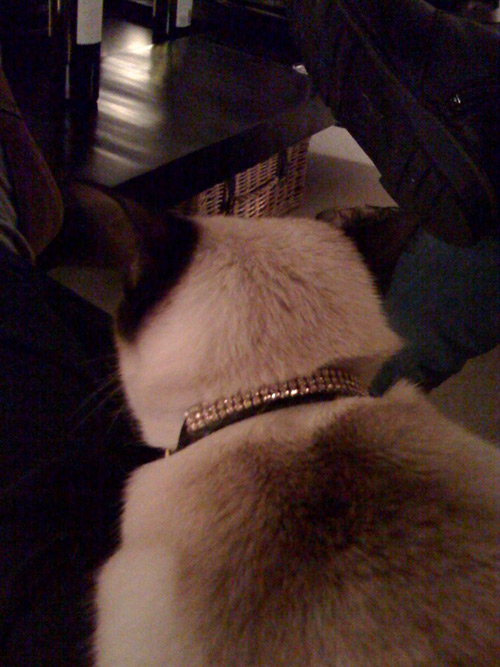 Now, as promised, something celebrating The Englsih. Our greatest son, in his greatest hour.


---

In the lead up to St. George's Day and the release of The Ricky Gervais Guide to The English, I thought I'd slip something into each blog post that celebrates that great nation.

Let's kick off, (not like we did in 1939), with this.


---

Week sixty - March/April 2009

The loveliest day of the year so far. (Unless you had something really terrible happen to you today in which case, I'm sorry. I meant the weather. Also why are you checking out this stupid blog if you've got real troubles? Ridiculous. You must be an idiot. Go on Twitter)

Had a meeting about Flanimals The Movie. The first draft of the script is nearly done. Once that's finished it will done in no time at all. And by no time at all I mean about two fucking years.

Also signed off on the pilot episode of the audiobook animation series. That should be a bit quicker. One fucking year.

The podcasts were downloaded 6 million times in March by the way. That's the most ever. So thank you.

But the most exciting news is we have a mouse living under one of the giant planters in the garden. It comes out every now and again and grabs a bit of grain that the birds have dropped from their feeder. The problem is, there is a neighbour's cat that comes and sits in front of his little front door for hours on end. I'll keep you informed.


---

Had a great casting session today. We've nearly got everyone one now and I think it's a very special ensemble. It's fun getting A-listers but it's really satisfying starting new careers. Also I think when actors have no baggage it helps the realism of the world. (When realism is an important factor, obviously. And it always is with me and Steve.)

You may have read I'm doing the Edinburgh Festival again. http://www.chortle.co.uk/news/2009/04/02/8661/gervais_to_play_the_fringe_again

It's actually the first real date of the tour. No pressure.


---

Did an interview in a graveyard today with a nice chap called Nigel for the Sunday Telegraph. One of my favourite interviews so far actually for two reasons.

1. It was just a conversation.
2. It was less about me and more about Karl. Nigel had interviewed the half wit a couple of years ago and is nearly as fascinated with him as I am.

Anyway it will come out in time for The Guide to The English to celebrate St. George's day. It will be available from April 21st on iTunes.

Here's a little feature about our cyber output.


---

The HBO special came out today on DVD in America. Please buy it if you live in such a country.

Here's a little interview.

Talking of stand-up, I've started looking at putting together the new tour but I've hardly got any free days. What with the movies and trips back and forth to the States, I've only got about 20 dates pencilled this year. I think I can do a couple of days in Birmingham, Bournemouth, Newcastle, Plymouth and Nottingham. Sorry if you don't live too close. I'll just keep doing warm-ups though to keep things ticking over. I just care about getting as good as I can be now, which is a good feeling.

As This Side of The Truth approaches completion, Steve and I started pre-production proper this week. Still no name for the movie but apart from that everything is going well.

Thanks for asking.

Oh and Simon Mayo did a thing about the Israeli version of The Office today so I called into his show. Quickly managed to change the subject to get in a Pilkoid mention. That's my new game now. Mentioning the shaven chimp whatever the interview is about. It's a hobby.


---

So The Office will get its eighth remake in Israel this year. I'd love to be able to tell you the secret of its success, but I honestly don't know. That it deals with universal subjects? That everyone hates work/their boss? That it's a comedy of realism and observation?

Anyway who cares. Now all the hard work is over it's money for old rope. (Is there still a lot of money in old rope?) There's also been some interest from India for a remake. In fact Steve and I were thinking of being more involved in that one, like we are with the US one. Exec producing that might be fun. A billion people must make for quite good viewing figures.

Casting hasn't started on the new one yet but I assume one thing; that the David Brent character will be an annoying, out of shape, middle-aged putz. It's a good job I could act having all those awful characteristics in the first place.


---

We sold The American Office to loads of TV stations across The US this month. It's set for a premier in September and will cover 93% of the country apparently.

It hits its hundredth show this year. Show 88 was the magic number for syndication.

It's still the only successful remake for about 30 years. Every week I read another story about "so and so" to be remade in America. "It could be as big as The Office"... 6 months later there's someone moaning about how it was cancelled/ruined/panned. It's your own fault for not keeping control. Be a complete power freak. That way you can only blame yourself. Here endeth the first lesson in how to have the number one sitcom in the world. (Not a bad title for a book that)


---

Week fifty-nine - March 2009

Got the pilot today for the HBO podcast animation. It is fucking fantastic. I wish I could show you it but I can't. (I know, I know, how annoying is that)

We're still tweaking a bit, then hopefully we can release a little taster.

And get this. When Karl saw it, he said "brilliant, that." I couldn't believe it. He doesn't think anything is brilliant. Except Munchies obviously.

The News of The World asked for a quote about Earth Hour tonight when everyone has to turn off all electrical items between 8.30 and 9.30

This is the quote I gave.

"Earth hour is a fantastic idea and I'm so glad it happens during Casualty and not Harry Hill. On a serious note. Thinking this issue doesn't affect you is like not caring that your neighbour's house in on fire."

I wonder if they'll use it.


---

So Matt Robinson and I are happy with the movie. (Still weeks of music, dub, grade and technical stuff, but the picture is basically locked now.) It's 96 minutes long. That's as long as a comedy needs to be. So many comedies are too long. So now we start on the DVD extras. I thought we had a lot for The Office and Extras but we have got so much stuff to chose from with this movie. We've got the whole caveman sequence as a deleted scene. It's like a mini prequel to the film. We want Karl to do a director's commentary over that feature. It will be 10 minutes of him moaning about him flying all that way only to be cut.

Talking of moaning, The Guide to the English is slightly over an hour by the way. We'll put out the free podcast in a couple of weeks plus the odd exclusive clip again too.

That will be the 5th and final episode in the first volume of Guides but we do want to do more. We need to take a break while Steve and I film our movie but we'll be back after the summer. Titles we're thinking of are things like The Earth, The Mind, Anthropology, Technology... etc.

I'll be announcing some more warm-up gigs soon. Hope to be ready to do the real thing by the autumn.

Here's a lovely memory from Ipswich on my last tour. I sing a little song to Robin about the lovely day we had. We took him for a hair cut, gave him some pringles and watched him eat a pudding. it all makes it into the song. Enjoy.


---

Started scouting locations today for whatever the new film will be called. "Cemetery Junction" is the new favourite name. (An area of Reading)

We lock picture for This Side of The Truth next week too. Then weeks of dub and grade and orchestration and marketing meetings. It never ends.

I might just do podcasts from now on. Talk bollocks for and hour, stick it on iTunes. Done. Persuaded Karl to put the God bit back in by the way.

On that same subject, had a conference call about the US animation series of the audiobooks. We are choosing a show runner soon and we will finish the pilot episode next week.

Got to go. The Apprentice. Bye.


---

Did the free podcast for The Ricky Guide to The English. Karl edited out a bit where I was talking about God giving him a blow job. What he doesn't know is I've salvaged it and will put it out without him knowing. It's not that it's particularly good or anything, it's just funny because he is so not into it. You can hear him getting angry. Coming soon.

Did another warm-up. All over the place, but half a dozen really good bits. I usually ad lib about 5% of it. Tonight was about 25% I'd say. Getting better though.

Anyway, got to watch "Pop Goes The Band" on Living TV.


---

Lots of actual news today. Not just pictures of friends' heads. (I know, I prefer those blogs too)

Did another warm-up gig tonight. It's getting better and better but it's still a bit loose and short. (Like a slutty dwarf)

As you may have read, I'm "in talks" about doing something else with my new best friend Elmo. It's true, but we're only brainstorming at the minute. I'll let you know when anything more concrete happens.

Here is a little video with news of my lovely new film. Obviously dates can change but this is as sure as we can be at the moment.




---

We went to visit Karl and Suzanne for the weekend in Kent. We stayed in a posh hotel about five minutes from their house. (I can't tell you more than that as Karl acts like he's in the witness protection program when it comes to letting people know where he lives.)

We met them for dinner in the restaurant and Karl looked more egg-headed than usual. He had freshly mowed his hair which made all the difference. I took a picture immediately, to show you all.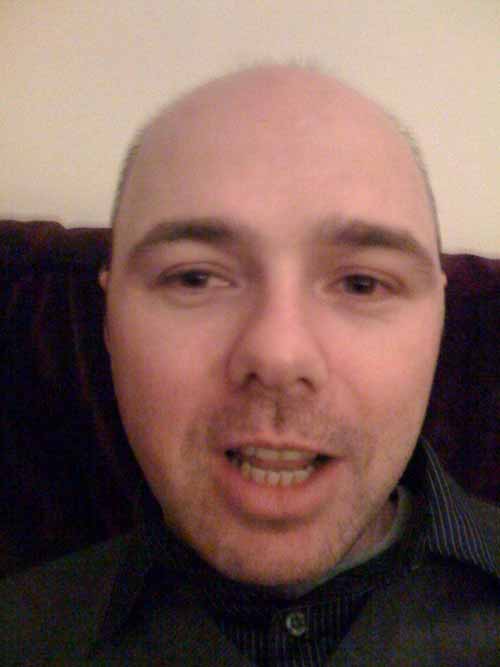 Maybe it's because it's nearly Easter.

Karl had a red onion tart tartin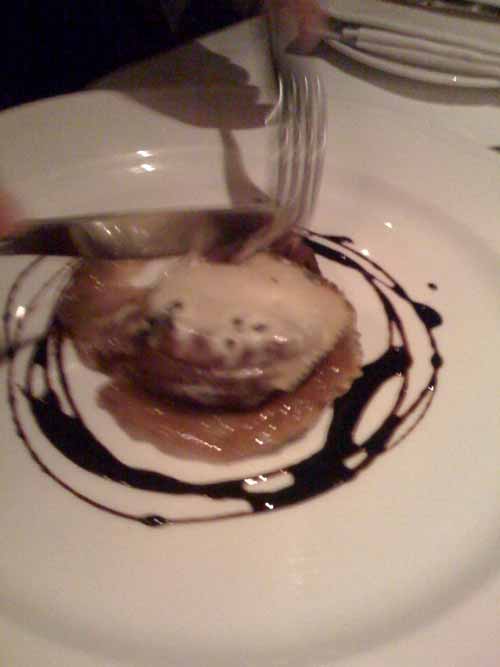 followed by rack of lamb.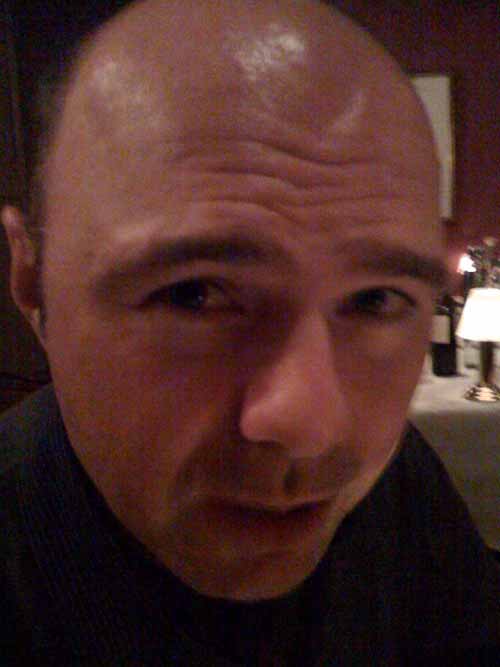 He loved it.

Suzanne had the goats cheese followed by the lemon sole (same as me)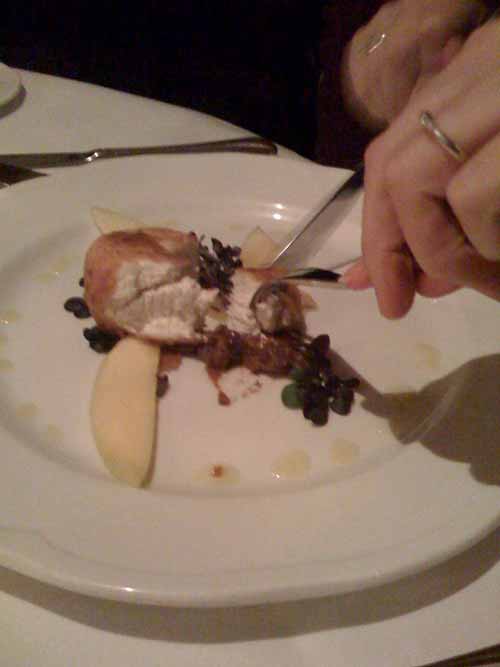 And Jane had tuna followed by the sea bass. We all had chocolate fondant for dessert.

The next day we went over to their house for Sunday roast.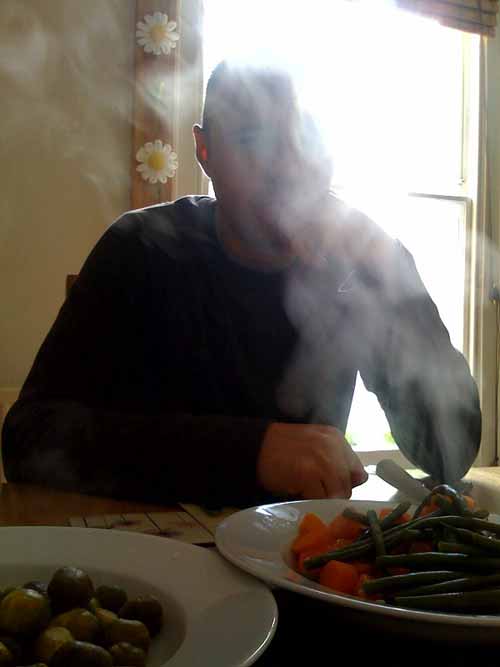 Then they showed us some of the sights.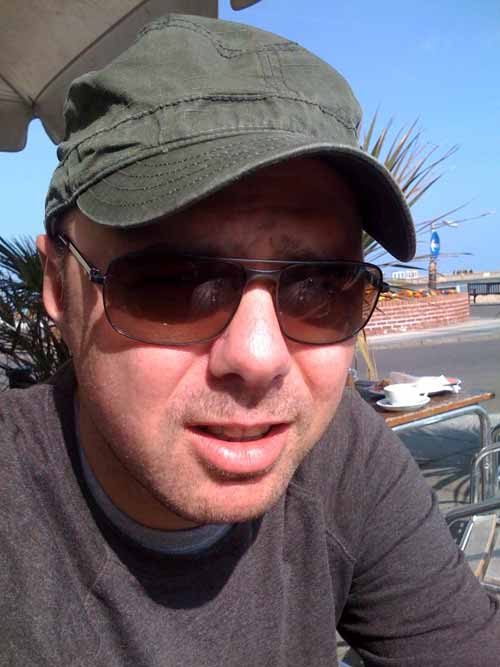 The Golly Shop for example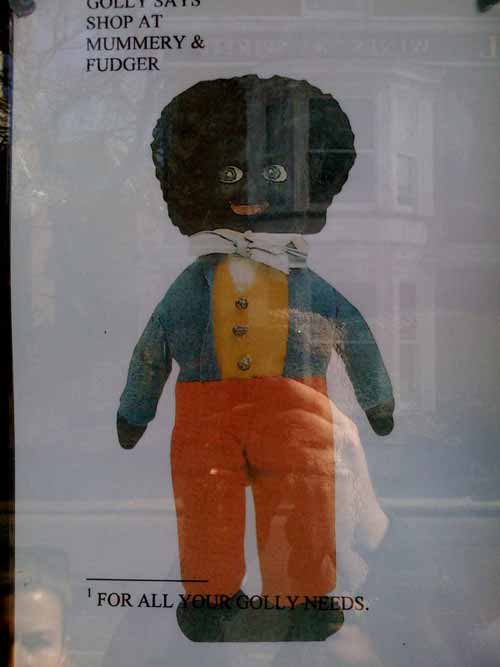 "For all your golly needs"

Now, I don't have many golly needs, but they could indeed all be fulfilled here.

Anyway we had a lovely time but I can't help wishing we'd gone last week. Look what we missed...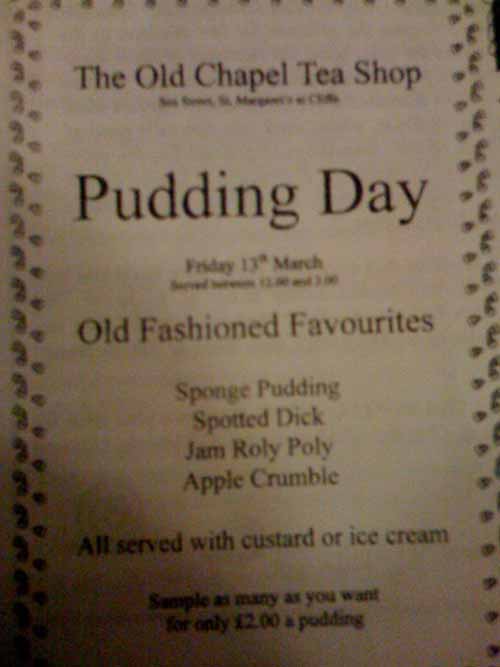 Finally look how fucking gimp Karl looks in this picture.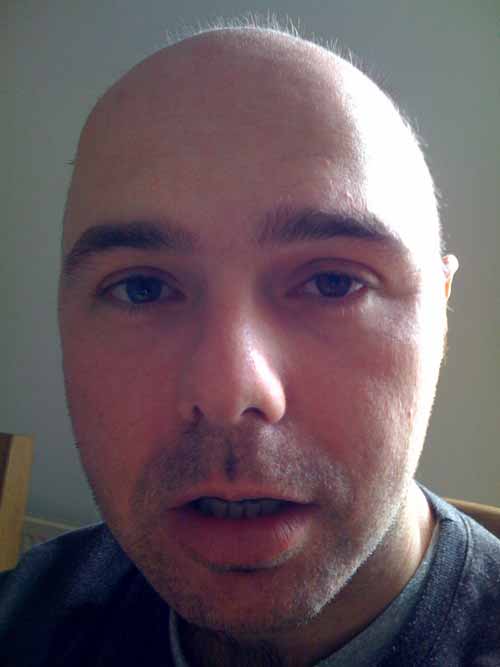 Actual brain damage.


---

Week fifty-eight - March 2009

I am too busy. I hate it when that happens.

Karl is not busy at all. He is fed up with "all the meetings and all the bullshit where nothing happens." I called him tonight. He was fed up and angry with the world. He was playing Grand Theft Auto. He said, "I'm not even playing the game. I'm just killing people to get me frustration out."

I haven't worked out whether that makes the game more politically correct or not. On the one hand he is killing people because he is angry. On the other, he is killing virtual people because he is angry with real people.

Talking of real people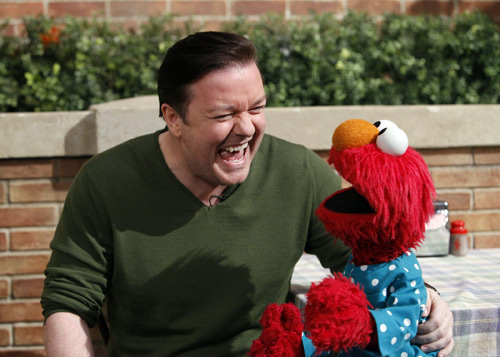 Look at his face. Karl's head with Steve's eyes.


---

Did Graham Norton tonight (Oh grow up, you know what I mean)

It's a really fun show and the audience are so into it. I was on with the legend that is Ronnie Corbett. Once they cut out the hour of stuff that would get everyone sacked it should be a nice little show.

This obviously crops up.

Did a photo session for the Guide to The English. It's a bit mental but in a good way I hope.

Oh, and also there is now talk of a comic/graphic novel tie in with the audiobook animation. I think Karl makes the perfect comic book character. Fun, stupid, invincible.

And finally I am involved in talks for yet another remake of The Office. Can't talk about it yet but it's an exciting one.

Enjoy the lovely weather and don't get AIDS. Bye.


---

A huge thank you to everyone who bought The Ricky Gervais Guide to Philosophy. It went straight to number one everywhere so I hope you enjoyed it. (If you illegally downloaded it I hope you enjoyed it too. But I hope you bang your head on a kitchen cupboard really hard. And if you do then you'll know that Baby Jesus made that happen for stealing from me.)

If you haven't bought it, buy it now.


---


Did a photo shoot for Night At The Museum 2 at The Natural History Museum. Managed to get in the "frightened face". That's seven top photographers around the world now. Five more and I've got a calendar. Then, when I've brought out the calendar, I should start work on an autobiography. (Some people have led such interesting lives they're already on their second.) Then I'll do a novelty single and finally the David Brent doll. Then I'll sell my bottled shit if people are so fucking stupid.

Talking of shit... that's exactly what Karl knows about Philosophy. The audiobook should be available on iTunes tomorrow. (If they get it right this time. Sorry to everyone in the UK by the way who got Natural History and The Arts, last in the world.)

Finally, I haven't watched The Office or Extras since it was broadcast. I haven't watched any films I've been in since the premier. But I've watched that outtake of me and Elmo about ten times. I am obsessed with him. So much so that despite the fact that I'm delivering one movie and have started pre-production on another, publicizing dvds and audiobooks and working up to a world stand-up tour, I am negotiating with certain parties about working with the little fuzzy red monster again. I can't give too much away, but I'll let you know about any concrete developments.

Hope you like The Guide to Philosophy.


---

Went to the Affordable Art Fair and bought a great painting for the New York pad (yes, I use the word pad ironically).

Helped Ollie with her audition for Supercat.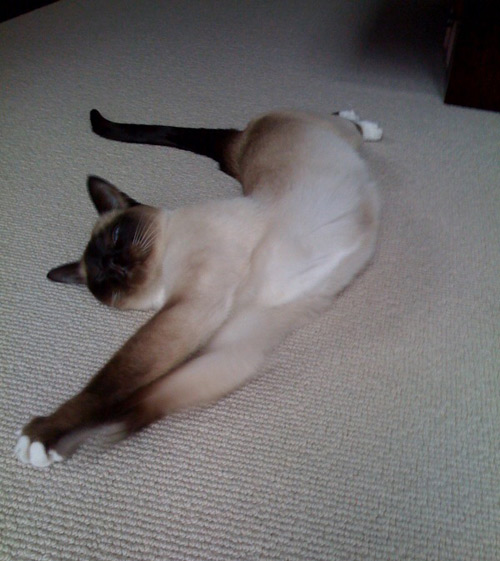 I've got a photo session myself tomorrow for Night At The Museum 2. And another the next day for the Science tour poster.

It's a good job I always look great.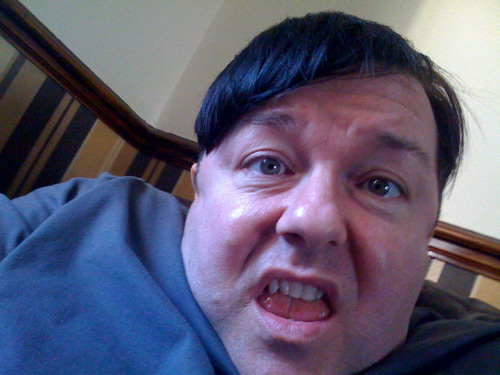 ---

Week fifty-seven - March 2009

Recorded The Gervais Guide to The English today. I don't know if its the best, but it was certainly the most fun. It seemed a lot more anecdotal and personal from all three of us.

Karl came round for dinner last night by the way. We watched a bit of Comic Relief but quickly turned if off before I smashed the telly and cut my wrists with the glass.

Took a picture of Karl watching one of the hilarious sketches.





We looked at some more deformities on YouTube. They were sad but still funnier.

Talking of funny, how cute is Elmo?

I love that little guy. I want to do a whole series with him.

But the prize for cuteness goes to this orphaned, baby otter.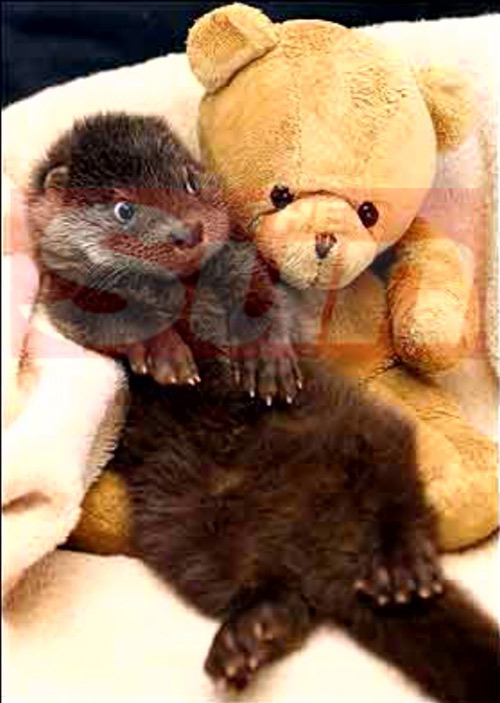 He's the one on the left by the way.


---

Ahhh!!! Robin. My agent brought me over a copy of a local London magazine that had my little tadpole on the front cover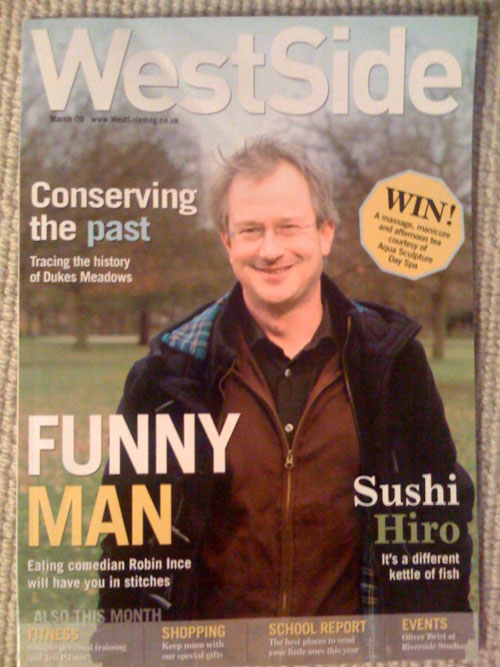 He looks like a vicar on a Saturday. Bless him.

Now do you see why I like to feed him nuts and bury him in sand?

Here's the full article.

Go along to The Bloomsbury Theatre to see him live and then feel his fluffy and lovely hair in the bar afterwards.


---

Had our very first production meeting for "untitled film set in England in the early 70's about class, love, and fulfillment"... (yeah, really need a title soon)

Nearly finished the Comic Relief sketch and avoided giving the BBC any clips, photos or other publicity material for it. I just think it should be a nice bonus on the night as opposed to boring people for weeks about what's coming up. Also I'm scared they'll give away surprises for the sake of column inches. We are very happy with the sketch though.

We are recording The Ricky Gervais Guide to The English on Saturday, by the way. It will be out in time or St. George's Day. I sincerely hope you know when that is.


---

Wizzing between two edits today - Comic Relief in one and This Side of The Truth in the other.

It was great fun recording the sketch as it was the entire Extras team back together (for one last job).

We're on the home straight with TSOTT now. It's mainly fine tuning and music and technical now. We have to deliver it in May.

The great thing about putting it out in the autumn is that its trailer gets onto summer blockbusters.

We start pre-production this month on whatever The Man from The Pru will be called.

All exciting stuff but doing the audiobooks is still my favourite thing. And this is why. Here's the full interview that Karl did with that New Zealand show.

Got the animatic today for the HBO pilot by the way (It's taken from the audiobook where we ask Karl the actors studio questions in case you're interested.)


---

Oooh! Chimpanzee that! Monkey News,....y'ffff!!!!!

Please check out this website and sponsor a monkey for a few quid; especially Joey, who was kept in a tiny cage for nine years leaving him disabled. Cheers.

Talking of caring for animals, this is my cat Ollie. Now, she is one of my favourite things in the world. But be honest...

in this photo, does she
1. look pin-headed
and
2. have too many legs?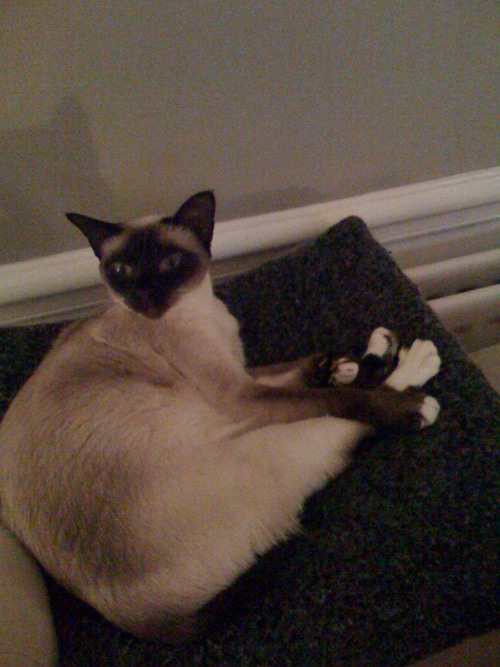 She looks like a fucking squid.

I thought it was only my friends who were slightly weird-headed and freak-like.

Listen to the free sample of Philosophy by the way - on iTunes.


---

The free sample of the Ricky Gervais Guide to Philosophy should go up on iTunes tomorrow night. Hope you like it. I think it's my favourite of the guides.

We're recording our bit for Comic Relief tomorrow. I wont be watching on the night as I'm already sick to death of all of it. (Well, not "sick to death" obviously. It's making money for people who are "sick to death". Bad use of words. Sorry.)

We got the peak of donations last time at the point where I pretended to cry. They then dropped when people realized I was taking the piss. I try to do my little bit.

This year we're avoiding just wheeling out celebrities (Bono is hard to beat). We get more into the spirit and are staging a special concert. Can't give too much away.

Talking of charity, here's that thing I was telling you about. it's quite sad I'm afraid.


---

Week fifty-six - March 2009

Did an interview on Radio One which is already being misreported by the press. I didn't "turn Hollywood A-listers down for Extras". It's simply that Extras is no more.

I can't win. I was thinking of only doing live interviews so things can't be twisted, but I'm so naive. Everything can be twisted.

Anyway, I haven't learnt my lesson. So here's some more things to twist.

OK press... let's play twister!

That woman throwing green custard in Mandelson's face annoyed me.

Why is that OK? She explained herself then walked away. Like it was her right. Because it wasn't actual violence? She knew she wouldn't 'get a Prescot'.

If he'd gobbed on her and called her a big-nosed slut, he'd be in trouble.

Now I don't care for Mandelson particularly, but her attention-seeking lack-of-consequence attitude got my goat.

If I was Mandelson I'd carry round a bucket of AIDS spunk. And if she came near me again, she'd get a face full of Liberace juice, and no mistake.


---

Back in London and it seems like spring. Did some work with Steve on the film (whatever it's called) and went for a run because I read that's good for jet lag.

Now I've got to stay awake to try to get back "onto clock". Luckily there's loads of telly on Sky Plus.

I promised some photos of my American adventure but when I checked my iPhone it was 28 similar scenarios of me annoying Rob. Oh well, here we go.

We got to the apartment and opened about 25 boxes of things that we'd had delivered. Slippers, food, books and Rob's birthday present. The milking stool.

Rob and Jill came over but I was worried that he wasn't as pleased to see me as I'd hoped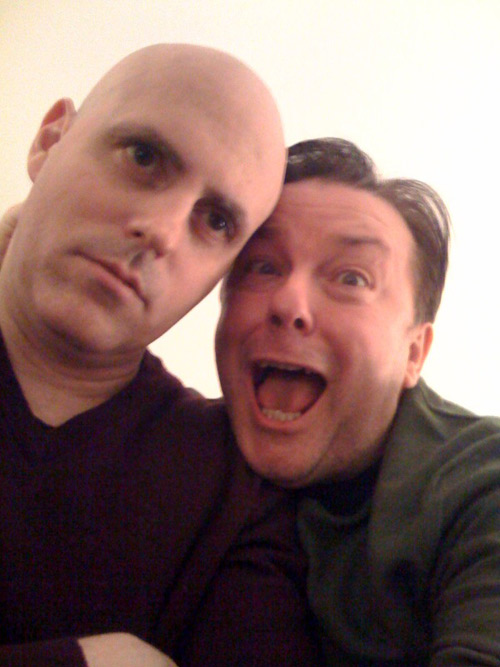 I gave him his present which cheered him up a little bit.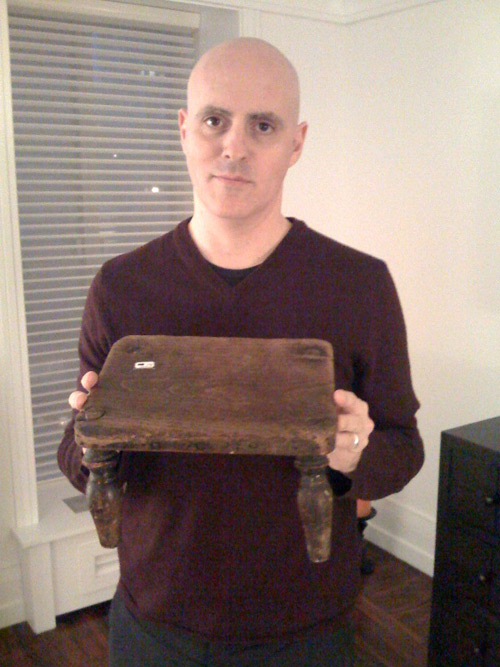 Then he got sad again when I made him sit on it.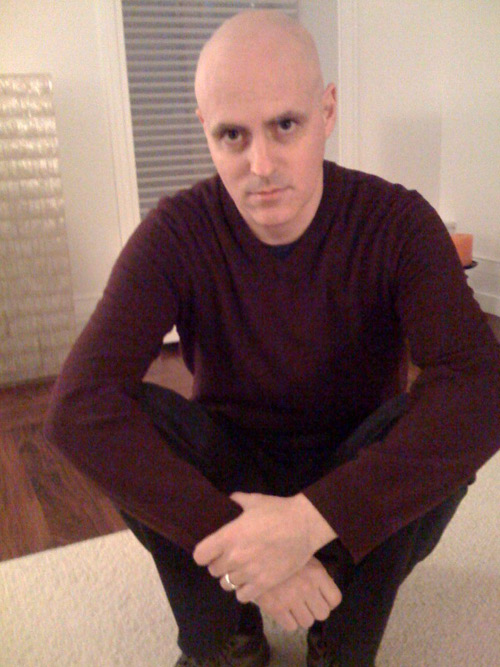 So I had to cheer him up again.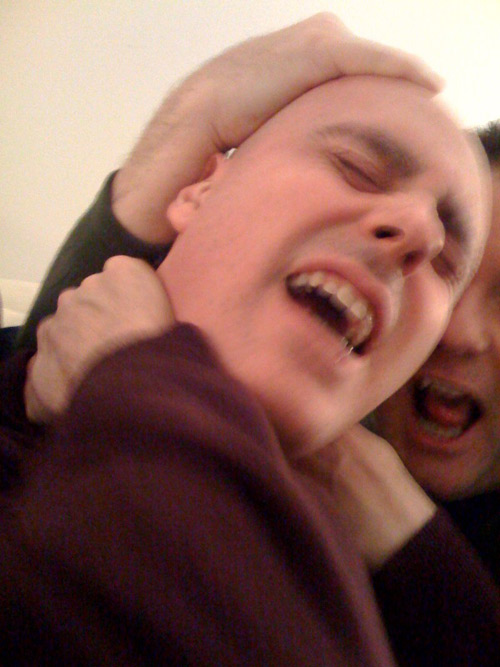 The next day I did my appearance on Sesame Street which I am honestly considering declaring a career high light.

Did The Daily Show and hooked up with my other New York chum John Hodgman.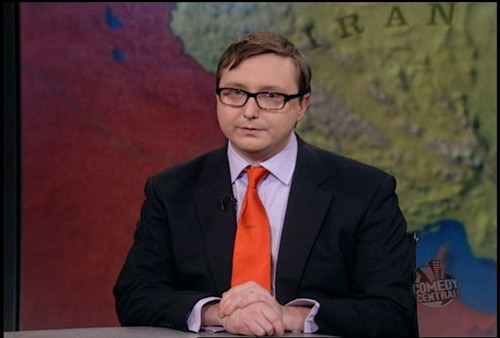 I pointed out to him that he looks like an owl.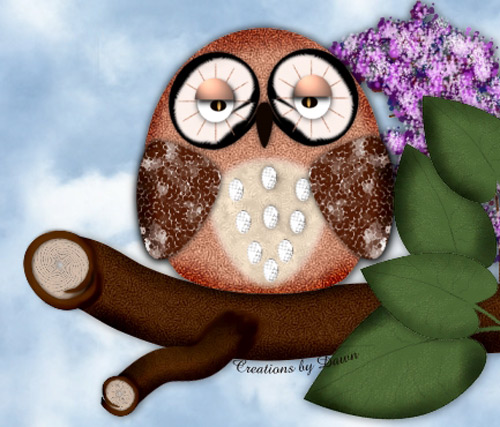 He took it well. (Because he is wise.)

Then we met up with Rob and Jill and I continued to annoy him. OK, I basically met up and annoyed him for a week, then flew to L.A., then flew home.


---

Still feel a bit sick from that cigar.

Back to England today. These little jaunts are fun but there's no place like home.

Spoke to my friend Chris who is busy rehearsing for his tour.

The Guide to The Arts is still going strong. We'll stick up the free sample of Philosophy next week. I also think I've persuaded Karl to do even more after the St. George's Day guide to the English one.

I was thinking Technology. Or maybe Anthropology?

Here's an interview I did earlier.


---

I feel sick. I shot a trailer for the film, signed a TV deal then went back to my California penthouse suite.

Jane and I had dinner and then it happened. I had a cigar like I was a big shot. Not only do I feel a bit bilious, but I also also sneezed about twelve times. I have a headache too.

I go home tomorrow. I'm never going away again. I miss my cat too.


---

From the the cold and wind of New York to the glorious sunshine of California. (New york still wins, although Pasadena is beautiful.)

Did a few photos and DVD extras for This Side of The Truth. (coming to a cinema near you this fall. Unless you're in England, when it will be coming slightly less soon, and in autumn.)

Read a nice interview with Nate Corddry, who's got a cameo in the film and who is one of the best improvisers I've ever worked with.

Ghost Town is out on DVD now in the UK. Here's an outtake from a junket. I assume they're being ironic when they say I lose my temper. Let's see if the British press assume the same.


---

Week fifty-five - February 2009

Did a bit more work on The Flanimals pop-up book. The content is nearly finished but the hard bit is engineering the poppy-upness of it all. It should be out by October though.

Worked on the storyboard for the audiobook animation. It's a difficult one because even though it will reach a whole new audience on TV you don't want to disappoint the people who know the audio intimately and may have formulated strong ideas about how things might look in their heads. But all you can do is do what you think is funny.

Looks like This Side of the Truth will be out in September in the US by the way.

(There has been quite a bit of false info floating around. I keep seeing that it's out in March and that it's called "Invention of Lying", "The Truth about Lying" "This Side of Truth"... etc.)

Took one of the worst and most ridiculous (and therefore best) photos of me ever last night.

It will feature in my exclusive blog article "Ricky's letter from America". Coming soon.

Off to L.A. for a few days now.

Missing New York already.


---

Did an interview with The New York Times at the HBO HQ. Then got loads of free DVDs and T-shirts and stuff.

As I was getting into the limo (that's how I roll now) a passer by said "best show on TV". I instinctively turned and said "Thanks". It then dawned on me he was probably referring to one of the DVD's I was carrying.

It was nearly as embarrassing as when a Japanese couple asked be for a photo and I said "Sure". They then handed me the camera and posed.

Thanks to everyone who bought the Guide to the Arts. Philosophy is out on 17th March and the free podcast will be up a good week before.

We are doing another one by the way; for St George's Day. The Ricky Gervais Guide to The English. I imagine it will be an hour of three people moaning about moaning. Can't wait.

Here's me with another funny bald man who I treated to a trip on a private jet. He wasn't as impressed as I thought he'd be.


---

Did a few more interviews plugging the audiobooks and stand-up DVD.

Had a meeting about the audiobook animation. The pilot is really shaping up now. I told Karl we have to keep doing audiobooks now so we don't run out of things to animate. I think he swallowed it.

Talking of swallowing, we went to one of the finest eateries I've ever been in last night. It's called Cafe Boulud and it was really fantastic. Rob and I had suits on but Rob once again forgot about the dangers of not wearing a tie. Just before pudding I snatched two of his chest hairs. He couldn't believe it. He was probably most angry with himself for being careless.

I am having trouble importing photos from my phone so I will save them up and do a retrospective of my American odyssey when I get back to England.

Don't forget to vote for Ghost Town in the Empire Awards.

And pre-order the film on DVD too. (Please.)

Thank you.


---

Did The Daily Show. Insulted Karl as usual. Jon Stewart joined in and at one point even mentioned his orange-shaped head. Here it is.

Gave Rob his birthday present - a milking stool. He's wanted one for a while so we had one shipped from London.

I should explain. It's not for Rob to do any milking, it's for mice, say, to milk Rob. It sounds weird but they could be trained I imagine. He would sit on the stool and his genitals or "manly milkers" would hang down for the rodents to "harvest" what they can.

Rob does not want any of this to happen.

At the moment Minnie the cat is using it as a raised seating area.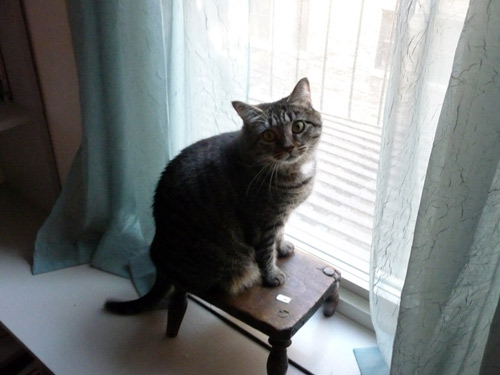 ---

Doing The Daily Show tonight (I may tell stories and mention things I have mentioned before on UK radio or TV. You best not illegally download it and then complain that you've heard it before if you live with your mum in Britain. Thanks. Thought I'd better warn you.)

Talking of sad idiots, Karl is annoyed at a comment he read on iTunes. Some fucking moron has accused Karl of lying about watching TV in front of his big mirror. This person says something like "has he forgotten that he said on a previous podcast that he wallpapered over it?"

No he hasn't forgotten that. But about a year ago he un-wallpapered it. OK? I love the fact that the loser who left that comment assumes that if such an event wasn't reported in a later podcast then it didn't happen. Dick head.

Found this by the way. It's a computer drawing of Karl in letters.


---

Woke up in the city that never sleeps. (I can't confirm this as I was in bed by 9.30 and our apartment is lovely and sound proof)

Here's a nice little interview with Karl from The Independent.

Did Sesame Street which is possibly the most fun show I've ever done. There were loads of outtakes but the producers are worried about releasing them as they may get the show taken off air.

I'm off to annoy my little bald freak-away-from-home Rob now. Again, I will post pictures.


---

Week fifty-four - February 2009

Off to New York.

I'm recording my episode of Sesame Street and doing a bit of press for my stand-up DVD which is released in America in March.

Did a Q and A with Jamie Oliver for his new magazine before I left. He's like Oprah bloody Winfrey.

Anyway, don't buy the mag - he's rich enough. Here's the Q and A for free. Pukka.

What are you working on at the moment?
Finishing my directorial debut movie This Side of The Truth, and also I'm in pre production on the film I'm writing and directing with Steve Merchant called The Man from the Pru. The audiobooks we do with Karl Pilkington are ongoing. Available now on iTunes! I'm also working on a new stand-up tour called Science and developing an animated movie of my children's books Flanimals.

What did you have for breakfast?
Porridge and coffee.

Do you like to cook - are you any good?
Not really and no.

What are you cooking me when I come round for dinner?
Jane will be cooking and I'll be in charge of drinks.

Will I make you nervous?
Only when you sit too close.

Would you prefer to be James Bond or Doctor Who?
Never been a big fan of either but if I had to chose I'd be Bond for that licence to kill. I'd use it every day. At the moment all I've got is a licence to watch TV and I use that every day.

Which of your show biz mates is the best cook?
Probably Sly Stallone. He does that thing with spinning the dough above his head when he makes me pizza.

And the worst?
David Bowie. Always makes the same thing. Dairylea slices with Ritz crackers. Awful.

Ricky, for my wife five years ago on Valentine's Day, I cooked naked as a treat. I had a new convection oven and I roasted a whole sea bass with herbs mmmm v. nice... as I opened the oven door the steam whooshed out and burned my penis v. badly. Not nice! Have you ever cooked in a provocative way for true love??
I can't see how you stumbling around the kitchen naked with your tackle on fire is a treat, It must have looked like a scene from One Flew Over the Cuckoo's Nest. You're a fool.

What foods remind you of your childhood?
Roasts and Plumrose hotdogs.

What's your favourite restaurant these days apart from 15?
Park Avenue in Upper East Side New York. They change the menu and decor with the seasons. It's amazing

Do you ever get take-aways? If so who? and any good?
Rarely because not many curry houses do free range organic chicken. I get the odd vegetarian curry though.

Do you have a guilty food secret?
Look at me. How is there a secret? Actually I'm pretty good on the whole but my vice is cheese and wine.

A few years ago you utterly thrashed Grant Bovey in the boxing ring for charity. Is there anyone else you'd like to bash up?
Yes. I'll take the 'licence to bash up' instead of the killing one.

Tea or coffee?
Coffee.

Fried or scrambled eggs?
Scrambled for breakfast or brunch but fried with chips and beans.

Cagney or Lacey?
Jimmy Cagney.

When I say these names what is the first thing that comes in to your head?

Jamie Oliver?
Before today I would have said "nice bloke" but now I'm thinking of a little fat div running round a kitchen patting his meat and two veg with a smoldering oven glove.

Gary Rhodes?
Shaves his chest.

Gordon Ramsay?
He waxes I bet.

Delia?
Plucks.

What's the weirdest thing you've had in your mouth?
Often my foot.

A friend of mine is confused. Is Cross-dressing OK?
Only as a sexual peccadillo, not for comedic purposes. it's not funny. Dragging up is about as funny as clowns.

Are there any foods that you detest?
Fois gras and any other foods that are the result of animal cruelty.

Have you ever eaten anything you hated just to be polite?
I've nibbled around the edge of a lump of red meat before (not a euphemism) but these days I usually warn people.

Is it true that Orville the Duck refused to appear in Extras?
Orville was into it. The fella with his hand up his arse wasn't interested.

I know you get bored by the inevitable revival question but... is there any chance that Seona Dancing will reform some time soon?
Don't be stupid.

Tell us a joke.
What did the snail say when he was on the back of the tortoise?
Wheeeeeeee!!!!!!




---

As promised some new Karl pics

7.10 Karl waiting for his dinner. He had asked earlier in the week what we were having. I said chicken curry and lemon tart and ice cream.





8.25 He loved it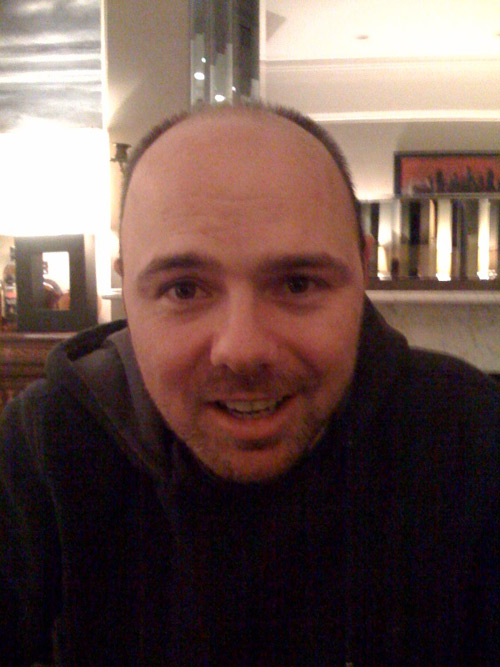 8.50 Then he started looking at weird deformities online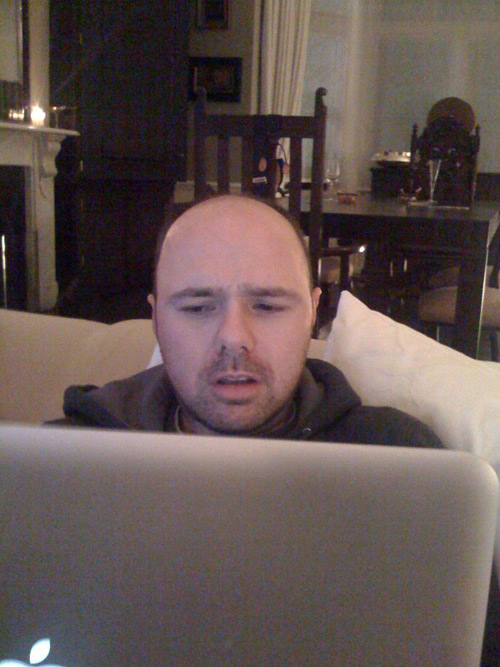 9.30 He found something that scared even him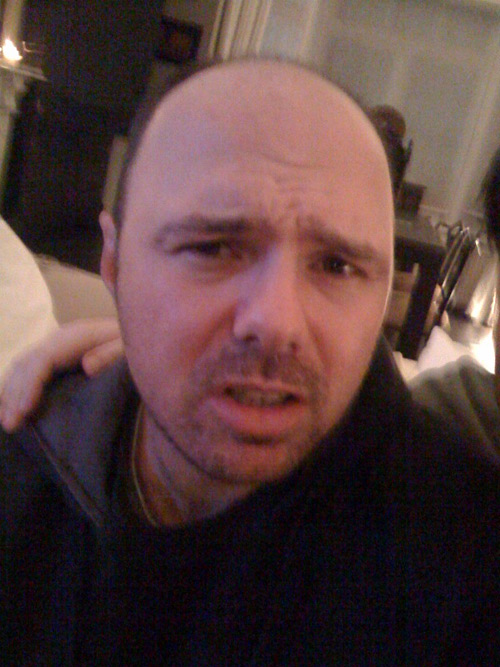 11.20 When he left I helped him with his hood.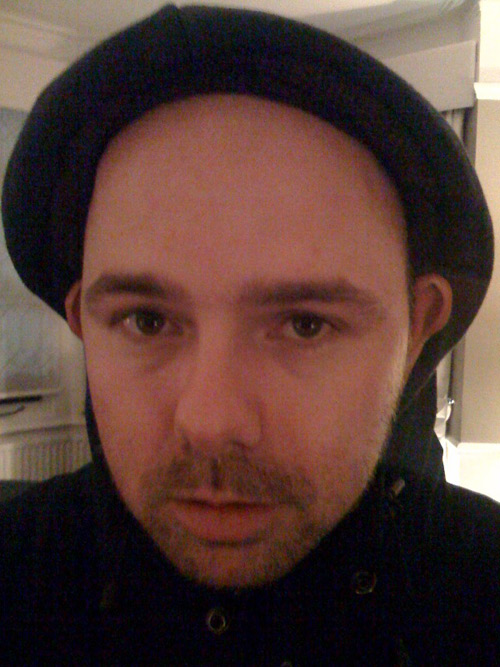 ---

It seems Rob didn't appreciate being referred to as a freak in my last blog entry.

I got this email from him.

From: robsteen
Subject: blog
Date: 19 February 2009 21:21:01 GMT

You must be fucking joking!

"Freak"?!!!

Look at the half naked fat fucking mongo in the middle!

Twat!

What does he mean?

I look good in that photo. I always look good.

I took a picture of myself reading his email and even though I'm clearly upset, I still look good. Don't I?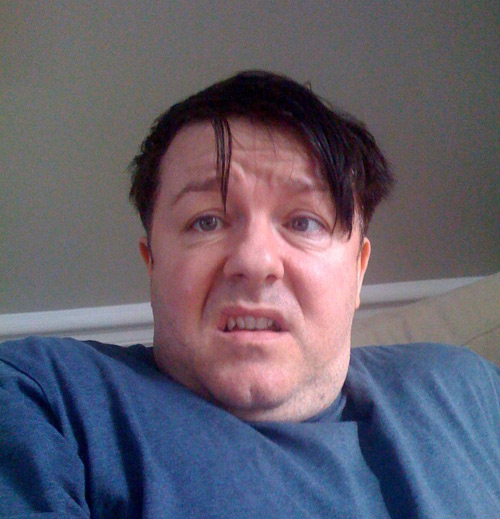 ---

Hope you liked The Ricky Gervais Guide to The Arts. Download here (iTunes UK, iTunes Rest of World, Audible UK, Audible Rest of World)

It's gone to number one all round the world again so thanks as always.

I'm trying to persuade Karl to do even more. The more they sell the more persuaded he is. Weird init.

He even did some publicity this week. Independent, 6 Music, he's recording Loose Ends on Saturday morning... so he's actually pulling his weight a bit more.

He's coming round to dinner tomorrow so I'll get some new pictures.

Remember this?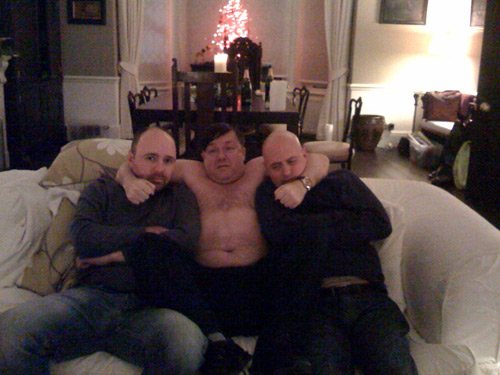 I'm seeing the other freak in the photo too next week. He can't wait.


---

Did some more interviews for the Ghost Town DVD. Radio 1, Steve Wright, IRN.

Did a cinema charity ad for PETA. It's a great idea and I play a rabbit, and Pink plays an alligator. I'll post it when it's all finished and shiny.

Here's the latest from my favourite funny man at the moment, Brian Gittins.

He makes the best fry-up you've ever had too.


---



Did a few radio and TV interviews to plug the Ghost Town DVD...

Capitol, Heart, Xfm, GMTV and Ant and Dec. With Ant and Dec I went so over-the-top as the celebrity announcer it's ridiculous. I think with broad shows like that you can either try to look cool and above it, in which case you shouldn't be doing it, or act like a complete mental case and have a laugh.

Hugh Jackman called me again for another brainstorming session about the Oscars. He called me out of the blue a couple of weeks ago and said he wanted me to write some gags for him. We've spoken a few times and we've come up with some funny ideas I think. It's difficult for me because it's so mainstream, and 90% of everything that comes into my head is unsuitable. He's great though. He seems to have no ego at all. Nice bloke. Hope he does well.

The Guardian are featuring the "Guide to the Arts" tomorrow with a bit of a transcript and a link to an exclusive clip. Hope you like it.

Oh, and I'm doing a pop-up book by the way


---

Did the second of two warm-ups at The Bloomsbury Theatre. I fucking loved it. It was easily the best one so far. Brilliant crowd - so thanks if you were there.

That stuff I did for The Simpson's 20th Anniversary will go out on Sky One in about four weeks' time apparently.

Here's the new title sequence by the way

Karl is happy at the moment. The Natural History audiobook sold about 100,000 copies. He's even doing some stuff to promote the next one - The Arts. He's on Radio 4's Loose Ends this weekend and he's doing an interview with The Independent.

Workaholic!


---

Did another warm-up at The Bloomsbury Theatre. I've got about 50 minutes now (and that's without any Hiltler material).

Watched The Wrestler and loved it. Great film and an amazing performance. Hope it wins at least one Oscar. Look out for a nice appearance from Todd Barry (the guy who supported me on some American dates) as Rourke's boss.

Talking of Oscars, apparently whenever they talk about Kate Winslet's chances on US TV they show a clip of her in Extras saying she's only doing a holocaust movie to win an Oscar.

I Was talking to Tom Hanks the other week (normal) and he said he heard that clip on the radio and thought it was real. He went round the whole day telling people what a crazy thing Kate Winslet said until eventually someone plucked up the courage to tell him it was from a comedy show.

Extras series 1 is now available for download on iTunes by the way. Keep it on your iPod.


---

Week fifty-three - February 2009

Did an interview today for The Simpson's 20th Anniversary. Insulted Karl quite a bit which I assumed would be cut, but the producer said it would definitely stay in. It was nothing new - "round headed moron" etc., but it might reach a whole new audience who didn't know that.

Demoed the song I'm doing for Sesame Street. Hope they like it. It's a bit mental but so is Sesame Street sometimes.

Nice plug in the Washington Post for "The Arts". They even streamed an exclusive clip you might like.


| | | |
| --- | --- | --- |
| | | And, submit your questions NOW for comic and actor Ricky Gervais. He chided the audience at this year's Golden Globes and counseled Kate Winslet on the connection between Holocaust films and the Oscars. Send him your questions about his work on BBC's "The Office," HBO's "Extras," his movies, his podcast and his new series of audio books. Episode 3, "The Ricky Gervais Guide to...The Arts" will be available at iTunes or audible.co.uk / .com by the end of February. Here's a clip (NSFW). We'll send a selection of the questions to Ricky and run his responses in this space next week. |


I sent a copy of the show to Damien Hirst as he gets a mention.

I ended the email like this...

"I'm a huge fan but I bought a house to live in instead of one of your paintings."

Hope he sees the funny side


---

So Ghost Town was released in cinemas in Australia. The reviews I've seen were great. I have no idea whether that makes any difference at all, but it must be better than bad reviews I suppose. (I'm not even sure about that any more)

Anyway here's an interview I did earlier.

Got an email today from Sesame Street saying that as I'm appearing as myself I can wear my own clothes, but to;

1) Please avoid black or white tops.
2) Please avoid logos, stripes and bold geometric patterns
3) The muppet Grover is blue and Elmo is red so please avoid these colors.

The yellow jump suit it is then.

I can't wait though. That might be close to a perfect day. Waking up in New York, singing to a muppet, then having dinner, before squeezing one of my weird headed bald gimp friends' heads.

Anyway, talking of weird bald muppets I've got to go now and watch that fella on Masterchef take way too big a mouthful and tell us it's a lovely pudding.

Cooking doesn't get tougher than this!


---

Masterchef is hotting up isn't it?

Watched the new series "Rehab" too. Oh God.

TV eh? Can't live with it....

(I'm even thinking of taking up reading.)

Early night tonight though, as I'm doing a few live Australian TV shows tomorrow morning via satellite.

Had another meeting about the animated series. It looks like we might do a dozen 11 minute episodes to start with. We're also looking into a UK broadcaster showing it too.

Here's another look at a lovely little animation.

Goodnight John Boy.


---

Just watched two episodes of "The Celebrity Agency" on MTV. I feel bad. It was fascinating, but only in the way that looking through medical books at pictures of congenital deformities is. I couldn't resist. Like when you drive by a bad accident on the motorway and you know that if you look you might have nightmares but you still look. I think I will have nightmares tonight. These people that will be filmed doing anything... I don't know whether to feel sorry for them or call out the vet and have them put down. Maybe it's the same thing. Any vets out there?

Producers of Dexter! Hurry up for fuck's sake.

Had a conference call about animating the podcasts for US TV. I'm so excited about it. Not because of the money or anything but because of the fact that we don't have to lift a finger. We've done our bit. It's the best job ever. (Obviously it's Karl's second best job ever behind the paper round he had when he was 13)

Talking of which


---

Thank God for 24. (I know I'm an atheist but "Thank Fox" doesn't have the same ring to it)

I'm getting the first five episodes of Damages Season 2 fedexed over. That's the weekend taken care of.

Oh, by the way, I've got a couple of dates for you; The GQ podcast and the Shortlist podcast will be up on the 24th Feb.

The Ricky Gervais Guide to The Arts may be up on the 18th now if everything goes smoothly. It's not Dexter, but it's our favourite one so far. (Actually our favourite one so far is probably one of the free ones, but Steve doesn't want me to say that.)

He is off to India tomorrow. I wonder if he will still haggle in restaurants there?


---

Week fifty-two - January/February 2009

I think I've got the Sesame Street sketch in pretty good shape. I'm also doing The Daily Show again while I'm in New York. Always good fun, and no pre-interview. Jon Stewart is so smart and funny. (And their goody bag is the best of any chat show)

The DVD of the HBO Special (Ricky Gervais Stand-Up Special: Out of England) is released at the end of March.

Another reminder to UK fans - even though it's an all new recording, it is a compilation of routines from Animals, Politics and Fame (with a bit of new stuff) so probably not worth buying if you've already got all those.

Talking of the UK, I hope everyone there watched the David Attenborough programme on Darwin. Superb.

Quite a few things on TV about evolution at the moment. (Something to tide me over till the new seasons of Dexter and Damages)

Obviously there's nothing as informative as The Ricky Gervais Guide to Natural History. I wonder what David Attenborough would make of Karl. Finally, the missing link.

Check out Stevie Wonder on Sesame Street. Amazing. Look out for Bernard Manning on trumpet.


---

Hope I didn't offend anyone with my last blog entry. I read it to Karl before I posted it and he laughed - which, as you know, is rare. As I say, it was not aimed at anyone in particular, no particular forum or fansite as I never read those things. I read a couple a few years ago and, as sweet and flattering as it was, it isn't healthy. With everyone in the world having strong and completely different opinions on the minutiae of your work, it might start influencing your decisions. The reason I told Karl to stop reading comments was just because it made him want to stop doing the audiobooks every time some idiot came up with a conspiracy theory. (He read one on iTunes saying that some of Natural History had been cut and pasted from the Xfm shows and it made him want to "knock it on the 'ed."

I appreciate that "fans" have views on my work - I just don't want to hear them. And I don't mean that in a bad way, I mean I don't take notes; I don't take notes from the BBC, HBO or anyone else. It's not that I think I know better than everyone else in the world, it's just that I feel the best work is never done by committee or by pandering to the most popular suggestions. I think I have the best fans in the world. The stuff I've produced over the past few years could never have been the success it was without the initial dedication of the hard core few. However I wouldn't want to be stuck in a lift with them (only joking). No, really, they're a bit mental (joke). Freaks.


---

Ghost Town is in Australian theatres from Feb 12th. Read about this here.

It's still getting nice reviews in the US.

And it's out on DVD in the UK in a couple of weeks.

Oh and please vote for it in The Empire Awards.

I've persuaded Karl to do more "Guide to.." audiobooks. Actually I think the success of the first two persuaded him. He even got his boiler replaced this week. He moaned that it cost him a packet but the next day it was like he'd had the weight of the world lifted off his shoulders. Luckily there is still everything else in the world to moan about.

His latest thing is reading comments on iTunes and Amazon. Steve and I have told him a thousand times not to read comments on those things and especially not on forums or fan sites (at least he doesn't do that).

People who leave negative messages on forums are usually deficient in some way. You wouldn't go round reading toilet walls would you? You certainly wouldn't bother replying to comments made on that toilet wall unless you were a right fucking div.

He wants to do an audiobook specifically about this. Might be funny. Except I don't want to dignify their comments and let them think they've got an audience. I'm not talking about genuine fans by the way. If you are a sane person who enjoys what we do then great. It's those people who have a criticism but continue to watch or listen and slag it off. It's weird.

Anyway, I told Karl not to worry about them. Just let them continue writing to the same twelve people and giving themselves cool nicknames and illegally downloading things. They are all like Paul "The Party Animal' Parker. (Who has presumably hung himself whilst masturbating by now.) At least it's the way he would've wanted to go. Well, obviously. That is the good thing about suicide. By definition it's the way you want to go. (Unless you were hanging yourself while masturbating and the rope broke and you fell through the floor boards, naked, cock in hand, into the flat downstairs where they were having a gay orgy, and you landed on a giant dildo that went up your arse and fatally ruptured your internal organs.)

Anyway, those free podcasts we did for GQ, Shortlist, The Guardian and The Telegraph, should be up next week. They turned out great and the three of us were discussing that it's some of the best stuff we've done. Then Steve suddenly said, "It annoys me that we're giving it away." Unbelievable.


---
An open letter to the BBC.


Dear men-in-charge-of-what-is-OK-to-watch

I would like you to ban Extras. It had a gollywog in it.

Thank you.

My friend likes programs with gollywogs in them and is writing to you to ask you NOT to ban Extras.

What happens now?


---

It is a sad day. Soon I will watch the last episode of season one of Damages. It is one of the most compelling, stylish and brilliantly written series I've ever seen. It's been a tough few weeks. It was only in January that I received the third season of Dexter in the post and promptly watched it in a week. The mighty Clyde Phillips (the exec producer) himself sent it to me after we met at the Golden Globes. But that's as far as my "string pulling" goes. What I really want is to make him to work faster.

I now have to wait for both these audacious works of TV art to make some more. Of course neither of these shows or other examples of America's best, (Sopranos, The Wire, Simpsons,) can compete with the return of Minder on Channel 5. (I am being sarcastic in case you didn't see it. Possibly more sarcastic than I've ever been before. I couldn't take the risk of anyone in the world thinking I was serious for one second. Sarcastic. Really, really sarcastic. I didn't think it was very good. It was not very good.)

We watched it with Karl and Suzanne who were over for dinner. We only tuned in to see who they'd cast in which roles but the worse it got the more we had to watch. It wasn't annoying. It didn't take itself too seriously. It was just... Do you remember when you were little and you were into rock music so your mum got you a Top of the Pops album and you had to listen to the same guy singing Life on Mars and Tie a Yellow Ribbon Round the Old Oak Tree? That's what I'm talkin' bout.


---

I got a call from one of my US agents saying that my letter to President Obama was read out on all the news programmes in the States today. Hilarious. They actually discussed it on CNN. Maybe I'll get a reply. You never know. After all, Gordon Brown wrote back.

It was even in the Washington post. And here.

I'd love to think that somewhere there is an adviser sitting with the President saying. "OK... so let me see if I've got this straight... 1. Withdraw from Iraq, 2. Sort out education in the poorest communities and 3. Swap Posh for Hilton."

I worked on the song for Sesame Street. It's mental. Hopefully in a good way. The recording of it is being filmed by 60 Minutes who are doing a special on me. I'd love them to film us doing a podcast but Karl would never allow it.

He let me dress him up as a whoopie cushion and let off a champagne cork on his head but wouldn't let one of the most prestigious documentary teams in the world watch him talk bollocks. Never mind.


---

Howdy Doody chuckle chums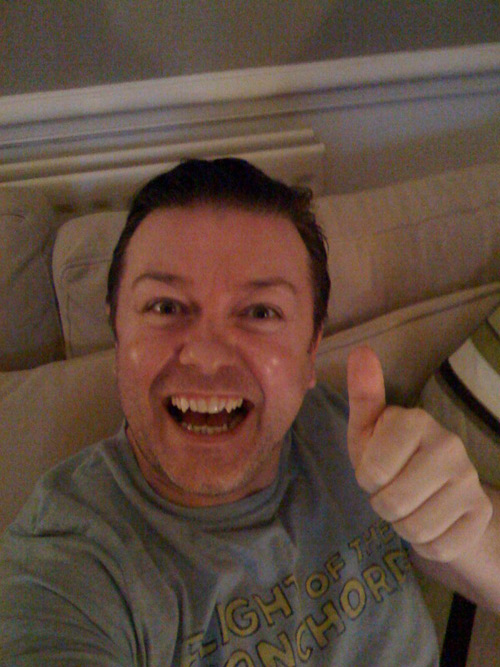 It's The Chubby Funster here.

Snowy isn't it?

Sorry I called some of you "nonce cunts" in my last blog.

It's going to get even snowier apparently. Brrrrrrr!!!

Of course, only the nonce cunts amongst you would assume I was talking to you. And you won't be reading this as you wouldn't be so dopey as to visit this site again.

If you are reading this, then welcome. Lets have a super blog-tastic time yeh?

We did some exclusive podcasts for various publications to promote the new series of audiobooks. So look out for them in The Guardian, The Telegraph, Shortlist and GQ. Hope you like them. If you don't, you can't moan, as they're free. (Unless there are are still some N.C.s reading this, in which case of course you will moan)

A new free sample of The Arts is available now on iTunes by the way.

Found this on youtube today. Do not listen if you find the old and bewildered a comedy taboo.

Wrap up warm.

PS. Cunts.

(Only joking)

cunts

Joking.

cunts

joking

cunts


---

I was thinking of putting a warning up that people have to click on before reading this blog. It's just that I do this blog for me and like minded people, so I'd like a filtering process for idiots who might not like what they read.

Something like this...

I enter this blog knowing that there will be swear words and politically incorrect terms of abuse that may make me cry if I am a little nonce.

I won't write to the papers as it is fuck all to do with them. I won't complain to the BBC either as it is fuck all to do with them. In fact, even if I find something so offensive that puts me all in a tizz, I will bite my tongue or a lovely big cock, whichever is tastier to me or works as a better pacifier.

I may well find things that I don't find funny, but I promise I won't try to deconstruct the "so called humour" on forums read by 12 other losers as that would be as constructive as writing things in shit on a toilet wall.

No, instead I will show Ricky how comedy should be done and become more successful than him, as the best revenge is living well.

If I am a sensitive little flower and, not heeding this warning, still read the blog only to find something that offends me, I will never read the blog again. To do otherwise would be stupid and show that I am a masochistic and feeble nerd with no life.

If you enjoy this blog then great. It's written for your amusement.

I have read the above and agree to the terms and conditions.

Actually I don't want to warn anyone. Fuck 'em.

Anyway,...

I'm looking into the legalities of adopting Robin Ince. He is 40 years old which is higher than the norm but I assume with his consent I could become his legal guardian. His parents are wonderful and did a great job, but they are finding it increasingly difficult to look after him now.

I am so proud of him going off on tour by himself, but as his new papa, I worry about him, as he is not like other boys, and is sometimes out of his depth in the real world. Ed, Matt and I always feared "Earthy Bumpton" (coming down to earth with a bump; this expression explains it in fun terms so as not to scare him too much), but wanted him to stand on his own two feet.

We were worried that he would leave restaurants without paying, as that was what he's been used to for the past few years touring with me.

Please could you become a friend of his on Myspace and keep an eye on him for me.


---
An open letter to Barack Obama.
Dear Mr President,

Firstly, congratulations on your historic win. I have never been so behind a candidate for what must be considered the boss of the world.

You seem to be a man of grace and integrity, who would never shirk responsibility in any way.

I'll get to the point.

As I'm sure you are aware, one of your flock has strayed. A Miss Paris Hilton, who is, I believe, a resident of Beverley Hills, is in England doing a reality game show for ITV2 called Paris Hilton's British Best Friend. Fine. I have no problem with that. I don't have to watch. But now it has come to my attention that she has bought a house in North London a few miles from me, and is out and about ingratiating herself with the Great British public.

Mr President. We are not stupid. This is clearly a retaliatory strike for Posh Spice moving to LA. I know it, and you know it, so let's cut the "it's a free country" nonsense and come to some agreement.

I propose an exchange.

This is how it would work. We call them both and tell them that we've found a giant "paparazzi nest", in New York say. (half way home for both of them already)

At first they may be confused that they'd never heard of such a thing before, but the thought of that many photographers in one place will be irresistible.

Once we get them there, while they are having their photos taken (we will have hire a few guys with cameras to make it look good) we will swap their limos around. It's fool proof.

This is a covert operation of which Mr Gordon Brown knows nothing. (I've got him working on finding a synthetic fur for The Queen's guards' bearskin hats.)

Have your people call my people. They may have to call a few times as my people are useless to be honest.

Thank you,

Ricky Gervais
---

Week fifty-one - January 2009

Karl couldn't work today as he had to go to Kent. "Why?" I said, "it's only Friday."

"'Avin' me car MOT'd. I don't trust 'em in London."

He thinks in London they would fail it and say he had to get something fixed. So he took the day off and drove all the way to his weekend home.

I called him about 6pm. He was angry and fed up. The garage in Kent failed his MOT and said he had to get something fixed.

He said he is definitely moving to Manchester now.

They must be really trustworthy with MOTs up there

We're recording a free podcast to promote The Ricky Gervais Guide to Philosophy on Monday. (The free podcast for The Arts will be out next week)

I hope Karl is in a better mood. Or not. Doesn't matter really. Just as much fun for me either way.

Talking of fun. Someone has done a nice visual to go with a podcast clip of international funster - Paul "the fucking lunatic mental cunt party animal" Parker.


---

Wrote a sketch for Comic Relief today. (Because I really fucking care)

The last one we did was great fun. (Even though we had to shoot it all in 8 hours.)

The BBC told me that at the moment I cried, they hit the peak of donations for the night. This immediately plummeted when people realised I was taking the piss. So I really made a difference.

Saw this great article today on comedy website Chortle. I particularly liked the review by Steve Bennett.


---

Did the third in a run of warm-ups at The Finchley Arts Depot. I enjoy stand-up so much more these days. I just chat and have a laugh as opposed to worrying about every line being enjoyed by everyone. I think this is the best stand-up show so far. And I know I would say that, but I think any artist (even a lowly comic) SHOULD think that, or otherwise start again. You should get to a point where you think "I don't need to get any bigger so I should just get better."

Worked on the sketch I'm doing for Sesame Street next month. They've let me write a song. I can't give too much away but I'm singing to Elmo. Can't believe my luck. Being paid to go to New York to sing to a furry little blue thing. As I've said before, all my little friends are freaks.



---

Got this from my weird nosferatu-type-headed friend Rob. I think he's got his own back.

From: rob steen
Subject: 20 years
Date: 18 August 2008 13:44:37 BST

How did this happen?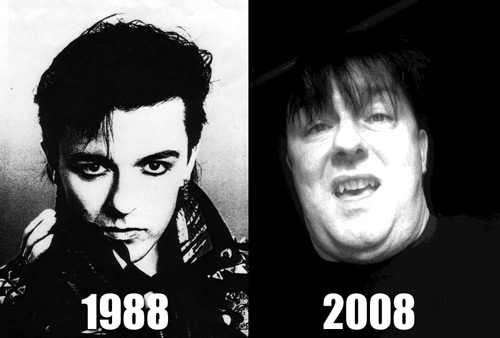 ---

Did another warm up gig. I've got about 45 minutes now. I don't know when I'll have time to tour but at least I'll be more than ready.

Robin is refusing to support me. He says as good as the money is, his medical bills for the mental breakdown that will result will eat into his profit.

I doubled his money to test his integrity. He still said no. I will up it again in a week or so. It's like a game show. "What price sanity?" - With Vernon Kay!

This is from the last tour.


---

Started working on a sketch for Sesame Street. I'm really looking forward to recording it. They tape in NY too. Perfect.

Talking of the greatest city in the world, last time I was there I hooked up with Louis C.K.

Here is the e mail correspondence leading up to that meeting.



On 2 Jan 2009, at 18:39, Louis C.K. wrote:

Subject: Excuse me, ugly.
When do you arrive in new york? Are monday or thursday night at all possible for you?

From: Ricky Gervais To: Louis CK Sent: Jan 2, 2009 1:43 PM

Subject: Re: Excuse me, ugly.
only wednesday and thursday

On 2 Jan 2009, at 19:55, "Louis C.K." wrote:

Can you hang out on thursday? I have babysitter issues on wednesday.

From: Ricky Gervais To: Louis CK Sent: Jan 2, 2009 2:56 PM

Thursday it is, you useless piece of shit

On 7 Jan 2009, at 19:59, "Louis C.K." wrote:

What are we doing at what time where tomorrow

From: Ricky Gervais To: Louis CK Sent: Jan 7, 2009 3:09 PM

7 at the rainbow rooms? Is that nice or naff?
I'm at conan till 6.30

On 7 Jan 2009, at 20:14, "Louis C.K." wrote:

What does naff mean, you idiot?

From: Ricky Gervais To: Louis CK Sent: Jan 7, 2009 5:31 PM

Tacky, sub par, cheap, rubbish,.... you inarticulate slob

On 8 Jan 2009, at 00:07, "Louis C.K." wrote:

It doesn't make me inarticulate if I don't know cute little words invented by English gays.

On Jan 7, 2009, at 8:54 PM, Ricky Gervais wrote:

I think you'll find that most words you fat stupid yanks use were invented by English gays. It's ENGLISH you dick head

On 8 Jan 2009, at 02:22, Louis CK wrote:

did I tell you my theory of why women in "Britain" are so ugly?

It's because all of you "English" men are gay. Every single last one is an aidsy faggot, since King Faggot Arthur's day. Anyway, you cant just let your gay race die out so for centuries you've forced yourselves to fuck your women, but you're so gay and it's so repulsive to you, that you throw up on their faces the whole time you're fucking them. After generations and generations of constantly having vomit on their faces, British women started really looking like vomit. So now you're a no-good race of vomit-faced cunts and retarded little queers.

From: Ricky Gervais To: Louis CK

Jacket required tonight by the way. No jeans or trainers. And have a wash you stinking fat cunt




Here is the fat ginger slob on youtube


---

Week fifty - January 2009

Did the interview and photo shoot for the Sunday Times Magazine. Enjoyed both very much. In fact, the "surprised face" I did at the end of the shoot might actually be used in the feature. Mental.

Karl is finally back from holiday. Did the free podcast/sample thing for The Ricky Gervais Guide to The Arts. We'll stick it on iTunes around the beginning of February. (The actual audiobook will be available from about the 24th of Feb)

Because Karl has been sitting in the sun doing even less than usual, but eating more, he is a bit tubbier than usual so has a particularly round, red head. He looks like a fucking Edam.

We did a bit for our 4th audiobook in the current series, "Philosophy". I don't want to give anything away but at one point Karl actually laughed. Me and Steve couldn't believe it. I don't think he fully understood the feeling himself. That was only for a couple of seconds though. The rest of the time he was of course a miserable git.

I realised that the chocolate Golden Globe that the Four Seasons made for me looks a bit like Karl in a sports car wearing a scarf.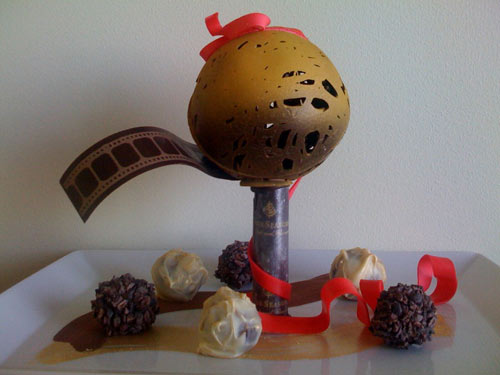 ---

So the second audiobook in the latest series, The Ricky Gervais Guide to Natural History, is available now on iTunes. Hope you like it. (Links on the front page)

In a few days we'll put out a free sample of The Arts, the third in the series.

Tomorrow I'm doing an interview and photo shoot for the Sunday Times Magazine to plug the UK release of the Ghost Town DVD (out 2nd March)

I used to dread photo shoots, but last summer I started adding my own little project to each session. A coffee table book of my "surprised face" taken by top photographers around the world.

This one was taken by Andy Hollingworth





(When I say coffee table book, I just mean my coffee table obviously)


---

Me and Jane went shopping today to buy a gift for Jennifer Garner's new baby.

I wanted to buy it a whole edam with "Ricky" on the side but Jane picked out a really cute baby-grow with matching boots. I said I'd love to see Robin in this. Jane said it will never happen as he is a middle-aged man with dignity. I wanted to bet, but she wouldn't.

Did our first "workshop" with potential cast members of The Man from the Pru. It was nearly as much fun as dressing up Robin.

A journalist asked me today if "making it" in America and driving round L.A. in limos changes a man.

Yes. it makes him look orange.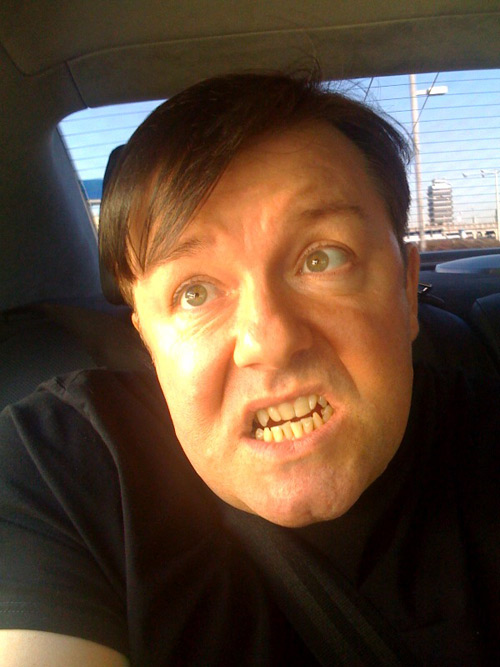 ---

Week forty-nine - January 2009

My 'Inside the Actors Studio' premiers Monday night on Bravo in the US. if you're in that neck of the woods, and I know for a fact that about a quarter of a bilion of you are, then give give it a watch.

Thanks to the American press for the nice plugs;

There's never a bad time to talk about: Ricky Gervais.
The 47-year-old British comedian with "a pug-nosed face" gets his own "Inside the Actors Studio" treatment on Bravo. With any luck, it will persuade you to rent the underrated gem "Ghost Town." And, like his too-short appearance on the Golden Globes, it should also remind you what a crime it is that Gervais is not hosting this year's Oscars.
(Monday) LA Times

and

Inside the Actors Studio, 7 p.m, Bravo
Want to see what real talent is like? Check out James Lipton's interview with Ricky Gervais, the Brit who's responsible for half the funny stuff on the tube lately.

I'm assuming the reference to the funny stuff I do on the tube means my TV work in America as apposed to my "clown busking" on the London Underground.

Is there anything less amusing than a clown? Genocide maybe? What about a clown juggling? You know it's going to be a thirty year old middle class hippy who lives in a squat which he's trying to legally own.

There used to be this "white-dreaded" fool who, in the summer, would sit in Russell Square and happily play one fucking drum for 6 hours. Even I'm not that annoying.

Talking of useless fools and Inside the Actors Studio, here is a clip of the time we asked Karl some of the questions from the show.

Hear the whole thing here (iTunes link)


---

Thanks to Rotten Tomatoes for making Ghost Town rom-com of the year.

Who needs more Golden Globes anyway?

Talking of a Golden Globe... The gimp chimp's roundy-bonce must have a bit of colour by now. He is still on holiday in the Caribbean. 11 days off!

Meanwhile I'm promoting the audiobooks to keep his money rolling in.

We hit 150 million downloads for the podcasts yesterday. Ridiculous

The Ricky Gervais Guide to Natural History is out next week by the way.

Medicine still available.


---

---

Worked with Steve today on The Man from the Pru. Roped in a couple of A listers when I was in LA. Can't tell you who yet.

Oh by the way, my American week.....

We stayed in our New York apartment for the first time on this trip. I thought the one thing I'd miss was the luxury service at The Four Seasons. However doing your own laundry and washing up and shopping was, surprisingly, a new joy. Made me feel part of the city if you know what I mean. One the Monday we went to see the puppies and kittens in the posh pet shop down the road. Saw this amazingly cute thing. It's like a little bear cub. We named him Dexter and went to see him every day.





We also walked around Central Park every day. Apparently it's bigger than Monaco. But with fewer French people.

Talking of which... I had the best mashed potato I've ever had in a French restaurant called Le Charlot on East 69th Street. My new favourite restaurant in the world by the way is Park Avenue. They change the menu and decor according to the season. Wonderful. (I'm like Michael Winner)

Annoyed my bald weird little Brum-chum Rob every day.

Then off to LA.

The hotel put a Golden Globe made of chocolate in my room.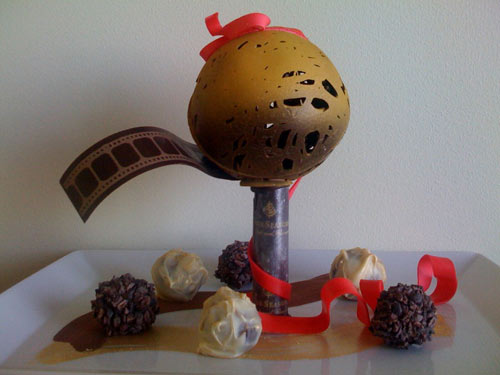 How nice is that.

Went for a walk and bought this little work of art which we sent to New York. They are little rodents with silver feet and they're waiting for us.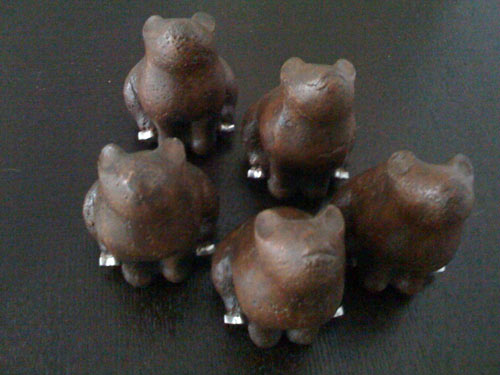 Got given loads of free stuff, went to the Globes, flew home.


---

So I did my bit at the Golden Globes and it went really well. Dare I say it, but the joke about Kate Winslet winning for a Holocaust movie may have got the biggest laugh of the night. Everyone who spoke to me said so anyway. All the US press said it was funny including Jewish magazine Heeb

One review said, "Ricky Gervais killed the crowd with mock bitterness about not being nominated -- and simultaneously made himself the front runner to host any awards show in the future."

TV Guide made it one of their top moments.

Gothamist NY made my bit their lead story.

New York Daily News said it was "Hilarious."

The Boston Globe said "British comic Ricky Gervais proved once again to be the highlight of an awards show."

So why did a couple of English papers say it went down badly? Because they're jealous lying cunts whose lives haven't turned out like they planned and want everyone to be as unhappy as they are.


---

Week forty-eight - January 2009

In L.A.

The weather is gorgeous and people are trying to give me free things to wear all the time. I miss New York already.

The "uproar" about my comments about fat people on The Ricky Gervais Guide to Medicine continues.

'pop eater'
'queerty'
'the tyee'

No one cared when in series 5 of the audiobooks Karl thought that Anne Frank was just "avoiding rent".

Or when he said that "gays should have their own toilets". Maybe someone will get a little offended when they hear in February's 'Guide to... The Arts' that Karl thought that Sophie's Choice was "like a Deal or No Deal type thing". Unbelievable.


---

Did Conan last night. He is the same height as Steve Merchant so I look like a fat elf standing next to him. Here's a clip at the NBC website.

Did a little trailer for my Inside the Actors Studio episode with James Lipton. It is bizarre. I will try to post it if they send me the finished thing. Ar least I look a bit taller next to him.

Had dinner at the Rainbow Rooms with Louis C.K. He is a bit taller than me, but I look great standing next to him because he is a fat bald ginger slob.


---

Went to the world famous 21 Club. Had chicken and mash.

My cold has turned to a cough. Brilliant.

Went to the Whitney Museum. Edward Hopper is now one of my favourite artists. Never liked him before. Weird.

Watched three episodes of Dexter. The best TV drama since The Sopranos

Did Letterman.

It rained all day. Still mustn't grumble.


---

Went for a run today in Central Park. It was so cold I kept my puffa jacket on. I stopped when it started snowing. I'm not like one of those posh beardy twats that ask for money so they can go and lose body parts up mountains then have to be rescued by people risking their lives. No. So I went home and had a cup of tea.

We went to the zoo again. The polar bears were loving the weather.

Karl wasn't. It was cold in London too apparently. He said he was typing with gloves on. Boiler trouble I assume. Idiot.


---

Blog Extra...

Ghost Town made another top ten list. Not sure this one counts as was compiled by my pal and co-director on This Side of the Truth Matt Robinson. I'm hoping he will also decide the Oscars next year. Anyway here's what he thought of Hollywood in 2008.

TOP TEN WORST FILMS OF 2008:

10. Fool's Gold -- I don't have anything funny to say about this movie. I'm just fed up. Just fucking stop it. Seriously. You're not getting anything out of it. I'm not getting anything out of it. Even "your audience" isn't getting anything out of it. You know what this movie cost? $70 million. You know what it grossed? $70 Million. It's a cats game. You're literally doing nothing.

9. You Don't Mess with the Zohan -- Remember in the trailer when Adam Sandler's little legs pop up and start kicking that guy in the face? So do I.

8. The Happening -- Nail in the coffin. Fucking took long enough. If anyone is keeping score at home, just know that if you write and direct a great film that grosses nearly $300 million (and one slightly over-rated yet entertaining super-hero movie) they will let you direct FOUR FILMS OF YOUR CHOOSING. Lucky for us all, The Happening was number four.

7. The Love Guru -- Here's when you know that you've stopped trying: you're still using mini-me in a movie that doesn't have a character in it named mini-me. This is exactly like George Lucas making Boba Fett one of the central story lines of the prequels. Sometimes "giving the people what they want" isn't the right thing to do. This is also why there are so many obese children.

6. Fireproof -- THIS DOES NOT BODE WELL. This makes me miss The Passion of the Christ. At least that had a few movie stars and some violence. Next up: the Mormon film movement. Oh wait... that's already started... and it's on this list.

5. Beverly Hills Chihuahua -- See above.

4. How She Move -- Seems beside the point. What about How She Talk?

3. Be Kind Rewind -- I actually walked out of this one angry. Such a disappointment to realize where the talent lies with Michel Gondry (Clue: not in his writing). I agree there isn't enough of people laughing and looking like they're having fun in comedy films nowadays, but conversely, there's also nothing more awkward than watching two guys pretending to be laughing and having fun.

2. Indiana Jones and the Kingdom of the Crystal Skull -- YOU CHOSE... POORLY.

1. Twilight -- Dear Fat Girls of America, I know times are tough. I know how it feels to be overweight, and unpopular, to feel that no one really understands you and to wallow away at night, lying in your big bed, snacking and wishing there was an effeminate vampire boy-child to come steal you away and show you how shiny he looks in the sunlight. (I don't). But this is not the answer. I say it again, ma'am: THIS IS NOT THE ANSWER. I know it's too late to stop this train, but let us all agree that the Twilight books make Harry Potter look like Proust. And even worse, the Twilight film makes Disaster Movie look like The Leopard.

TOP TEN BEST FILMS OF 2008:

As always, my Top Ten is the closest melding I can muster of what I consider to be the best films and the films I flat out enjoyed the most.

Apparently, as is obvious by many of my selections, this was the year that I was a nine year old boy.

10. Iron Man -- Just fun.

9. Synecdoche, New York -- I like to imagine that Michel Gondry and Charlie Kaufman made a bet to see who could do the other person's job better. You know, like an I Love Lucy episode. But in this I Love Lucy episode Kaufman walked into the candy factory like he was Gordon Ramsey on Kitchen Nightmare and made the best damn candy that candy factory had ever produced. On the flip side, Gondry, in an attempt to clean the house and take care of Little Ricky, burned down the entire brownstone and drowned Little Ricky in the tub.

8. Tropic Thunder -- It still bothers me that we live in a culture where Tom Cruise has to do public penance for being crazy by embarrassing himself with ridiculous dance moves. But almost everything else I enjoyed. I think it would have been better, as it was supposed to be, with Owen Wilson in the Jack Black role, though.

7. Ghost Town -- It would make the list regardless. It's fantastic. And the ending makes me well up with tears like a little girl-gay. And it stars my favorite actor in the whole world. Tea Leoni.

6. Let the Right One In -- A slap in the face to all that is bad in the world of cinema. Quite literally the anti-Fool's Gold. It's exactly what we need.

5. Speed Racer -- I'm sick of defending this film. But fuck it, one more go. Look, you're wrong. It's as simple as that. If you haven't seen it, whatever you think of it, you're just wrong. If you have seen it and didn't like it, well... you don't understand what you saw. This film is so far ahead of its time the closest thing I can compare it to is 2001. So there. That's a hyperbolic statement I will live to regret. But, hyperbole is necessary sometimes to prove a point. This film is amazing. It's even important. It's amazing storytelling, it's technically leagues ahead of anything else and here is the main reason people hate it: it is like nothing that has even been before.

4. Kung-Fu Panda -- Some of the best storytelling I've seen in a long time. Like a perfectly mechanized little watch. I bet that at this point in the list you're thinking that I'm praising some pretty childish and "light" films for their "good storytelling". But I just call 'em like I see 'em. And some of the best storytelling I saw this year took place in films aimed at children.

3. Wall-E -- The first time I watched it was on my laptop and it was a bootlegged version I downloaded from some asshole with a camcorder pointed at the screen. That's how bad I wanted to see it (I was in England where it wasn't releasing for another three weeks and I couldn't wait). Even with the crappy quality, it still did what it was supposed to do. Something I can't shake though: I don't totally understand how or why this film was allowed to be.

2. The Dark Knight -- I don't have anything interesting or funny to say about this. Oh wait... A Jew with a Barfing Dick. There we go. A chuckle, there.

1. The Wrestler -- hands down the best storytelling I've seen in a long time. There's nothing more impressive to me than a simple story you've seen a million times, presented in a way that makes you feel like you've never seen it before. Aranofsky-world -- here we come.

P.S. For those of you who think this list is missing Benjamin Button, or Slumdog Millionaire, or Milk, or Revolutionary Road, or any of the other films on most peoples' lists, please don't assume I just didn't see those films. I did. I saw every film you're saying "but what about..." to. They just didn't make the list. But I liked a lot of them. Just not as much as you.

Matt Robinson


---

In New York for a couple of days plugging Ghost Town on DVD en route to the Golden Globes. Doing Letterman for the 12th time and Conan for the 6th. Then to California to get a goody bag, I mean to hand out a Golden Globe

The old "Ricky slams fat people" headline is doing the rounds. I hope people actually listen to the podcast and hear it in context. That way they'll hear that I say much much worse things than that. One paper annoyed me a bit when they said I'd slagged off people who have gastric bands "like Fern Britain".

At no point did I mention anyone specific except myself. Still what can you do.


---

Week forty-seven - December/January 2008

I was annoying Karl by taking pictures of him in The Ivy the other night. Just as I took this picture, his girlfriend, Suzanne, put her hand under his chin to comfort her little stressed chimp. It looks like something from an egg and spoon race.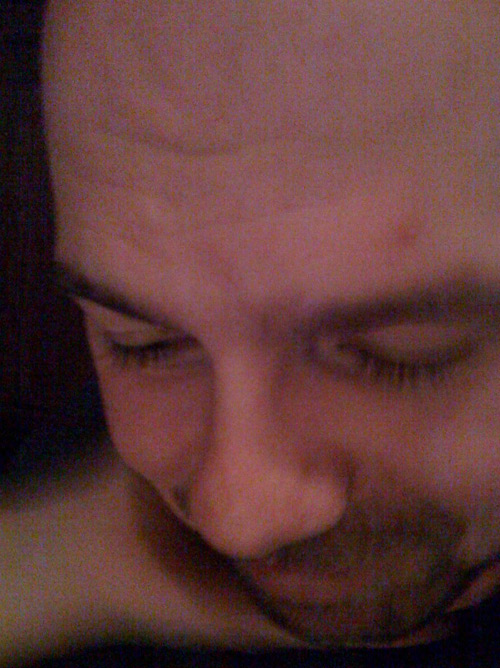 We're thinking of doing a few more audiobooks in our 'Guide To...' series. Possible subjects are, The English, The Mind, Philosophy, Sport and War.

But before that, Natural History and The Arts still to come.


---

Why can't they cure the common fucking cold? They wiped smallpox off the face of the earth. Most cancers are totally treatable now. Even AIDS isn't what it used to be. Now work on the snot and the feeling slightly unwell for Christ's sake.

I've got a cold by the way.

Read about my "attack" on fat people

I heard someone on the radio once say that they were tired of the prejudice aimed at the overweight. They said something like "you're not allowed to make fun of gay people, so why are you allowed to make fun of fat people? It's the same thing."

It's not the same thing though, is it? Gay people are born that way. They didn't work at becoming gay. Fat people became fat because they would rather be that way than stop eating so much. They had to eat and eat to get fat. Then, when they were fat they had to keep up the eating to stay fat. For gayness to be the same as fatness, gay people would have to start off straight but then ween themselves onto cock. Soon they're noshing all day getting gayer and gayer. They've had more than enough cock... they're full... they're just sucking for the sake of it. Now they're overgay, and frowned upon by people who can have the occasional cock but not over indulge.

When a doctor tells me that that's how you become gay, I'll stop making jokes about fat people.


---

Thanks to everyone who has already bought the new audiobook, Medicine. It's number 1 in the UK, US, Canada, Australia, Scandinavia... so cheers.

Now that's out around the world we'll put out a free sample of the next one, Natural History, tomorrow. You'll have to wait till Jan 21st for the whole thing.

We recorded the third in the series today. The Arts. Karl said something during the recording that made me fall off my chair. It may be one of the funniest things I have ever heard. I can't explain it but it involves a war poet. I'll say no more.

Anyway, thank you all again. Have a great new year.

Ricky


---

Another nice review of the Ghost Town DVD.

You'll have to wait till March if you're in the UK and even longer elsewhere I'm afraid. Or just buy it from amazon.com.

The Ricky Gervais Guide to MEDICINE is available from midnight on iTunes. Hope you like it. (You make not enjoy it if you are a limbless, gay dwarf. Just a warning)

Saw Karl today. We did a bit of planning for tomorrow's recording of The Ricky Gervais Guide to THE ARTS. He knows less about art than he does about science and nature. Think of that.

More whingeing about swearing in comedy. Most of it from comedians. My feelings on the subject are best summed up by an Eminem lyric;

Will Smith don't gotta cuss in his raps to sell his records;
well I do, so fuck him and fuck you too!

Happy New Year.


---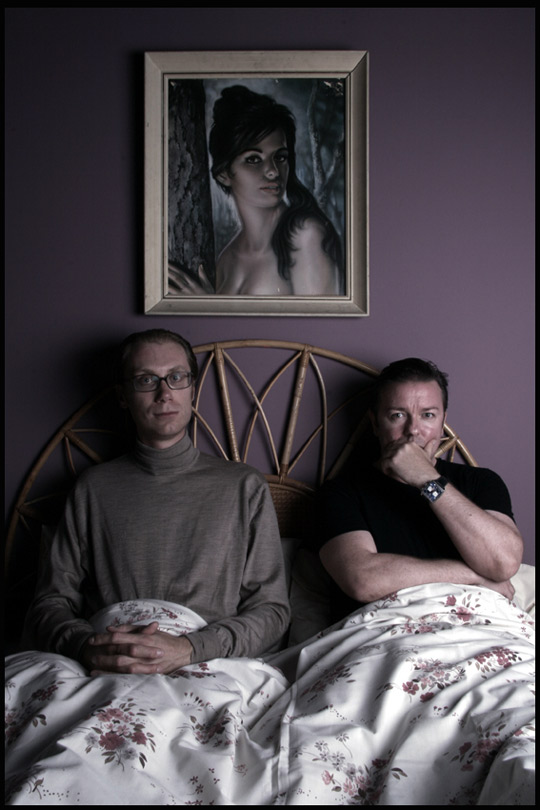 No comment.


---

Only 351 days till Xmas.

Am I getting old, or was Xmas TV the biggest load of shit ever? Obviously TV in general is awful but there was nothing I wanted to watch. (except TV Burp)

When will TV, Film and Comedy stop pandering to the brain-dead masses? Still, that's the way of the world. I suppose that's why excellence shines.

Back in London after spending a couple of days with the folks being attacked by cats, dogs and children. It was like stepping out of the car in a safari park.

And so that was Xmas.

January kicks off the same way as last year for me with The Golden Globes in L.A. I didn't actually go last year as the writers strike meant there was no posh ceremony. Still won though. Still won.

I missed the British Comedy Awards too. Shame. It would have been nice to be in a room with a load of of bitter drunks who were less famous than the presenters. Talking of which. Here is a compilation of me winning and rubbing salt in the wound. And insulting a little disabled fella.

Oh, and if anyone thinks I'm going to rethink my act in the present "watch what you say" climate, they've got another fucking puff rapist cunt Jesus tits aids cock-sucking think coming. Happy New Year.


---

Week forty-six - December 2008

And so this is Christmas.
And what have I done?

I got up two hours earlier than usual and opened presents. Then we watched Noel Edmonds surprise people. (We'd recorded it especially) I cried.

Then I had some porridge and we went to feed the ducks and geese on Hampstead Heath.

Gulls have an aerial advantage,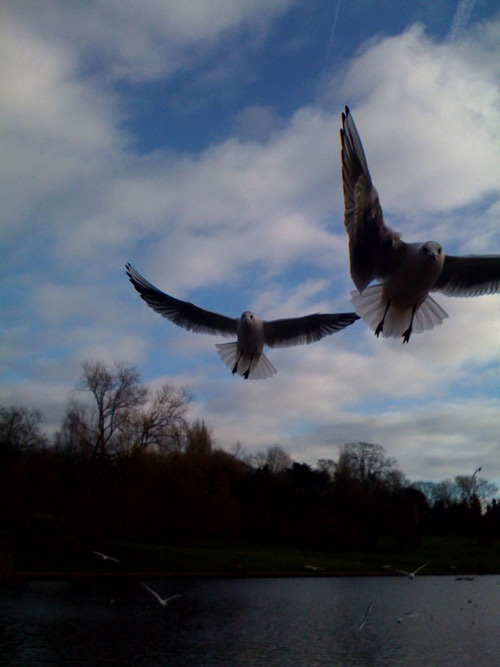 Watched 'Muppets take Manhattan'. That is the only way you could possibly improve New York. I'm stopping off there on the way to The Golden Globes.

I'm making my 12th Letterman appearance on the 5th of January to plug the Ghost Town DVD.

Found another nice animation on YouTube.

Spoke to Karl. He is in Kent. I hope he's keeping his face nice and vacuumed My New year's resolution is to annoy him more, by the way.

Why is Karl wearing Steve's glasses?



---

Andy Hollingworth took a couple of nice picks at the Hammersmith gig





Wham have let themselves go a bit. At least this didn't happen though..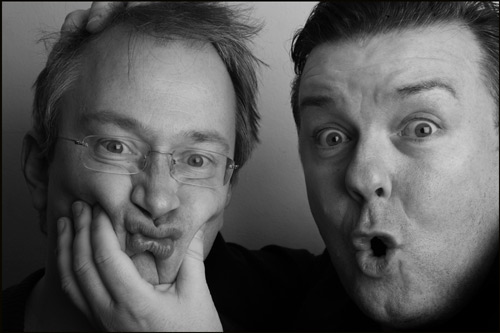 ---

Bought Jane a posh camera for her birthday. Now we can get better quality pictures of the cat sitting on my legs and of our bald headed friends.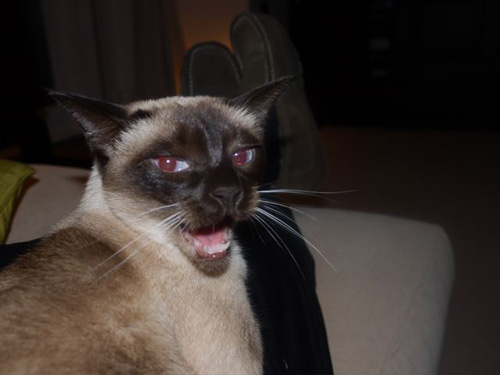 Did the Humanist Society concert at the Hammersmith Apollo last night. It was fantastic and Jarvis Cocker did a beautiful version of Greg Lake's "They said there'll be snow at Christmas".

Tim Minchin was also amazing, ending the show with a nine minute beat poem. (I know it sounds horrendous but it was actually incredibly moving and inspiring) All the acts were great to be honest, but Robin Ince had his best day ever.

Because he was such a good boy, I made him a Xmas love worm and insisted that he kiss it.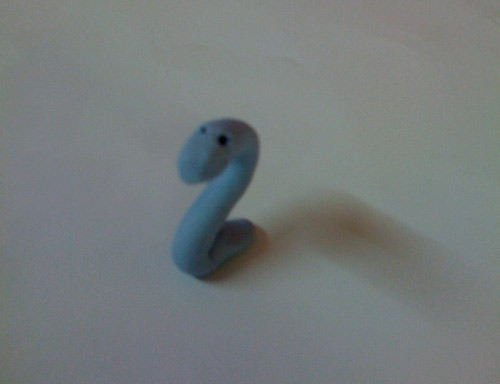 He didn't want to kiss it at first, but once I lifted it up to his lips and he saw the look on the tiny little love worm's face, he couldn't resist.


---

Week forty-five - December 2008

On December 19th at 8.55 am GMT, the Ricky Gervais podcast was downloaded for the 50 millionth time this year. That brings the all time total to 142 million world wide.

Did the second night at The Bloomsbury Theatre. It was great fun and Robin has had his best two days ever. He washed his hair again and it was very fluffy like a little baby ape's. Good boy.

Here's a review of the night.

and another.


---

I'm so sick of all this media talk about whether swearing is big and clever or not in comedy. Don't dignify the debate. If you don't like swearing, don't fucking swear. If you do, then don't worry about what any other cunt thinks. It's just filling poor column inches and feeding controversy. Oh Bollocks, I just added to the debate.

Talking of offensive things that should never be heard, we finished the second in our new audiobooks series today. The Ricky Gervais Guide To... NATURAL HISTORY. We'll put a free sample up after 'MEDICINE' becomes available to avoid confusion. I will tell you that the bit where Karl designs a new animal is astonishing.

Did 10 minutes at The Bloomsbury Theatre. The crowd were great. So smart. And I arranged for Richard Dawkins to feature on one of the future audiobooks. Think of that as a gamut of human evolution. Chatting to Karl in the morning and Richard Dawkins in the evening. Weird init? Alright?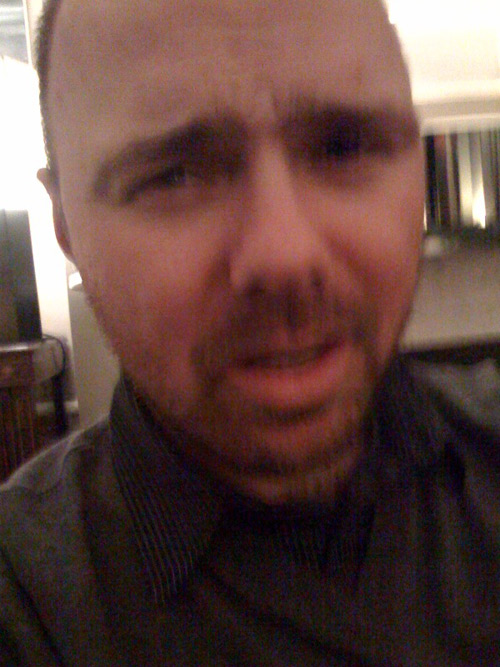 Look how in pain he looks. He must be thinking.


---

Bald Brummy Rob, Glyn and Karl and Suzanne came round for dinner.

This is the card Karl made for Rob...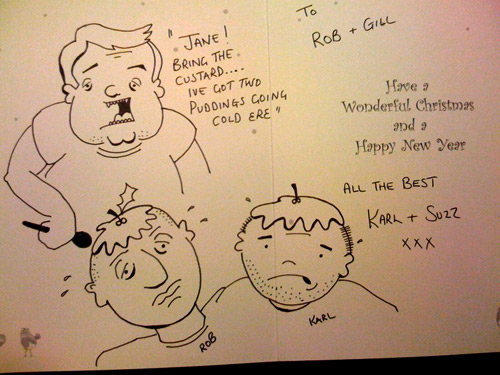 Pretty accurate drawing.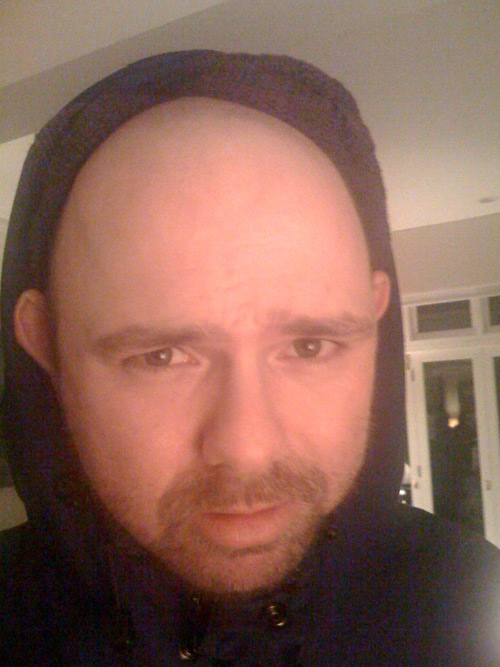 We then took the best picture ever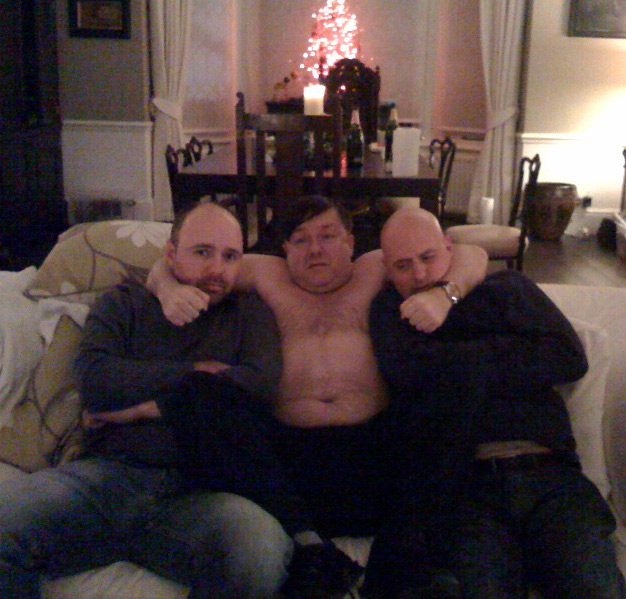 ---

Week forty-four - December 2008

So I picked up my first ever film award. Best Actor in a Musical or Comedy at the Satellite Awards. They are voted for by the International Press Academy so it's a nice one to win.

Did another day of casting for The Man from the Pru. Saw some great people and now we start seeing them work together. We've never really "workshopped" before or even done rehearsals as such but this project will really benefit from that sort of thing.

The stuff we recorded for the Natural History audiobook is great. We're doing a top-up recording this week, as we're trying to get around 50 minutes every time now. Medicine first though.

I did this for a laugh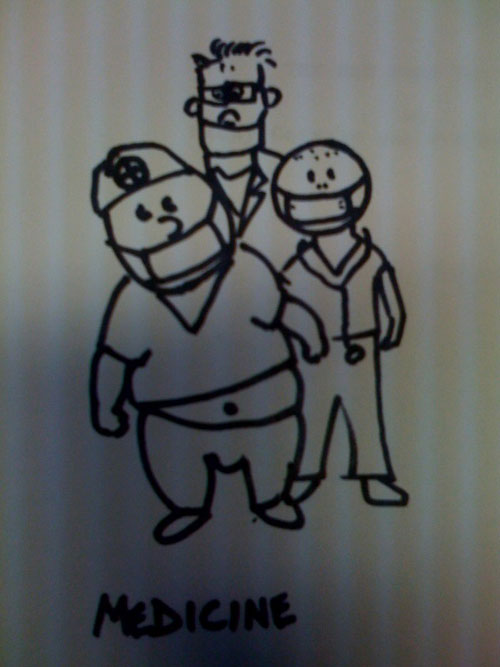 ---

Nice article in The Observer

I thought I should back up the account of a typical night in with some photographic evidence. This is the view down at my own legs right now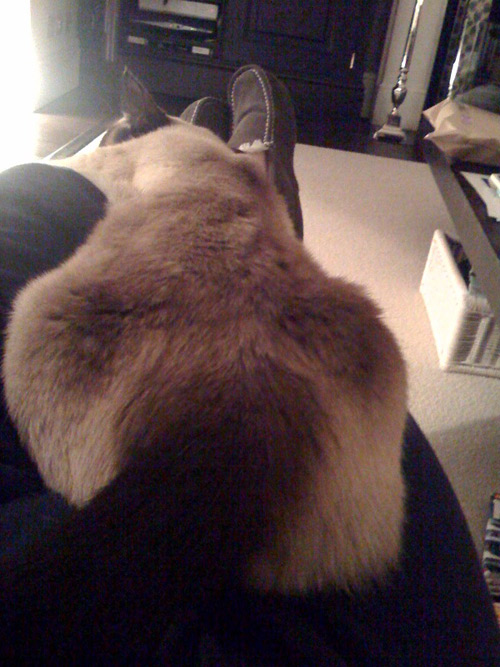 Ollie is without doubt beautiful. But, she may be the only un-photogenic creature in the world. I've never known another animal not look their best in a picture. Look how fat she looks in that photo for example.

Also, on more than one occasion she has come out in photos looking like an old Vietnamese crack whore.

We watched two episodes of Prison Break on DVD before she woke up.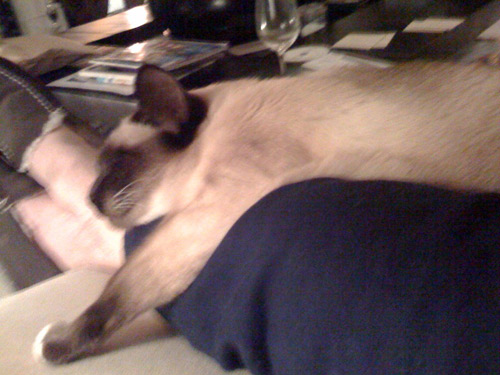 Went for a walk and did some more bread falconry. They are trained now and hover a few feet in front of me awaiting their morsel.

Saw this weird sight.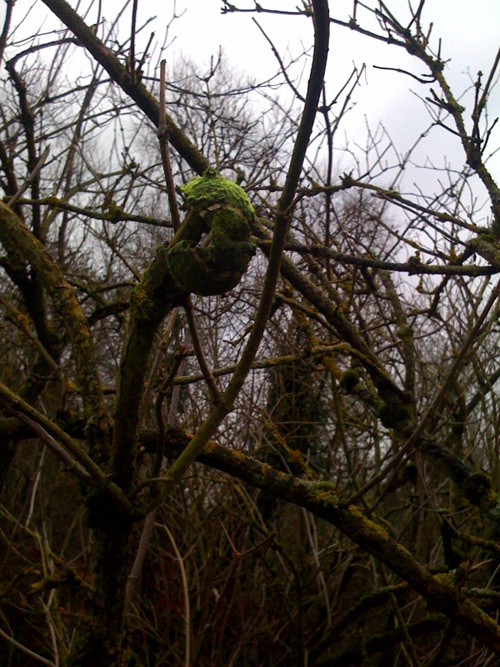 It's like some freak arboreal Nora accident. (I can't explain that reference if you don't get it I'm afraid)

Wrote another letter to Gordon Brown.


---

Ahhh!!! Robin came round to the office today. The little bit of grey hair he's got left is so fluffy now that I immediately pronounced him a good boy.

He wanted me to contribute to a podcast he's doing for the Humanist Society. How can I refuse that little guy. I will never stop helping him. In an effort to inspire him I made him kiss my hand as I gently said, "kiss the hand that wrote The Office." He did. I still don't understand why he goes along with that sort of stuff. I suppose it's harmless. Well, apart from making him bald and grey.

Did another warm up tonight. Best one yet with about another ten minutes of new stuff too. Having said that, I don't know how objectively good it was as the audience was so nice and up for it.

The new free sample of the audiobook is up as a podcast on iTunes by the way.

Some papers have picked up on the fact that Kate Winslet "finally gets her holocaust movie." Someone has put all her scenes from Extras on YouTube. What's even funnier is that I think it's from French or Canadian TV as it's subtitled.


---

Karl is very grumpy at the moment and blaming everything on London. I know when he is genuinely really annoyed because he swears. This makes me laugh. Which makes him grumpier. It's a vicious circle. So is his head when he's swearing.

The Ricky Gervais Guide to MEDICINE will be available on iTunes New Year's Eve. (it will actually be available before that but it's a more memorable date to advertise)

The free eight minute podcast will be up tomorrow.

We're recording the second one on Friday. We think it will be NATURAL HISTORY.

Did The Simon Mayo Show on 5 Live today. It was fun doing radio with Steve again. Just like the old days where it all started. Mr Mayo was very complimentary about the Big Brother scene at the end of the Extras special.

He is a very nice man. Here is the scene by the way.


---

The first of the new series of audiobooks will probably be available on New Year's Eve. We're putting out a free eight minute sample this week to give you a flavour.

We're also thinking of doing a series where eminent people get to interview Karl. You know, the Chinese Ambassador asking Karl to guess how old he is, or the little fella with the aging disease doing a duet of Happy Birthday. You get the idea. Suggestions welcome. (Your Evolution questions won't go to waste by the way, we're using them in our natural history guide next year)

Talking of nature here's another pic from Amberley Castle.

Two llamas and a goat. They all live together in harmony. In an argument I imagine the llamas side with each other though.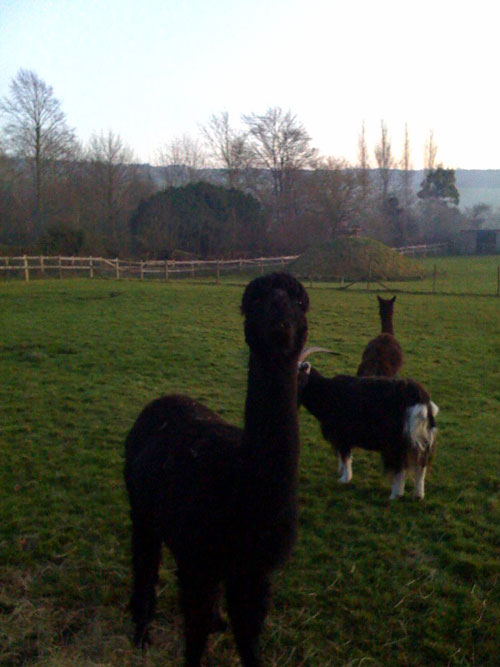 They have more in common. i.e. they all look a bit like Ringo Starr.


---

Week forty - December 2008

So I won The British Comedy Award for best actor. I wasn't at the ceremony because, as I said in my acceptance video, it is beneath me.

Of course, some people think I'm joking.

Went to Amberley Castle for the weekend. It may be the most beautiful place in England.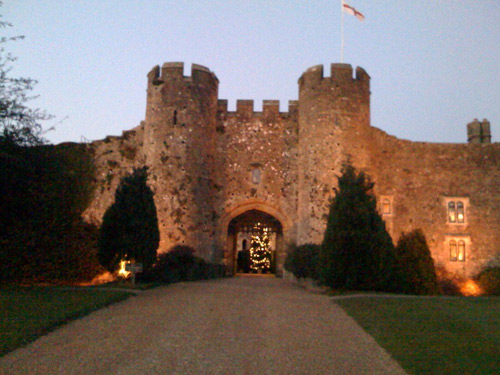 Did a bit of shopping in nearby Petworth, a village with the most amazing antique shops.

They've got a sense of humour too. Look how someone displayed this angel.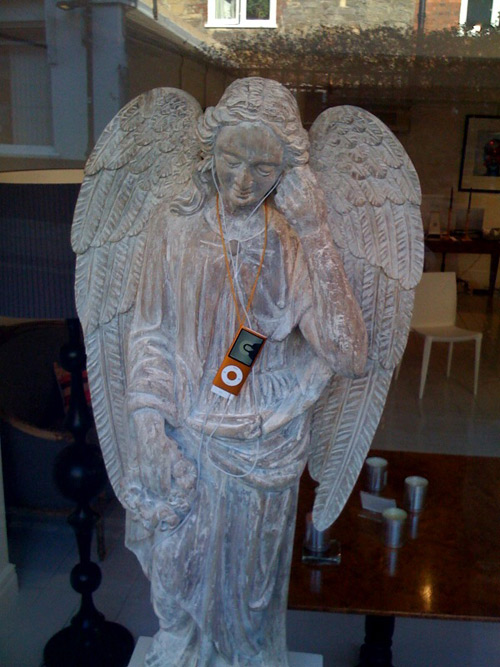 In heaven everyone gets a free iPod.

In hell you get this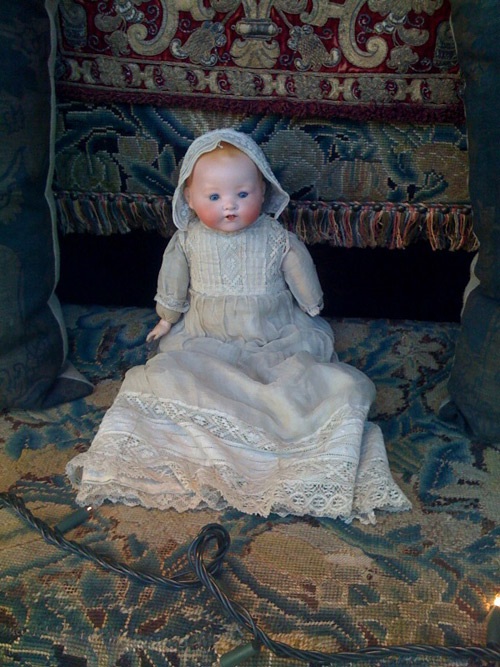 ---

Recorded the first in the new series of audiobooks today.

The series will be called "The Ricky Gervais Guide To..." and the first one is Medicine. One of the best ones we've done I think. It's like a long, definitive version of the 'Teach Karl' feature that we used to do on Xfm sometimes. We actually researched it and everything. Well me and Steve did anyway. Karl on the other hand came up with two of the most idiotic things he's ever said. He is as stupid as ever but a bit more defiant with it. An arrogant ignorance.

Wonderful.

We'll put a free sample up in a few days so you can decide if you want to spend a quid or not.

Did a bit of shopping with Karl and while we were in Selfridges we recognized that bloke who looks a bit like Robin and Steve's love child

This one.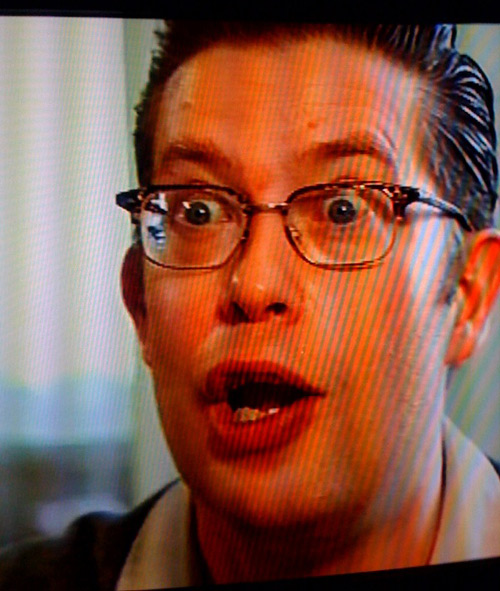 Karl didn't understand why I was so excited.

If you're in Canada, don't forget to watch my stand-up special at the weekend.

Another nice review here... Hey Ricky You're So Fine
First thing you'll notice in Ricky Gervais' stand-up special, aside from the giant, lightbulb-encrusted letters spelling out his name, is that the British comic's routine is razor-sharp. We're used to seeing him as The Office's David Brent or Extras' Andy Millman, where the funny came from the characters' pained and failed attempts at humour, but Gervais' stand-up persona (and it's still a persona) boasts an A-game. Or at least, an amoral one.

Though occasionally cracking cute - such as his hilarious routines on nursery rhymes and odd animal facts - Gervais mostly takes gleefully nasty shots at the fat, the autistic, AIDS, Nelson Mandela ("he hasn't reoffended... which shows you, prison does work") and Stephen Hawking ("he's pretentious - born in Oxford and talks with that fake American accent"). No, it's not as funny as his cringe-coms, but it's worth sitting down for.

RICKY GERVAIS: OUT OF ENGLAND - THE STAND-UP SPECIAL AIRS DEC 6, 10PM ON HBO CANADA.


---

Started kicking round some ideas for The Man from the Pru TV spin-off. It's probably going to be called The Men from the Pru, but what's in a name?

Went for a walk over Hampstead Heath. I discovered a great new sport. No, not noshing on a stranger's cock, bread-falconry with sea gulls. It's amazing. They circle when you're feeding the ducks and try to steal the duck's bread. Jane said, "Cause a diversion so the ducks get some bread." I said, "OK." That's when I discovered that if you throw the bread in the air they take it on the wing. I will never get bored of this.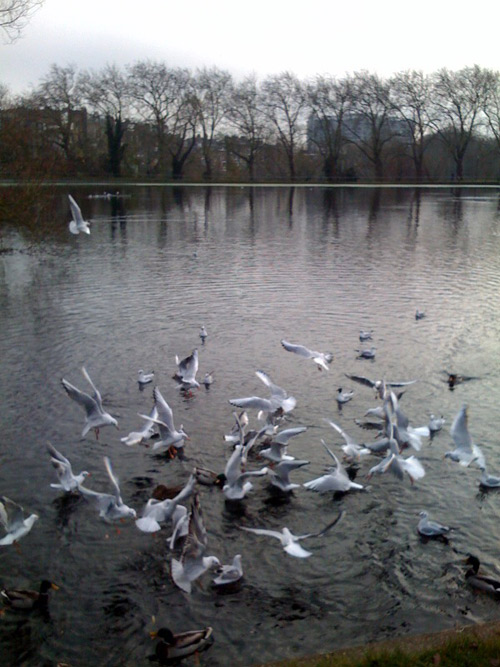 Gangs of gulls mugging ducks before the aerial bread diversion.
Some more Hitler related fun.
---

Have I got a treat for you...

I did a day of press and TV interviews for Ghost Town being released in Germany after Xmas. One of the journalists put me on to a German show called Obersalzberg. It's basically The Office with Adolf Hitler as David Brent.

Amazing

I've been nominated for my first ever movie award...

Ricky Gervais receives first award nomination for Best Actor in a Motion Picture

The nominations for the International Press Academy Sattelite Awards in Hollywood, have just been announced. Despite the numerous awards that Gervais has received in his career, this is the first time he has been nominated for his role in a movie. He is up for best actor in Ghost Town, under the Comedy or Musical category alongside Sam Rockwell, Josh Brolin, Michael Cera, Brendan Gleeson and Mark Ruffalo. Results are announced on 14th December 2008.

Ghost Town has remained within the top ten UK Box Office for over six weeks.

See, told you. But before that are the British Comedy Awards next Saturday where I'm also up for Best Actor in a Comedy, but this time for The Extras Special. I think that will be the last ever award that Extras is eligible for so wish me luck.

This is where The Special began life.


---

Week thirty-nine - November 2008

Did my second warm-up for Science last night. It's coming along nicely. I can't wait to start doing proper full length gigs but I've got so much filming and writing to do I think the next tour will be in bits and pieces over the next two years. I'll be doing warm up gigs wherever I am in the world so check this blog for details and tickets.

My stand-up special comes to Canada next week by the way. The National Post are looking forward to it...

"The Ricky Gervais - Out of England - The Stand-Up Special
HB-Oh my gosh, how happy are you that HBO has arrived in Canada? The new channel presents one of the most talented comics of our time, Ricky Gervais, in a taped special of his stand-up routine at a sold-out WaMu theatre in New York City. The hilarious act includes Gervais espousing about whether obesity is a disease or just a bad habit and the arousal techniques of cannibals. Despite Gervais talking about the morality of Humpty Dumpty, this one is obviously for adult audiences only. Duh. It's HBO (Canada). (HBO Canada, 10 p.m.)"

Here's an interview I did for Time Out New York about stand-up. And other things...

Ricky Gervais
He writes, he acts, he's a comedian - and he's a baby killer.

By Jane Borden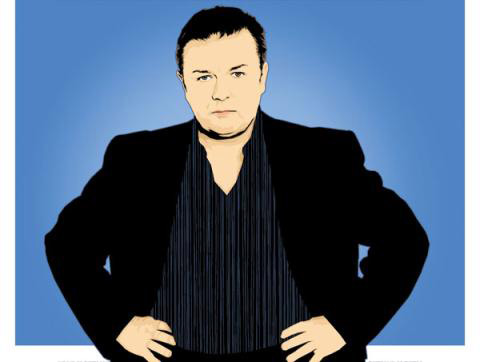 Illustration: Rob Kelly

The Office cocreator Ricky Gervais can be serious - he's an outspoken opponent of animal cruelty and a frank atheist - but as his Extras character puts it, he's almost always "having a laugh."

If you've heard the Ricky Gervais Show podcasts he created with long-suffering friend and punching bag Karl Pilkington, you're familiar with Gervais's guffaw: loud and frequent. Then again, the 47-year-old Brit has reason to be happy. He's starring in the film Ghost Town, and he's shooting This Side of the Truth, a feature he also cowrote and codirects. His fourth stand-up tour - a showcase for favorite jokes from the first three tours, plus some new material - brings him to Madison Square Garden this week.

Time Out New York: Do you appreciate stand-up more now that you've been making films?
Ricky Gervais: The more I do it, the more I like it. Also, I've started exploiting the things that attracted me to it in the first place - it's the last bastion of self-censorship.


TONY: You certainly don't censor how much you mock yourself.
Ricky Gervais: Yeah, I always get something in about how fat and stupid I look. In my head I look like a young David Bowie. Then I catch a glimpse in the window and I go, "Who's Fatty looking at? Oh..."

TONY: Do you like playing New York?
Ricky Gervais: Yes. It makes me feel funny; it smells good. When I get here, I just feel strangely at home. It's an organism. Um, it's like coming home to a pet - amazing. And I only hope one day America likes me as much as I like her - is it a her? England is. But Germany's a he. Who decides? Maybe someone lifts them up and checks for a little winkle.

TONY: Why are you drawn to uncomfortable situations?
Ricky Gervais: I'm a white, middle-class, successful bloke. The only bad things that happen to me are social faux pas. I haven't got an ism. And comedy shouldn't be a platform. The thing I usually have a go at is bad comedy. The Office was a show about comedy.

TONY: But over here Jim and Pam are a couple! Isn't that going to ruin the American show?
Ricky Gervais: I don't know. I would never have done it. But we had completely different ambitions. Ours was finite. They've got to string their show out.

TONY: The audience loves the characters. Is it frustrating when people confuse you for the losers you play?
Ricky Gervais: Often it's because of lazy journalism. Apparently I'm just like [Office character] David Brent - the thing is, I slip in and out of character, that's my shtick. I do always play a man who comes from Reading. If I played Genghis Khan, he would talk like me and have this haircut.

TONY: So David, what's funnier: someone falling or a fart sound?
Ricky Gervais: [Laughs] It depends on context. At a funeral, if it was the vicar: the second one. What would be the first? [Pauses] A fireman has just caught a baby from a burning building and everyone's cheering and he gets so carried away that he just trips. And the baby falls under a bus.

TONY: What?!? Why does the baby...?
Ricky Gervais: You're right. Cut that last bit.

TONY: >So what's on your wish list?
Ricky Gervais: A God. From what I've heard, he's all-powerful, so he'd sort a few things out.

TONY: Wow: a lamenting atheist?
Ricky Gervais: Well, yeah: A God would be great. But it's just not true. So, let's see. An individual jet pack.

TONY: The jet pack would burn your feet.
Ricky Gervais: Okay, my biggest wish? That everyone died in their sleep, and nothing would matter.

TONY: People would stop sleeping.
Ricky Gervais: No! You sound like Karl Pilkington! What I mean is, people die peacefully in their sleep so there's no pain.

TONY: I know what you mean, but people would try to find a way to cheat it.
Ricky Gervais: Oh, you've ruined it now. You ruined the jet pack and the sleeping. All right...world peace. No: a jet pack.

Thanks for your time.
Ricky Gervais: No, thank you very much. I'm going to spend the next hour going, "Why did I say that?" Or, "That came across wrong." "Oh God, did she think I was insulting journalists?" "Oh no, why did I put the baby under the bus?!?"
---

Did my first warm-up for "Science". It went really well. They laughed in all the right places and I did about 30 minutes. I think it's probably the best first warm-up of all four tours. Now the really hard work begins, but I'm happy so far. My favourite moment, by the way, was when I looked down during a routine about vicars being sucked off during gay marriages, and saw a very proper 65 year-old lady, literally with both hands covering her face, realizing that my stand up is definitely not what she expected.

Also on the bill was Richard Morris (who played the homeless man in episode 2, series 2 of Extras) and Brian Gittins. Here's Brian in action.

Robin asked me for yet another favour yesterday. (Haven't I done enough for him?) I said yes even though he had been a bad boy. He wanted me to contribute to a podcast. Anything for a friend. I said come to the office lunchtime.

By 2.30 pm there was no Robin. I checked my messages and he had gone to my old office that I moved out of 18 months ago.

Was I angry? Has he secured a Bad Boy Award for this week? No. Because of that stupid mistake he gets his second Good Boy Award. Let me explain. Yes, he tried to be all sexy. Yes, he wanted to eat an animal even though he swears he is a vegetarian. And yes, he is a little incompetent gimp. But he is MY incompetent gimp. And I will stick by him. Good boy Robin. Good boy.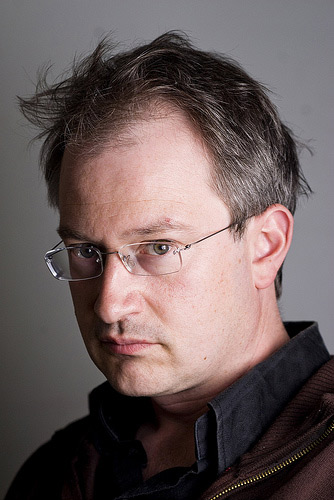 Ince. Thrilled.
---

I'm afraid I have no choice but to declare Robin Ince a bad boy this week.

Not only did he want to eat the larvae of flies to show how tough he is, but now he wants to be all sexy.

He even made himself a little bra which he wants people to see.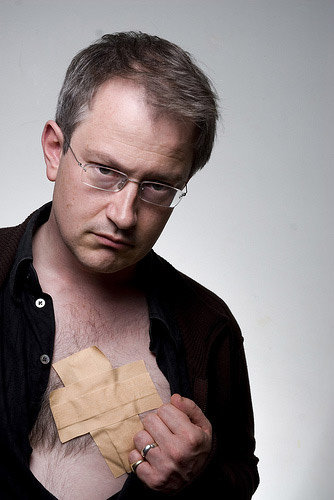 His face is defiantly saying "Yes! I'm a sexy bad boy and I like it"

He's clearly showing that X marks the spot where he got heartburn from feasting on the blood of baby animals.

It's only a matter of time before he starts swearing and staying up late. Where did it all go wrong? Is it my fault? I don't know.

I just don't know.

When he stripped off on a beach once, I thought it was because he liked the feel of nature on his body. It was obviously something a little more sinister at work

He used to be such a good boy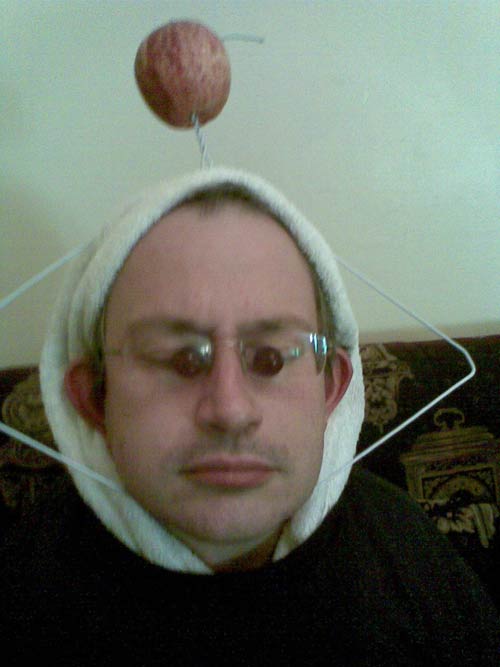 ---

INCE IS A BAD BOY!

I tuned into Richard and Judy, squeaking loudly because the trailer said Robin was on the show. I know that is not normal viewer behaviour, but he is such a good boy... usually...

He was presenting a feature where audience members had to pick up stars in their teeth from a big box of live maggots. Robin said that he had originally planned to eat one of the maggots during the feature, but had learned that Germaine Greer had deemed such actions as cruel so had decided against it.

1. Robin shouldn't need anyone to tell him that crunching a live animal to death for fun is cruel
2. He claims he is a vegetarian.

Bad Boy Robin. Very bad boy.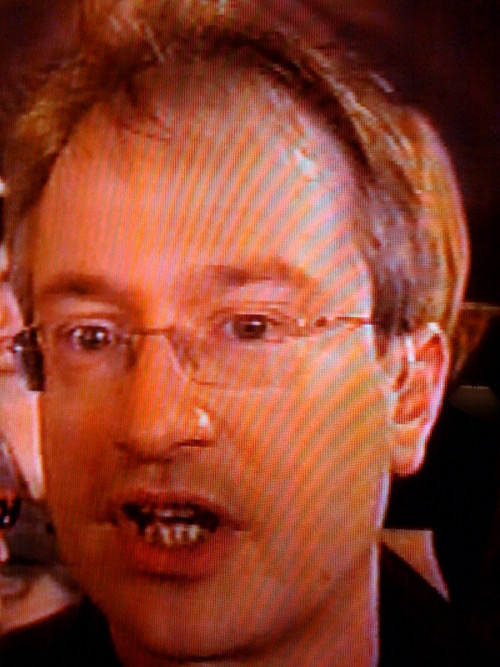 Crazed and bloodthirsty Ince on Richard and Judy

I am worried that this is my fault for heaping praise on him at the award ceremony last week. Does he think he is above the law now?

I don't know if he can turn this around in time for the second ever Good Boy Awards this Friday. God knows...

God Knows.


---

I am so excited. Forget The Office. Never mind more Extras. Who needs Science? The Ricky Gervais Show Audiobooks are to be made into an animated series for American TV.

Can't tell you too much about it yet, but I don't think I've been this excited about a project since I gave Robin a make over. Talking of little baba Ince, because he was such a good boy this week someone made him into an animation too.

Steve is back from running round dressed as a fairy. We met today and tried to plan the next year. The film, the TV spin-off, Extras special, more audiobooks, the animation, This Side of The Truth and both our stand up tours. That's a lot to fit in when you only work 11 till 3. Steve asked if I'd consider working longer hours. I asked what he had in mind. "Well," he said "Maybe work till 7pm some days on the film." I said, "only on the days when I'm not acting." It was a deal.

Sometimes I think he cares more about that Hollywood movie than making the audiobooks into a cartoon. I'll show him.


---

Week thirty-eight - November 2008

It was a beautiful day today. We went for a long walk and bothered loads of dogs. It's a hobby.

Congratulations again to Robin Ince for his Good Boy Award. Apparently it has helped a bit and he's had a couple of job offers.

He is compering at the three gigs I'm doing with Richard Dawkins in December, so I hope everyone tells him he is a good boy when he comes out on stage.

Found this on youtube. That's from Series 5 (available here at iTunes) which is hanging on at number 1.

Here's that little test we did by the way...


It was a lovely night too round these parts. Look at that beautiful Hampstead dusk. Red sky at night.. Sherpherd's pie.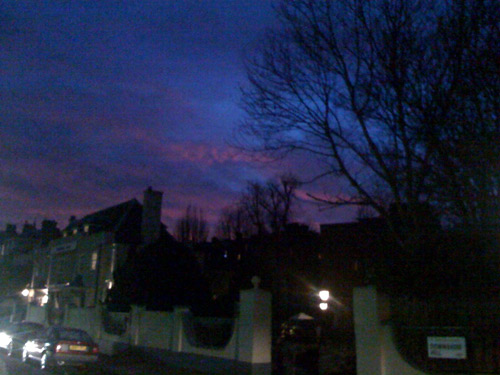 ---
Robin Ince wins first ever Good Boy Award.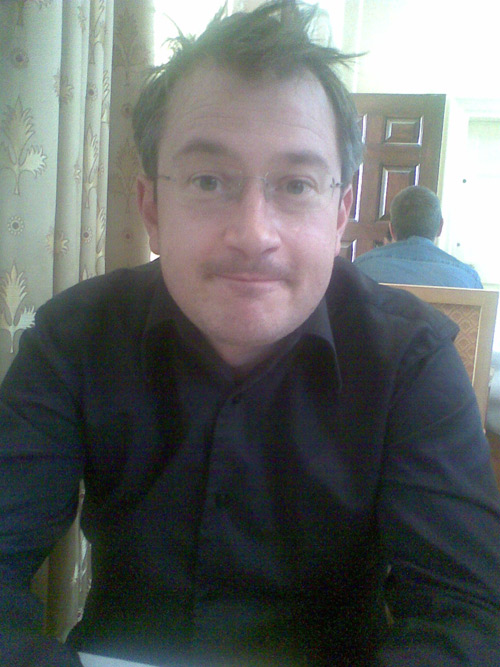 Stand up comedian Robin Ince will be the proud recipient of the first ever Good Boy Award. The award, now in its first week, will be awarded weekly to Robin Ince for being a good boy.





Awards body founder and chairman, Ricky Gervais said, "Robin has won this award because he has been such a good boy this week"

Thrilled

Robin Ince is thrilled to be the proud recipient of the first weekly Good Boy Award and hopes it wont be the last. Speaking today to Gervais via mobile when told of the award said 'Oh good. That wont make me look like a nincompoop."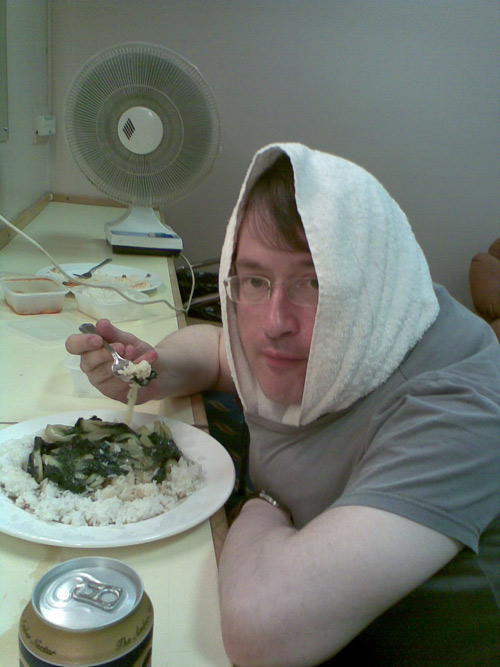 Cool Dude. Ince after the news of Award.

Gervais added, "I'm sure this wont go to his head. If it does he will get a Bad Boy award," he joked.


---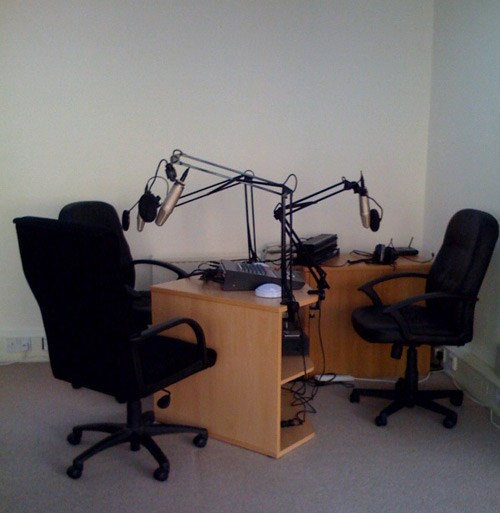 Checked out the new studio today. It's great. Me and Karl did a little test podcast. Steve wasn't there so Karl insulted his looks unchallenged. It's only a few minutes long but it will give you an idea of how shoddy we still are. We'll put it out as a free sample very soon.

Another Robin Ince lookalike has cropped up on House Guest.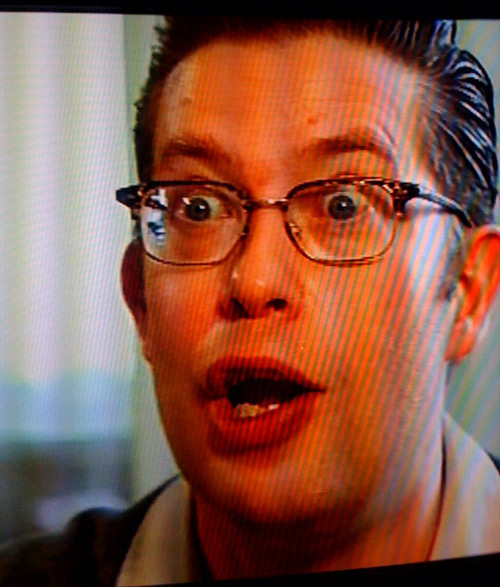 or is this the lookalike?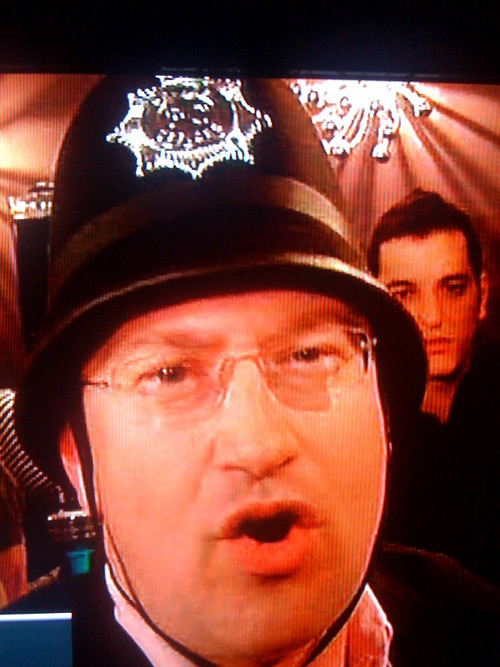 I can't tell any more.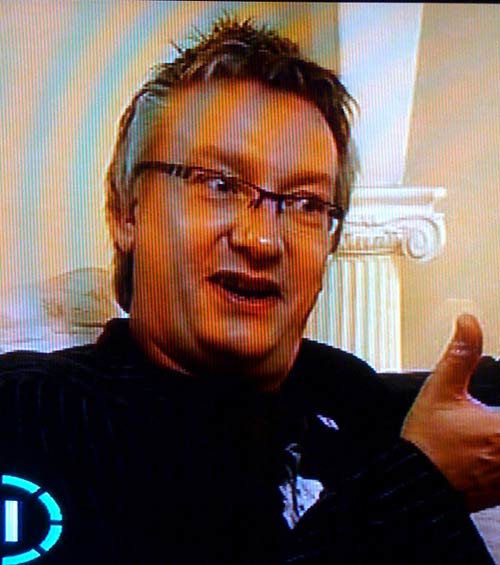 Talking of my favourite little tiny-thumbed book-wormy waddle-gimp, I thought of something the other day.

When I was about eight my mum was walking me to school after buying me some sweets. As we got to the playground my various little friends came up to play. My mum, to my horror, said, 'give your friends some of your sweets.' I did this until there were none left. Later she replaced them because I had been kind and shared. She explained that some children don't get bought things and that I should never eat sweets in front of them without giving them some of mine. I understood, and from that day on if I had sweets and other children where around I hid them in my pocket and ate them later in secret. I also told my mum that I'd shared them with all the other kids and got my stash replenished daily.

But my mum's attempt at making me kind must have resonated, because I was thinking about all the times I've been on TV accepting awards and imagined little Robin Ince sitting at home wishing he could have just one award. I was nearly in tears and I thought I'd give him one of mine. Which one though? Not an Emmy or Globe obviously. In fact none of the American awards. The Baftas look great all in a line on the shelf, so I'd not want to lose one of those really. He could win a Comedy Award himself; everyone does eventually. I didn't know what to do. Then it hit me... I would start a new award especially for him! Each week I will present Robin with a Good Boy Award. (Only if he's been a good boy obviously, otherwise the ceremony would become a farce like the National TV awards.) If he was a bad boy and, say, lied about being a vegetarian like he did on tour when MANY fish died, then he would get NO award that week.

So let's keep an eye on Robin and decide if he wins the first Good Boy Award ever this Friday.


---

Set up the audio studio today in the office. Well Karl and Glyn did, as I was on This Morning being given pajamas and slippers. Hope they did a good job.

Oh, here I am ready for bed in those pajamas and slippers by the way.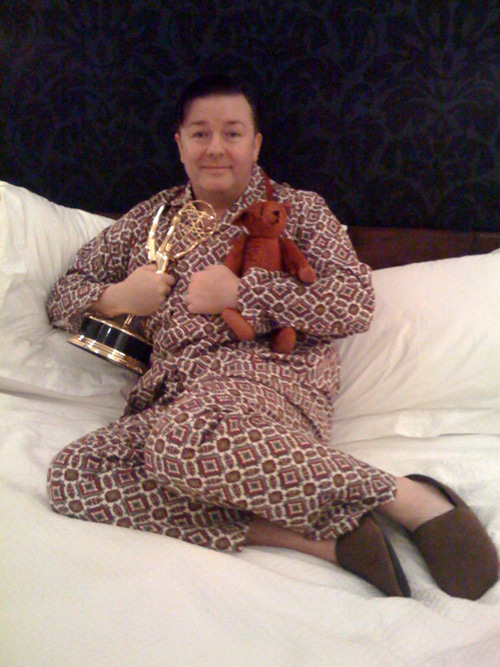 Funny article about me and others, quitting Hollywood.

My Inside The Actors Studio is being broadcast in January apparently, but they've posted a little outtake on the website.


---

Ghost Town had another good weekend at the box office and only dropped 9% which is again quite amazing. Particularly with Bond and High School Musical 9 out. Word of mouth really is the greatest marketing tool so thank you all for seeing it and then telling your friends. I only have about 6 friends so they can't have made that much difference. And 3 of those are Karl, Steve and Glyn who saw it for free.

The Extras Special DVD is also doing well. I was in my local HMV and it's in the top 5 movies. Again, nice to be promoted to film but it's a tough category - look what happened at the Emmys.

The studio should be ready this week. Steve's back next week so we might record a new audiobook soon. Someone else has managed to enter the top five on iTunes for the first time in about two years. A bloke called Barack Obama. He must be really funny, but no one can get past The Podfather and Series 5.

We started casting for The Man From the Pru this week. I managed to get a part. How do I do it?

We've decided to bring out a soundtrack album for This Side of The Truth. And we may have a big exclusive single that I can't tell you about yet. (How annoying is that?)

Our Hedgehogs have escaped. How ungrateful. Simon the nice man at Wildlife Aid is on the look out for some disabled replacements. Ones that can't climb six foot walls.

Talking of animals. There's a special gala performance of The Jungle Book at The Bloomsbury Theatre on the 22nd December in aid of Animals Asia. They basically rescue bears from evil cunts in China. So please by a ticket.


---


Ricky's Blog continues with Week Thirty-seven here ...

---